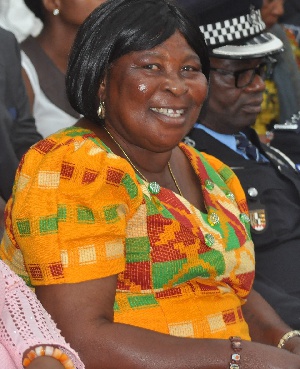 Following my previous publications, some readers have chosen to impugn my integrity, and I nonetheless feel duty bound to repudiate such frivolous crude caricature.
Let me proceed by informing my dearest readers that I have not been making up stories to deceive, but I have previously produced a vivid account of what transpired in my conversations with my relatives and minions who have subjective fit for NDC's ethos.

Apparently, some readers were of the opinion that I invented the scenes in the following publications: 'Mum, even Jesus Christ won't vote for 'dumsor'; 'sister, I bet, madam Theresa won't have given Mahama another chance'; 'but uncle, didn't you reject the offer of free SHS?'; 'oh, I feel ashamed over the NDC's abandoned one-time NHIS premium'; 'weep not mate, for I forewarned you about fiendish NDC'.

In fact, I have previously informed dearest readers that I used to be a disciple of Jerry John Rawlings, who succeeded in proselytising some of us with his propaganda.

Of course, like many other students back then, I naively thought J.J Rawlings was a Messiah sent from the Heavens to intercede for the downtrodden, and how wrong I was. Indeed, I am among those admirers who have come to their real senses.

As a matter of fact, I ruminated over Jerry John Rawlings real intentions for usurping power and apparently I overcame my 'benightedness'.
Ironically, Rawlings bamboozled onto the scene under the pretext of redeeming Ghanaians from the existential mismanagement and corruption, but he couldn't even get rid of the rampant sleaze and corruption in his NDC government, let alone the entire nation.

Obviously, I have adjusted my views on Rawlings and his NDC Party's principles and have become 'a born again'.

So, since I have seen the light, it would be boundlessly imprudent if I failed to proselytise my family and friends. And this is exactly what I intend doing.

It is against this background that I tried to counsel my younger brother who has been brainwashed to hate NPP Party, to consider voting for Madam Akua Donkor than President Mahama who has failed woefully to steer the nation to the right direction.

Even though I would have loved for my younger brother to vote for more formidable party like NPP who has a more credible and competent flagbearer, my younger brother won't budge. He is holding on to a seemingly hopeless unbridled devoted attachment.
Although my younger brother is struggling to eke out any meaningful income due to the ever ailing economy, he does not see the need to ditch the non-performing Mahama and his NDC government for the more competent NPP Party.

Obviously, it is extremely frustrating to listen to the views of inflexible NDC supporters like my younger brother, whose lives have not been transformed under the NDC government, contrary to what their leaders would want us to believe, but the inexorable apologists won't depart from their so-called loyalty.

What's more, despite their leaders much touted social democratic ideals, the NDC government has failed to implement a single social intervention, but the die-hard supporters are unmoved by such an unpardonable dereliction of duty.

Apparently, it was the NPP Party under the able leadership of President Kuffour that introduced the free Maternal Care, the School Feeding Programme, the National Health Insurance Scheme, the Mass Transport System, the Livelihood Empowerment Against Poverty (LEAP), the National Youth Employment Programme, now known as GYEDA, and many other social interventions.

As a matter of fact, the NDC leaders have been manipulating their way into power all the time. For they usually resort to vague rhetoric and inebriations.
Yes, they are cunning lots who are ever so desperate to secure power for their own vested interests.

For if that was not the case, how come they have turned their back on almost all the promises they gave to the unsuspected Ghanaian electorates?

Ironically, with all the promises, President Mahama and his NDC government have failed to end the dumsor, have failed to implement the one-time NHIS premium, jobs aren't readily available for the jobless, the economy is sinking deeper and deeper into the mire, they have reneged on their promise to keep 'lean' government, Ghanaians are becoming poorer and poorer, sleaze and corruption have escalated to immeasurable proportions, endless borrowings etc.

So, to my younger brother: engage in a carefully considered reflection and consider voting instead for Madam Akua Donkor since you love to hate NPP Party for no apparent reasons.

As a matter of fact, Madam Akua Donkor, who has no classroom education will not even go for unreasonable loans and then resort to IMF stringent conditionalities.
And more so Madam Akua Donkor, who is a devoted farmer, knows the importance of agriculture in the economic growth of a country like Ghana.

So, Madam Akua Donkor will definitely pay attention to the agricultural sector and ensure that the sector does not grow 0.04 as has been the case in President Mahama's government.

In any case, my brother, if you decided to change your negative thinking about NPP Party, then do not hesitate to vote for the more competent Nana Akufo Addo.

K. Badu, UK.