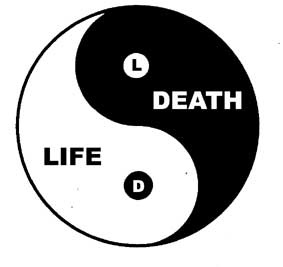 The pride we take in the security of our existence is a fantasy that ought to give way to the reality that we are nothing at all in this world, that we can be swept off our feet and thrown into the bottomless abyss of death at every split second.
That was my experience last year when I resolved to drive from Austin, Texas to Germantown, Maryland, a distance of about a thousand six hundred miles. The month prior to this virtual odyssey, I had done a trip of a thousand two hundred miles from Austin, Texas to Bloomington in Indiana to attend the conferment of a PhD degree on one of my former students at the SDA Training College who graduated at Indiana University.

And to me, there was no marked difference between a journey of a thousand two hundred miles and that of a thousand six hundred miles: They are all equidistant. As a matter of fact, two years after I landed here in Austin, USA, I drove all the way from Austin to Bronx, New York, all by myself, eating junk food and drinking sugared soda. When I started out on that trip, many thought I needed my head examined. Here in the State of Texas, very few people had ever travelled to New York, either by ship, plane, train or road, a distance equivalent to a trip from Ghana to South Africa, let alone driving all by themselves to that city.

But I have to say here that I had a rather uneventful trip to Maryland. My three-row seat luxury Mercury Mountaineer looks pretty much like a Ford Expedition, but I can assure you that it was no gift from any Burkinabe contractor: I bought it myself for the very purpose of travelling long distances without any problem! And in spite of the snide remarks of President Mahama regarding American cars, my 4.0 engine Mountaineer runs like a true champ. I trust that vehicle, and it has never failed me.

It was 10.30 p.m. when I got to my destination; so I just jumped straight into my bed at the hotel. Then exactly twelve hours thereafter, I drove to the Potomac to visit my friend called Israel Thompson who I had not met for thirty-three years, i.e. since high School at Koforidua Sectech. His huge mansion sat on top of a two-acre lot, with the grass mowed as far as my eyes could see. He welcomed me like a visiting plenipotentiary of some affluent state. When he showed me each one of his thirteen rooms, I was dumbfounded.

I have been to many luxury homes, but he was at the top of the pack.
In the evening, Israel Thompson came to pick me in his brand new Jaguar to an African restaurant where I ate like a local boy. Thereafter, we headed to the memorial service of one Opanin Kwaku Charles, a popular man from Effiduase-Koforidua whose children were organizing a memorial service in Maryland in his remembrance.

I met so many people from Koforidua-Effiduase that I spent the entire time chatting away with many of them I had not seen for at least twenty-five years. When you don't see people for twenty-five years, neither you nor these others ever look the same, and so we spent substantial amount of time in introductions and re-introductions.

It was around 2.00 am when I arrived back at my hotel. When I next opened my eyes, it was 9.00 am. I hopped into the shower and soon got back into my driver's seat, actually feeling as fit as a fiddle and ready to make the 1600 mile trip back to Austin, Texas. I was thinking to myself that I needed to get back the following Monday in order to attend court in Hillsboro, Texas, some 130 miles to Austin. Of course, that meant that I was anticipating a drive of at least 1,350 miles from Germantown, Maryland to Hillsboro, Texas, and I was also hoping to arrive in Hillsboro during court hours, attend court, and thereafter proceed to Austin.

I spend the distance through Maryland, Virginia and Tennessee on an average of eighty miles/135 kilometres an hour, completely ignoring the sixty-five mile per hour posted speed limit. At Nashville, I stopped briefly to rest and eat. It was around 1.30 am, and I had driven for not less than eight hundred miles by this time.

I was soon behind the wheels again, making it through Nashville, Tennessee, Memphis, across the Mississippi River on the border between Tennessee and Arkansas…… I was tired but still pushed on, until I was close to Little Rock, Arkansas. Then I felt like stretching my legs a bit.
I pulled into the demarcated edge of the road and hopped out of my truck.

In the distance, I saw a huge eighteen-wheeler approaching from the distance. In my estimation, it was bearing down on me at a speed of not less than seventy-five miles/120 kilometres per hour. I was leaning close enough on my truck, but I knew that that eighteen-wheeler was going to pass too close in front of me; and at that rate of speed, I could be swept off my feet and dragged under it.

And indeed, in that split second, when the truck passed by me, I felt that I had been swept off my feet and blown up into the sudden burst of wind, oscillating several times in my head. But when I opened my eyes, I was still firmly on my feet. But I felt that my truck was racing after the eighteen-wheeler at some seventy miles per hour, with me hanging on to it for dear life. Here was I, standing in the middle of nowhere, with myself and my truck racing at full speed behind an articulator. Strangely enough, other cars were passing me by at full speed. With great difficulty, I managed to open the back of my "moving" truck and sat there for some time, whereas in my own head, I could feel that my truck continued to move at the speed of around sixty-five miles per hour!

But it was all a grand illusion! My truck had not moved an inch from its spot! I had merely experienced a type of vertigo, a phenomenon in which a person could feel dizzy or have the sensation that everything was moving in a specific direction.

But the brush with death was real enough for me, and I realized that the pride we take in the security of our existence ought to give way to the reality that we are nothing at all in this world, that we can be swept off our feet and thrown into the bottomless abyss of death at every split second. Here was I, Samuel Adjei Sarfo, J.D., MA, B.A (Hons), Attorney and Counselor at Law……….. I was about to die like a dog and perish into nothingness in the middle of nowhere with no one to identify my body!
When I was twenty-years-old in 1983, I suffered a severe nervous breakdown and went into a coma for six days, probably due to an overdose of medications.

At a point in time, I vividly saw my mother and sister try twice to force some medicinal concoction down my throat. But the passage into my throat was blocked, so I was virtually suffocating…..dying.

That was also an illusion. When I came out of that coma, bystanders told me how I stopped breathing twice during my comatose, and that on those occasions, I was labouring so hard to breath that the sound could be heard all over the hospital ward.

That experience was my first brush with death, at the tender age of twenty years. But that type of death where I was surrounded by the family would have been much preferred to this one in which I would have been mangled like corned beef by an eighteen-wheeler in the middle of nowhere!

Last year, I heard that a friend I loved very much during our elementary school days, Eric Obeng Baah-Marfo had died. He had been brought down from Italy after he took ill and had died just a week before this incident I am narrating here. I wept for that friend. At the same time, I realized once again how so close we are to the grave. It is not only a matter of our advanced age. As oxymoronic as it may sound, death is also part of everyday life itself, and it can come from any angle at any time at any place and from anything anywhere. That is why we must all prepare for it.
Thomas Jefferson said that the earth belongs in usufruct to the living; the dead have no power. And that is a fact which many religions try to massage well; but to me, this earth is our only inheritance. We are going nowhere beyond this life. We must, therefore, live in it as if there is no other tomorrow. We must do the most good to the most others at the most time. That is all our work in life.

As Martin Luther King opined, we must all live on earth such that those who will come after us, in apt examination of our lives, will say in wonderment: Truly, herein lie human beings whose lives were lived so perfectly that we can never improve upon it; we can only imitate it…….

Samuel Adjei Sarfo, J.D, is a general legal practitioner in Austin, Texas, USA. You can email him at sarfoadjei@yahoo.com