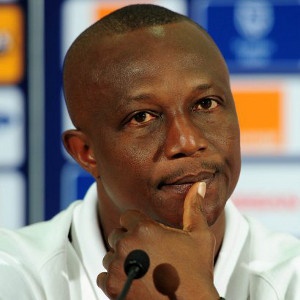 Tue, 3 Sep 2013 Source: Christopher Opoku
...against Zambia

Finally, the long awaited week is here. It is the week in which Ghana's Black Stars will do battle with Zambia in a crucial 2014 World Cup qualifier in Kumasi.


Now that Black Stars head coach Kwasi Appiah has named his squad for the match, and with the players in town to prepare for the big game, this piece will attempt to pick an opinionated starting eleven against the Copper Bullets (Chipolopolo).


Mind you, I am not a coach and so what you are about to read is simply based on observations I have made as a football journalist.


With the danger the Zambians will pose, it is not hard to pinpoint the fact that the spine of the Zambian team comprises Mamelodi Sundowns goalkeeper Kennedy Mweene, central defenders Stoppila Sunzu and Hichani Himondee, the midfield duo of Nathan Sinkala and Rainford Kalaba and team captain Christopher Katongo.


Herve Renard's side is heavily reliant on athleticism, hard work and a strong team ethic. In Ghana's 0-1 loss to Zambia in Ndola, it was clear that the Black Stars were lethargic because of the altitude and never really got going in the first 45 minutes.


Secondly, a static midfield slowed Ghana down in terms of pace. So Appiah will need to pick a pacey side against Zambia because an early goal could do the trick.


Here is what I would do if I was in Appiah's place

Goalkeeper: Fatau Dauda


I know a lot of talk has gone on about the fact that he hasn't gotten a game yet at Orlando Pirates and whilst I believe that long-term, it could become an issue, his move was recent and so I would maintain him in goal against Zambia. If Ghana gets through this game and he is still not getting games by the time the Black Stars have to play the last qualifying round, then his place will be under threat. So that is why I would pick him in goal.


Right Back: Daniel Opare


Clearly he has benefited from playing in his favoured position for Standard Liege and it is showing. He has enjoyed a good start to the season in Belgium and it was his cross that set up Asamoah Gyan for one of the goals in Ghana's 2-2 draw with Turkey. He is very strong in the tackle as well and for me, he is the best option for the position against Zambia.


Left back: Harrison Afful


One of the reasons why Afful is Ghana's first choice left back is because he has been consistent for some time now and he again shone against Turkey. He is genuinely two footed which helps him in sending crosses with his left foot even though he is right footed. He has also become more tactically aware and that means he times his runs better these days, covering when he has to. He will have to remain disciplined against whoever plays down the flanks.


Centre half: John Boye

His return to fitness is a massive boost to Kwasi Appiah, who was facing a problem at the back because of injuries. He managed over 75 minutes for Rennes over the weekend and is your archetypal solid centre half. He suffered a bit of a dip in form recently but his experience will be more than needed for this game.


Central defender: Jonathan Mensah


I am delighted for Mensah simply because he is now playing week in, week out. I rate him highly but as you know, when a player isn't playing regularly at club level over a long period of time, I have issues with such a player starting for his national team. Jonathan went through that last term but his displays for Evian TG is one reason why that team is doing well in Ligue 1. He is an excellent reader of the game and for me, he is John Mensah's heir apparent. If Isaac Vorsah returns from his injury lay off and Jonathan continues to play regularly for Evian TG, then Vorsah will have to battle with Boye to partner him at the back.


Holding midfielder: Rabiu Mohammed


Mohammed has come on in heaps and bounds over the last 12 months and his displays for the Black Stars constitute one reason why he secured a move to Kuban Krasnodar. He impressed in his first game in the Russian Premier League over the weekend and he has excelled in breaking up attacks. He will be the platform for the rest of the team to build on and his athleticism should help curb the threat posed by Kalaba for example.


Deep lying playmaker: Kwadwo Asamoah


I know that he plays very well at wing back these days for Juventus, but this role remains Asamoah's best position. He has an eye for a pass and in this position, he can not only supply the ammunition for the front four, but ghost forward from deep to provide a goal threat. He is also very skillful and so he can dictate play in the middle of the park.

Right attack: Andre Ayew


I would use Andre Ayew on the right side of attack because of his ability to cut in and provide a goal threat himself, as well as the ability to cross with his right foot as well. He will cause the left back plenty of problems with his pace and tenacity. His ability to switch positions will come in handy, especially with the players he would be playing with on the attack.


Left Attack: Mubarak Wakaso


The new Rubin Kazan recruit is not only a good attacker down the left, but he is also very adaptable and mobile, which should help the Black Stars in attack. That means that he would also change positions with ease and the fact that he has been scoring over the last 10 months or so should be an added bonus in attack. His ability to track back should help Afful as well.


Player in the hole: Kevin Prince Boateng


The new Schalke 04 signing is without doubt a genuine world-class player with the ability to make things happen. With such a player, his strengths can be better utilized when he is playing in a free role. His adaptability should see him working very well with Andre Ayew and Mubarak Wakaso, resulting in fluidity in attack that the Zambians will find hard to deal with. He has an eye for goal as well and so do not be surprised that he can even get beyond the lead striker to pop shots on goal himself.


Lead striker: Asamoah Gyan

He has been the main supplier of Ghana's goals in recent games and with Ayew, Boateng and Wakaso behind him, he should enjoy the needed service to score more goals. He is also adaptable and so his ability to drop deep should pull away the Zambian central defence and leave his colleagues room to make attempts on goal. His good form will be needed in this game, which could serve as a redemption game after he missed a penalty when both sides met at the 2012 African Nations Cup in Gabon and Equatorial Guinea.


I am sure most of you would be asking why Michael Essien is not included in my opinionated starting lineup. My reasons are simple. He has just tragically lost his father and in addition, he hasn't had playing time in the Premier League with Chelsea yet. So an appearance in the last 30 or so minutes would suit both him and the Black Stars better.


As I said, I am no coach and so I probably would end up being totally wrong, but at least what this piece should do is to spark the needed debate ahead of the big game.

Source: Christopher Opoku