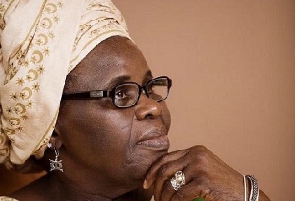 "There are two ways of spreading light," says the celebrated American writer Edith Wharton, "to be the candle or the mirror that reflects it."
Aunt Ama was the candle, and I have had the privilege of being one of the millions of mirrors across the globe that reflected the light that she, as the prime source, inspired and freely gifted the world.

Her literary works read like a primer: they were on the lips and ingrained in the minds of every school going boy or girl in secondary school. Among her classic works, The Dilemma of a Ghost and Changes were two of my favourites.

Anyone who had the pleasure of reading them was immediately hooked and immersed in a roller-coaster of emotions that only the best of literature can give.

The first time I had a close interaction with Aunt Ama was when I was Vice President and I was launching my own book, "My First Coup D'état."

I had always appreciated her literary prowess, but my own book project made me appreciate Aunt Ama even more. Writing my book was an extremely tasking endeavour given that I had to combine with my office duties with this project.
But Aunt Ama is not one to be easily satisfied.

When I hosted Ghanaian writers at my residence, she not only honoured my invitation but remarked, "I hope you are on your second book" to which I responded that I was too busy. She didn't accept that but said, "you are never too busy to write a book."

It always gave me a sense of great pride that she once served under our political tradition under the leadership of the late President Jerry John Rawlings in charge of Education.

Being the passionate, humane person that she was, she could not accept that even in those arduous days of economic recovery, we could not make education free for all, thus causing her to resign from the position.

It is on hindsight, perhaps, not surprising that, when Ghana transitioned into the 4th Republican Democracy, President Rawlings oversaw a new Constitution that made provision for education, once the resources and required structures had been put in place, to be free – beginning from the basic level, through secondary to the tertiary.
The words of Irving Berlin echoes even strongly: "the song is ended, but the melody lingers on." Aunt Ama, your voice lingers on. I can still hear your call for me to do my second book. You will be happy to learn that I have started.

You are gone today, but I will complete the second book as you requested. Thank you for your service to our nation, to your continent and to the world.

May your journey to the afterlife be filled with peace, love, and light, and may your memory live in our hearts eternally.