My views on recent Supreme Court judgments on Domelevo's forced retirement and the president's COVID-19 emergency powers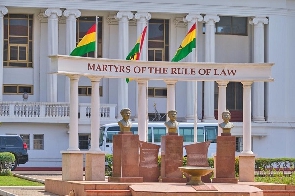 I am not here to fault the Supreme Court of Ghana on their judgments recently pronounced on the president of the Republic of Ghana, His Excellency Nana Addo Dankwa Akufo-Addo, directing then Auditor General Daniel Yaw Domelevo to proceed on leave to exhaust his 123 days accrued but accumulated annual paid holiday.
The Auditor General by the 4th Republican Constitution is nominated, or appointed, by the president. The Auditor General by same Constitution is a public servant hence automatically bound by the Public Service Act, precisely the Act of Parliament 651 entitled Labour Act, 2003, despite his office being special.

Section 31 of the Act, states under "Agreement to forgo leave to be void", thus, "Any agreement to relinquish the entitlement to annual leave or to forgo such leave is void".

Without the Constitution prescribing special rules for him, extricating him from the rigid stipulations of the Public Service Act, thus, Labour Act, 2003, he is therefore bound by its requirements as far as taking one's paid annual leave holiday is concerned.

He could under no circumstance forgo the accrued paid annual leave holiday or be made to forfeit it, like any other public servant.

The Act did not go far to state whether an employee could go on and on, year by year, to accumulate their accrued annual paid holiday leave until their retirement day or thy Kingdom come. The Act does not state it is at the discretion of the employee to carry over their annual paid holiday leave for years and then choose to exhaust them when they want.
Let me quote the following to try to expatiate my point. "Is it legal to forfeit annual leave? Do we have to allow employees to carry over unused holidays? This will depend on the wording of your contracts of employment. Unless the contract explicitly states that the Employer allows holiday carry over, it will be a case of 'use it or lose it'".

In Britain, if you don't use your earned annual paid holidays as they come, you will lose them. You can only carry part, or one full annual paid holiday leave into the next years on explicitly written permission by your employer. Many employers do not permit workers to carry their unused paid holiday into the following year. It is either you take it or lose it.

On the contrary, in Ghana, you cannot forfeit it!

However, in France, the employer will force you to proceed on your annual leave when it is about to expire but you are seen to be dithering about whether to go on leave or hang on at work.

Could the Supreme Court in their detailed written judgment explain when Domelevo could have gone on his accumulated annual paid holiday? Did he have the right to accumulate his yearly annual leave holiday for years on end until whenever he personally felt satisfied to proceed on leave?
My brother who was once an account at International Tobacco Ghana Ltd (ITG), the late industrialist B. A. Mensah's confiscated company, told me that if any higher public servant chooses to not proceed on leave but to accumulate them over the years, it means the person has something to hide.

The person may be doing something dodgy that they don't want anyone to discover to expose their corrupt practices hence choosing to stay put without bothering to go on annual leave.

When could Domelevo have exhausted his accumulated paid annual holiday leave as against the law forbidding him from forfeiting the holidays?

Who was better placed to request, or force, him, to take his accumulated annual paid holiday leave?

Again, I find the Supreme Court's verdict declaring it illegal the exercise emergency powers by the president taking the strictest measures to contain the ravaging and deadly Covid-19 pandemic very troubling.
It was damn necessary for certain fundamental human rights to be curtailed or suspended to minimise the spread of the deadly contagious Covid-19 that was spreading like harmattan bushfire, killing hundreds of thousands of people throughout the world.

It was not only in Ghana that the president invoked emergency powers to dealing with the Covid-19 pandemic but all heads of state worldwide did same.

Was the Ghana president not applauded worldwide for being able to contain the disease to minimise the death of his people and for being the first president to take steps to test people arriving in the country for coronavirus positive that was replicated throughout the world?

In emergencies where people are at risk of death, the president should not waste time taking emergency steps to dealing with the situation.

If the president had dithered, waiting on the obviously polarised and partisan Ghana parliament to enact a law permitting him to exercise some emergency powers before acting, your guess is as right as mine, you could imagine the devastation the coronavirus would have caused in Ghana.
Are the opposition parliamentarians always not opposing the president and his policies just to cause public disaffection for him and to make governing the country extremely difficult for him with the intent to get his party out of power?

What should the president have done differently to please the so-called human rights activists and the Supreme Court?

I am waiting on the Supreme Court for answers and their detailed written verdict.

I will not jubilate at any of their verdicts so far delivered on these two situations unless they tell me, yes, Domelevo could have forever continued to accumulate his earned annual paid holiday leave until he decided he had had enough before proceeding on leave and again, the president should not have acted to allow many Ghanaians to die as allegedly wished by some superior race upon the inferior African race.