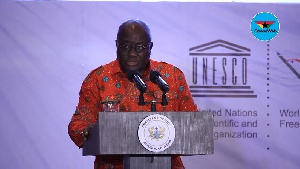 President Nana Addo Dankwa Akufo-Addo outdoor the most loudable and comprehensive programme to address the issue of unemployed graduates in Ghana which in the past years elevated to unproportional level, on on Tuesday May 1, 2018.
The President is showing Ghanaians that jobs can indeed be created, unlike the NDC who made all of us believe in their eight years in power that the only means of job creation is defer all courses and use vocational courses as our source of employment.

This government has gone beyond rhetoric and has introduced a new social intervention that never existed to tackle the unemployment issue that has cost effect in our security.

President Akufo-Addo is by all standards a genius and a creative thinker and NABCO is one of his masterstrokes that he has used to finish the NDC in advance, the NDC knows that by this programme, which is engaging a hundred thousand graduates to be trained and deployed in both the private and public sectors.

Even though the policy has an exit point which is three years, the government is planning for it long term sustainability and protection of this young graduates who have nothing to engage after their national service. NABCO will imbibed them with requisite training and skills to prepare them for future permanent employment.

Immediately after President Akufo-Addo launched NABCO in Kumasi on Tuesday, about fourty thousand of Ghanaian unemployed graduates have applied for placement on the programme.

This is an indication that most Ghanaians are desperate for jobs and are willing to work unlike others who would ask Ghanaians to get out of the country if " the kitchen is too hot for them". The government under the leadership of H. E. Nana Addo Dankwa Akufo-Addo is a listening government that offer solutions to the crying Ghanaians who over the years were cage in president Mahama political imprisonment.
Amidst the patronage, the opposition NDC which was in power for eight years between 2009 and 2016 has been criticizing the programme, claiming among others that the planned allocation of GH¢700.00 a month to patrons of the programme was inadequate and insulting.

In the eight years that they were in power, it would have been prudent for them point out the number of jobs that they have created. Let them tell us what social intervention that they were able to come up with to confront unemployment in the country!

The cabinet and the planning committee has come out with seven modules under which the programme will operating, they including; Heal Ghana, Teach Ghana, Digitised ghana, Civic ghana, Enterprise ghana and Feed Ghana which are platforms to contribute to health delivery, education and agriculture, are strategic and could have only been developed by an intelligent and visionary leader like President Akufo-Addo and his cabinet team.

In conclusion, our political opponents knew the programme is comprehensive and well thought through, NDC party is popularly known to be dead in terms of policy implementation and creation, as usual, they have seen that this policy will exposed president Mahama incompetency over this year, therefore, there is the need to pooh-poor the initiative just like Free SHS, Free SHS has also won the hearts of at least 90,000 for the NPP in its first year of implementation alone, NABCO too has endeared the NPP to the people.

The NDC is therefore panicking and trying to tear down the programme in pieces because they know it is President Akufo-Addo's stroke of genius that has collapsed the NDC in advance. NDC will forever remain in opposition. Amen!!!