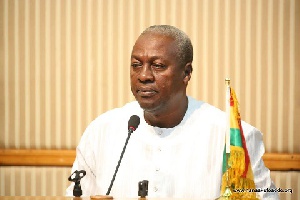 By Kwame Okoampa-Ahoofe, Jr., Ph.D.
Whoever these thugs and vandals are who have reportedly gone on the rampage and are physically assaulting members, supporters and sympathizers of the salubriously and deservedly defeated Mahama-led National Democratic Congress (NDC), should immediately desist from the same (See "Arrest Those Attacking NDC Members – Mahama" Citifmonline.com / Ghanaweb.com 12/11/16).

Who really knows? It could very well be members and supporters of a livid National Democratic Congress apparatchiks decked in New Patriotic Party (NPP) colors and other paraphernalia who are senselessly engaged in such acts of mayhem, in a bid to putting President-Elect Addo Dankwa Akufo-Addo and Vice-President-Elect Mahamudu Bawumia in a bad light.

There is also absolutely no meaningful or constructive purpose for any members, supporters and sympathizers of the triumphant New Patriotic Party to engage in wanton and criminal acts of vandalizing public property which were created and/or purchased with the Ghanaian taxpayer's money.

It only goes to complicate matters for the incoming Akufo-Addo Administration which may likely be direly strapped for cash, as a result of the profligate spending of the taxpayer's hard-earned money by the Mahama Posse. All of the foregoing of which is not to imply that members, supporters and sympathizers of the newly "oppositioned" National Democratic Congress are, somehow, composed of "innocent" and "model" citizens, as President John Dramani Mahama and his tout or Communications Minister, Dr. Edward Omane-Boamah, would have the rest of the world believe.

Indeed, scarcely a month ago, the diplomatic community in the country witnessed with horror as members and supporters of the National Democratic Congress, allegedly embarked on a Health Walk, violently besieged the private residence of then-opposition Presidential Candidate Akufo-Addo.
And so it is not as if such wanton acts of violence and downright savagery have been peculiar or unique to any one particular major political party. The unsavory precedent may very well have been set by the infamously rowdy and clinically aggressive "revolutionary" human bull-dogs of the National Democratic Congress.

The preceding in no way excuses any wanton acts of criminality against other individuals and/or groups of Ghanaian citizens, irrespective of political party affiliation or ideological suasion. At the end of the day, it would be tantamount to the very height of absurdity to have any staunch or genuine member or operative of the New Patriotic Party spend any temporal amount of the watch of President-Elect Akufo-Addo in the slammer.

Trust me, no executive operative of Akufo-Addo's government would wastefully expend the scarce Ghanaian taxpayer's money to fight for the release or legal costs of any party members or sympathizers who foolishly put themselves on the wrong side of the law, as it were.

Even brazen pathological scofflaws like Dr. Omane-Boamah and Mr. Samuel Okudzeto-Ablakwa fully appreciate the imperative need for all Ghanaian citizens to uphold the law; how much more the ordinary citizen who is even more vulnerable and far less protected by our law-enforcement agents and our national security apparatus as a whole?

*Visit my blog at: kwameokoampaahoofe.wordpress.com Ghanaffairs