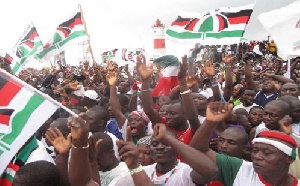 Comrades!!,I'm scared. I have worked on a lot of people's opinions since our national campaign launch towards winning the coming 2016 election. One major issue that border me is that,it's like we haven't listen or learn from what our founder,his excellency Jerry Rawlings told us in our campaign launch in cape coast.
I do appreciate his deep insights and thought-provoking caution to the NDC on that day but it's like,we listen,but never mind it's relevance.

And as he rightly said at the ceremony, the NDC shouldn't fight the NPP on its terms, "There are certain weaknesses that we have to deal with. ...The NPP cannot be underestimated, you know it. They've been in existence for a long time and have been changing their name up to today. The nature of who they are, what they are, where they've come from, is something they are happy with and they will be there for a long time.

"The calculation I want to put before you is that by virtue of what and who they are, that will necessarily give drive to what you and I are in the NDC. In other words, by virtue of who we are, where we come, how we came into being, I keep saying we cannot afford to fight them on their terms, it's important that we fight them on our terms, let's not mimic their behaviour..."

According to his excellency Jerry John Rawlings, if only the NDC can hold on to the principles that gave birth to the party, then the NDC will enjoy many years of victory. "...We will override any obstacle," he assured us. So why should we be fighting npp in their own terms by organizing funfair rallies,funfair health walks and many others and expect to win an election against them very easy!!?. We have chosen their way of doing things that is why we are now at crossroad. Yes!!,we are now at crossroad!.

Fighting to defeat npp means adopting better strategies than what they are using. That is why it is important for the NDC and its handlers to know the history behind the NPP and how it does its politics so they don't waste time, energy, and resources fighting them in their best tactics.
Those of us who know what the NPP stands for won't waste any breath challenging its operatives in the vain media warfare or self-tickling over trumped-up trivialities to cause political mischief. Ndc is a grassroots party and our strategies should be grassroots base. Simple as that.

No need to engage its loud-mouthed and irritating communicators in any wordy warfare either radio,television or social media. Neglect them for what they are and concentrate on telling grassroots Ghanaians what the ndc and John Mahama government has done, what the ndc and John Mahama government is unable to do and why the ndc and John Mahama government was not able to do it and what it intends to do if they vote for ndc and John Mahama for continuation.

My advise to our party big men,party executives,and sympathizers are to stop those behaviors and move into the trenches. They are a lot of aggrieve party members who may not come out to vote because of some peoples behaviors. Let's work on that. The governments appointees,the business men who benefited from ndc,should adopt ballot boxes campaigns rather than running after the president and other big men,mp's and party officials in the name of campaigning.

Ibrahim Hardi,contact 0208235615,email;bigkolaaya@@yahoo.com