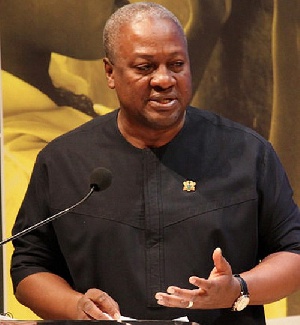 The extent to which former President John Dramani Mahama's [JDM] inclusion in the National Democratic Congress [NDC] presidential race amounts to political injudiciousness depends on the lens one looks through.
Presidents returning into active politics after defeat is not a big sacred cow in history. In Brazil, Getulio Vargas better remembered for his suicide while in office as a president and, modernization of Brazil ruled the South American country from 1930-1945 and then had the reins of political power again between 1951 and 1954.

The current President of Nigeria, Muhammadu Buhari succeeded Shehu Shagari as the 7th head of state between 1983 and 1985. Columbia University's comparative literature professor, Hamid Dabashi argued that a politician can only be effective in the affairs of the society when he/she has evaluated the degree of receptivity or tolerance of that society as well as its ideals. In order to accomplish the afore-referenced measure, one must know the given society, its tradition, history and related factors contributing to the making of its collective values, and the forces that mobilize the masses in the street, its silence, and, it's sitting silently at how. Whether JDM could wrestle political power as a president again or not is contingent on his predecessors' performance, political and social gravitas as against Mahama's political and social receptivity.

Indeed, until his ascension to the presidency of Ghana, JDM was the finest illustration of political eloquence, nobility, astuteness, and maturity. At the dawn of Ghana's multiparty democracy in the 4th republic, JDM like his political opponent, President Akufo-Addo were the cadence of the jazz of political civility for their various political parties whereas intimidation, ethnocentricity, character assassination, narcissism, anarcho-syndicalism, political Jacobinism, panjandrum, and Machiavellianism were the throbbing, the rhyme and the rhythm of some political actors' democratic anthem. I loathed being a terrible chatterbox when it comes to advising individuals older than me as it appears like crafting a behaviour modification plan for them, which in effect not only counterintuitive but also, in contravention with Ghanaian cultural values. It is a rebuke to African culture to reprimand those older than us. In the African traditional religion and culture, the divinities could charge me of a sacrilege for chastising the elders like JDM and President Akufo-Addo. We only have the opportunity to talk about them because they are part of Ghana's history. Nevertheless, the preacher man in the Jewish and Christian Bible conspicuously adopted and used by employees of Jesus' industry in Africa, states that "it is better to heed the rebuke of a wise person than to listen to the praise of fools" [Ecclesiastes 7:5].



As of today, both JDM and the current commander-in-chief of Ghana Armed Forces have fizzled the political gravitas and integrity that Ghanaian electorates bestowed to them into a thin air. JDM remained a prime fulcrum of Kakistocracy; For example, Samuel Okudzeto Ablakwa's position as deputy minister in charge of tertiary education could not have attracted the university teaching fraternity to vote for JDM in the 2016 elections, in line with academic pomposity and intellectual elitism encapsulating the higher education environment in Ghana.

JDM shocked his admirers when he became an epitome of ethnocentrism, relative to his political appointments. This caused a severe voter apathy towards the National Democratic Congress [NDC] in the lead-up to 2016 election. Some of us were bold to remind him of the repercussions of his political trajectory, even so, to no avail. There he goes now, gallivanting in a political desolate landscape like the fictional vicious Alice of wonderland begging to secure the same office he carelessly and verging on impunity, bequeathed to Nana Akufo-Addo in 2016. Equally irritable was dancing with Dady Lumba's "Yentie Obia" to wit: we will not listen to anybody. Nonetheless, his attempt to recapture power is not a far cry from a possibility as it depends on how NPP justifies JDM's corruption tag vis-à-vis his sobriquet; incompetence.
To political observers in some regions apart from Ashanti and Eastern, President Akufo-Addo surprisingly has become the darkest dungeon of intraparty intolerance, evidenced by Stephen Ntim's leaked audio. The audio somewhat confirmed that Kwabena Agyapong, Paul Afoko, and Sammy Crabbe had a raw deal with the NPP under Akufo-Addo's stewardship because of their constitutional rights of ever endorsing the intraparty opponent. NPP won 2016 elections because Ghanaians wanted a change. The sacking of the three electoral commissioners [EC] could somewhat not be a wise decision politically, as the disgruntled former EC bosses could leak the loopholes that might have favored NPP, if any, in the election 2016 to the political opponents. The ex. EC bosses like the current Auditor-General could work hard to accomplish their core mandates for the fear of losing their jobs. The new EC commissioners have a herculean task of building and attracting public trust because of the circumstances surrounding their appointments.



President Akufo-Addo's style of appointment also tags him as a shameless ethnic and family supremacist and a tribal bigot, especially among his opponents. The sacking of Mr. Boakye Agyarko, the resignation of Otiko Djaba and the relegation of my SRC president at the Cape Coast University, Mustapha Hamid to Zongo ministry are all not a good sign for NPP among some minority tribes. Per my novice commonsensical convictions, Akufo-Addo administration is pursuing an agenda that could stigmatize him as a man who lost a heretofore a beautiful unitary state of Ghana and stood for ethnic supremacy among posterity albeit, his significant interventions like free senior high school [SHS] education.

The president's needless involvement in the demand of the would-be Ahafo Region is a dangerous policy. "The time for the creation of the Ahafo region is due. I promise you that within the next 18 months, the opportunity is going to be given for you to have the Ahafo region" [Source: MYJOYONLINE.COM, April 20, 2017]. The afore-quoted statement is a promise attributed to President Akufo-Addo at Akyerensua without consulting the regional house of chiefs. The statement also preceded the Ahafo inhabitants petition for a needless region. Ahafo is comprising about four big towns namely: Goaso, Mim, Bechem and Duayaw Nkwanta plus small communities like Kukuom, Sankore, Kwapon, Bomaa, and the rest. I am even told that traditionally, Bechem is not part of Ahafo. Just as the Krobos; the kinsmen of the Gas, are located in the eastern region, Ahafo is part of Brong Ahafo [BA] region. It is politically and economically preposterous to create a whole region for the aforementioned areas, especially based on the fact that the regional minister is not mandated by the constitution to carry out any developmental projects in the district.

Besides, economically, there is no correlation between the size of a region and development. Ashanti Region then should have been poorer than Upper West Region. The grand plan is to finally add Ahafo to Ashanti region. This could create another Nkonya and Alavanyo in the area because Ahafo people are Ashantis, but some of their lands traditionally and originally belong to Dormaahene just as Koforidua is originally for Okyehene. Thus, there is no gainsaying for maintaining the status quo ante bellum. This could drag President Akufo-Addo's good name in a mud as an insufferable and a shameless interethnic war-monger. My mentor Nkrumah out of diplomatic skills added Ahafo to the Bono people because notwithstanding the fact that Ahafo people are Ashantis, not all their lands belongs to the Ashantis. Be that as it may. unlike JDM, president Akufo-Addo still has a chance to change things to enhance NPP's political fortunes in the election 2020.


The political strength of NPP notwithstanding a flagship intervention like Free SHS will be limited to Ashanti and eastern regions. Even in the Ashanti region voter apathy looms for NPP and, not even Akufo-Addo's clandestine banality as a unifying force behind Okyehene and Asantehene's meeting could save him from the tag of Akyem Mafia and supremacist to the core of the terms' logic among some citizens. Better late than never my president, you will have to work to address the albatross of implicit tribalism and biases around your neck before the coming elections. You can do this by detaching some of your family members from the presidency to give your ministers a free hand to operate. This was probably what president Kufour euphemistically meant by "power is tricky" at Koforidua recently. Writers don't hate their leaders, they report to you what the bootlickers and the sycophants around you fail to tell you.

Thus, JDM's return is not in itself, historically and politically strange, albeit his prospects relying on Akufo-Addo led NPP's performance. However, allowing Goozie Tanoh, Ekow Spio-Garbrah, and Professor Joshua Alabi a chance will inure to the benefit of NDC at this time. It is not human nature we should accuse but the despicable conventions that pervert it----Denis Diderot. I respect both JDM and Akufo-Addo as my leaders, even so, I dislike some of their decisions. Let me also congratulate Nana Sir Ofori Atta I on his 75th anniversary and, for being among the first Gold Coasters to be nominated into the colonial legislative council.

In other issues, Mr. President, please, place a ban to prohibit media men to stop calling people who are not doctors, doctors to save some gullible citizens. This is not done in any civilized nation. The fifty-nine-year-old fake doctor who has operated for over 20 years has been grabbed by the Kwabenya District Police with the help of Medical and Dental Council [GHANAWEB, Sunday, August 26, 2018]. God bless Our Homeland Ghana.