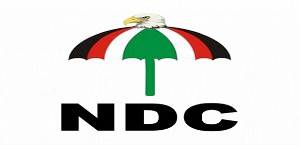 We have seen this before; and even as a well-known American public figure or celebrity is often quoted as having said quite a while ago, "It is déjà-vu all over again." Of course, as quoted in the preceding sentence, there is something quaintly redundant or tautological about this quote; and it is the resonant beauty of it that has made it so memorable.
And it is precisely this quote that flamed up my mind when I read the news story in which a woman administrative secretary at the Kumasi headquarters of the country's main opposition National Democratic Congress (NDC) was reported to have been promptly fired from her job, because she had dared to sell nomination forms to another party member who had dared to challenge the leadership credibility of the present parliamentary incumbent, to wit, Mr. Mohammed Mubarak Muntaka, who appears to have become the preferred Lifetime Asawase NDC-MP by the party's movers-and-shakers, both at the regional and the national headquarters, of the National Democratic Congress (See "NDC Sacks Secretary Over Sale of Forms to Muntaka's Opponent" Kasapafmonline.com / Ghanaweb.com 8/15/19).

The last time that we heard of this cynically deliberate attempt to unhealthily stall the country's democratic political process, it had to do with a Mr. George Boateng, then 45 years old, in the leadup to the 2016 general election, who had made bold to remind the NDC's stalwarts at the party's Kokomlemle, Accra, headquarters that absolutely no individual member of the Rawlings-minted political establishment owned the patent to the exclusive right to gun for the presidential nomination of the National Democratic Congress.

Well, four years later, it well appears that Mr. Boateng, the former Oyarifa, Greater-Accra, NDC's District Youth Organizer, was dead wrong. Now, we know that for the nonce, at least, it is former President John Dramani Mahama who owns the presidential-nomination patent of the National Democratic Congress.

In the latter party's most recent presidential primary, for example, the former President was literally handed the party's 2020 presidential-nomination ticket by, you guessed right, the dynastic General-Secretary, Mr. Johnson Asiedu-Nketia, who just this past Friday, August 16, graduated with a Master's Degree in Defense and Security and International Politics, or some such graduate degree, from the Ghana Armed Forces' Staff College, and has been eagerly awaiting the high possibility of being selected to serve as the running-mate of the man he has been gaily helping to make the NDC his veritable personal property.

The first name of "Mubarak" of the parliamentary aspirant determined to give Mr. Muntaka a proverbial run for his money, is also shared as the middle name of the longtime Asawase MP. Metaphorically speaking, it is almost as if his challenger would have the incumbent fully appreciate the fact that he is equally capable of wearing Mr. Muntaka's political hat and suit as well.
This is no simple statement to make, except that the going is highly unlikely to be smooth sailing for Mr. Masawudu, especially with virtually every party stalwart weighted comfortably in the camp of MP Ras Mubarak's uncle. The bad news for the Asawase MP is that his challenger has served strong notice that he is absolutely in no way prepared to back down until the numbers in the parliamentary primary dictate just that.

In the case of Mr. Boateng, the former Oyarifa NDC's District Youth Organizer, the swift and fierce response from the man popularly known as General Mosquito would be to summarily disqualify the candidacy of Mr. George Boateng and promptly expel the latter from the very party for which he had spent most of his youth and adulthood doing heavy-lifting work.

I strongly suspect that Mr. Mubarak Masawudu has been paying sedulous attention to the fate that befell Mr. Boateng some three years ago. Just before this press preparation, I read somewhere on the web, actually it was probably a news flash, that Mr. Masawudu had consented to having the party's dispute-settlement committee handle his differences with the Asawase parliamentary incumbent.

It is our hope that things work out smoothly for all the parties involved in what was fast shaping up to be a fierce power struggle between the political establishment and those among the junior ranks of the NDC's political machine who are determined not to be marginalized or sidelined from sharing the Mahama loot.

*Visit my blog at: kwameokoampaahoofe.wordpress.com Ghanaffairs
By Kwame Okoampa-Ahoofe, Jr., PhD

English Department, SUNY-Nassau

Garden City, New York

E-mail: okoampaahoofe@optimum.net