Opinions Fri, 22 May 2020
Click to read all about coronavirus →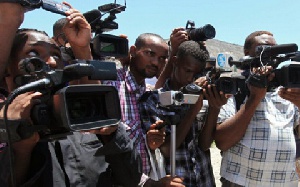 The National Media Commission was set on July 7, 1993 by an Act of Parliament, National Media Commission Act 1993, Act 449 in pursuit of the provisions of Chapter 12 of Ghana's 1992 Constitution.
National Media Commission is a Government of Ghana agency mandated with the responsibility of registering, regulating and monitoring the activities of media houses in Ghana.

And the National Communications Authority, (NCA), was established by an Act of Parliament, Act 524 in December 1996, which has been repealed and replaced by the National Communications Authority Act, 2008 (Act 769). Responsible for

assigning, allocating and regulating the use of frequencies in conformity with policies and develop strategies for the communication industry.

Having been established in 1993 and 1996 respectively, these institutions have worked more assiduously to lift the image of Ghana media to the highest level.

However, the recent use of the media by some religious leaders such as so called fetish priests, pastors and mallams to perpetrate crimes such as killings and human rights abuses in the country, and scot free had made me questioned the existence of these two institutions in our country, Ghana.
I always wonder whether these institutions are actually performing their responsibilities as stated above.

The questions that always racked my mind is that why should NCA allow some media stations to broadcast activities of fetish priests, mallams and pastors who are deceiving the general public on how to become rich.

Is it that these media stations are not given rules and regulations on how to operate? Are these two institutions actually monitoring media houses? Infact it can be deduced that these religious leaders activities is part of cyber crime.

The media which is supposed to educate, entertain and inform us about good things in the society has now been used as lies and abusive instrument to devastate citizens lives in the eyes of National Media commission and National Communications Authority.

Again, most of our media houses have been polarized with foreign movies and culture which have gone a long way to influence our lifestyle towards foreign life.
In fact these foreign movies do not become economic retrogression but it also exposed our children to sexual activities which leads to teenage pregnancy. Sexual acts play in foreign telenovelas, like kissing and fondling with the opposite sex, is an example and should not be entertained, especially when such programs are shown at a time when kids and children are at home. But the National media commission and National Communications authority are watching all these immoral activities in our media houses.

This is rather unfortunate. What amazed me was the shutting down of some media houses by the NCA in 2017 for not renewing their licenses. Instead of NCA to emphasize on the operationalization of media stations towards the use of offensive language and destructive broadcasting, it is rather engaged in only closing down the stations for not paying taxes as well as not renewing their licenses as recommended.

I think the legacy of these institutions has fallen and they must rise up to salvage this country from going to ransom.
Send your news stories to and via WhatsApp on +233 55 2699 625.