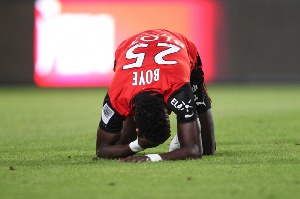 Ever since the NPP lost the bogus Supreme Court petition case on August 29, nothing has been the same for the party which hitherto was able to whip every member to the line to signify a shaky unity within the party.
For the past one month Ghanaians have witnessed the changing scenes that daily continue to emerge from the NPP quarters which many of their members and some political pundits fear will implode into serious consequences if not managed well.

Now it seems to be an open free for all fight as everybody who thinks has a stake in the NPP is saying one thing or the other. As a result, we daily hear new things emerging which continue to tear the NPP apart. Suddenly, the centre of the NPP can no longer hold as the shaky unity within the party continues to turn in a widening gyre or circle.

In order for the current leadership of the party to consolidate their stranglehold on the NPP and not to be swept by the rushing storm blowing within the NPP, they have come out with a bogus rushed arrangement that is meant to return Nana Addo Dankwa Akufo-Addo as the 2016 Flagbearer of the NPP.

Like it or not whoever controls delegates of any party in Ghana stands a 90% chance of being elected the flagbearer of the party. That is why even though many NPP folks did not like Akufo-Addo that much, he easily won the flagbearership race to contest the 2012 Presidential Election which he eventually lost out to President John Mahama.

Nana Akufo-Addo's delegates are still in place. They have not gone anywhere. That is why the NPP leadership have floated and accepted in principle an arrangement to conduct the flagbearership race first before the delegates. The reason is simple; to get the current delegates "controlled" by Nana Akufo-Addo to return him as their Presidential Candidate for 2016.

If you hear people like Kwadwo Owusu Afriyie, NPP's General Secretary saying that Nana Akufo-Addo will be their candidate if even he is in a wheelchair, then you better read between the lines.
If the NPP delegates' elections are not held first, no NPP candidate can beat Nana Akufo-Addo if he decides to run for the 2016 flagbearership. The calculated move to get the flagbearership elections done first is to save the current crop of executives of the NPP from being axed from their positions.

If the arrangement holds and the flagbearership election is held first and Akufo-Addo wins, there will definitely be tail-coating with those on his side winning positions they will contest for.

The NPP is now in its biggest panic mode with all sorts of scenarios being floated around. The party which has thrived on lies for so long is indeed in panic and do not know how to handle it.

The NPP is in no mood to conduct any post-mortem analysis to determine why they have lost two elections in a row, but is bent on just doing anything to sweep their dirt under the carpet. The fight for positions and fame seems to be the driving force.

magjackson80@yahoo.com http://majjacks80.blogspot.com