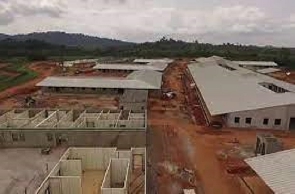 After my candidly expressed views of protests and condemnations coupled with those of other interested citizens of the Kumawu Sekyere District, the government of President Nana Akufo-Addo have gone into a fifth (5th)-gear action as regards the continuation of the Kumawu Sekyere District government hospital.
I vehemently protested against, and condemned the NPP government of the President, Nana Addo Dankwa Akufo-Addo, for abandoning the Kumawu Sekyere District Government Hospital started by the NDC government of the former President, John Dramani Mahama.

It was suspected that the Mahama-led NDC government had dubiously inflated the cost of the hospital for their selfish gains hence requiring further investigations before continuing with the project by the NPP government.

However, the investigations took unnecessarily long to complete, leaving most of the half-completed buildings to rot away.

I could not understand why Kumawu Constituency always voting NPP should be treated with total abandonment in the distribution of district hospitals or the national cake hence my publications of protests and condemnations against the ruling NPP government.

As all that is required by a hungry person is to see their stomach full, l am very satisfied to see and hear that work on the hospital has started and is in full swing.
Thank you to President Nana Akufo-Addo for listening to our expressed concerns to get the hospital work restarted.

How could l prove the reward of my honest supportive services to the president and NPP to Kumawu citizens if the NPP government denied them a District Government Hospital?

As a listening president, unlike his 'Yen ntie obiaa' predecessor John Mahama, President Nana Akufo-Addo, in this critical time of worldwide economic crises, has tried to source funds for the continuation works on the once abandoned to ruin Kumawu Sekyere District Government Hospital.

This publication from the fearless and proud son of Kumawu/Asiampa is to update the citizens of Kumawuman the world over on the status development of the Kumawu Sekyere District Government Hospital.