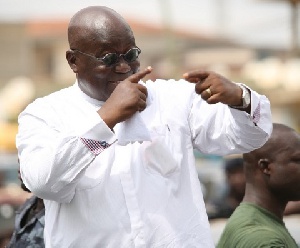 We are gradually getting closer to the crucial general elections come 7th December to choose a leader to steer the affairs of the country.
I strongly believe by now Ghanaian electorates have weighed water and wine and have seen the difference between them. In the same way Ghanaians have tried NPP and NDC in terms of governance and can tell which party has impacted positively or negatively in their lives.

It would be understatement to say NPP's government could survive the mess the PNDC/NDC had caused this country after their own men came out publicly to tell Ghanaians they had drained our coffers and are looking forward to see how former president John Agyekum Kufour's administration can run this country.

The erstwhile J.A. Kufour's administration dreamt big and thought it wise they could create something out of nothing to put Ghana in its rightful place that is the more reason why they took us to HIPIC that brought us many benefits the destroyers are enjoying ever since they assumed power in 2008.

It is a deniable fact, that NPP before they left office had taken the country from HIPIC to the Lower Middle Income status full of eye marking social interventions such as the Nhis, Free maternal care, Capitation grants, School feeding, Cocoa mass spraying, Metro mass transport, Masloc and many others. The choice we make today will determine how our future will be tomorrow and as such it is imperative to make the right choice come 7th December, 2016. We can't afford to lose this greatest opportunity at this crucial stage. We are fortunate to have a God fearing man with a good heart who is ready to humbly serve us in truth and sincerity just to deliver mother Ghana from poverty. God in his own wisdom has blessed Ghana with everything to be prosperous but we are swimming soundly in the pool of poverty all because of mismanagement of the country's numerous and rich resources by this current NDC administration who have no mercy for Mother Ghana and its citizens.

It was not a fluke that Nana Akufo Addo won convincingly when he contested the NPP presidential primaries with other distinguished personalities who also had what it takes to make Ghana work again. Ghanaians who care to think back deeply should be sincere enough to see a clear and unstoppable divine signs of the wind of change propelling him in the upcoming general elections even though he has not been voted as the president of the Republic but has created jobs for the youth of this country to earn a living presently through the sale of NPP recharge cards and Kalipo drink. Besides, if we trace the track record of Nana Akufo Addo, through his good vision and effort we had DHL which has reduced too much delay of sending or posting a parcel and Mobitel which is now known as Tigo which has also given employment and easy access to communication to the good people of Ghana. He was the one who fought tirelessly to have freedom of the press and today pressmen and women are free to discharge their duties without fear or favour.

Rather he has maintained an impeccable and transparent character in leadership roles he had served in NPP's administration from 2000 to 2008. He is very patriotic and a visionary leader who had been consistent in his campaign messages to the good people of Ghana unlike his political opponent in the NDC who told Ghanaians some time ago that he is going to put money into our pockets and because he thinks Ghanaians have short memories he had made a sharp u-turn to tell us he cannot conjure magic to put money into our pockets. When Dr. Mahamud Bawomia said the NDC government is on his way to IMF for a bail out the Mahama-led administration came out to dispute that fact and here we are being left at the mercy of the IMF. If we are looking for a leader we can trust to be faithful and loyal to Mother Ghana and its citizens then we should not by pass Nana Addo Dankwa Akufo Addo who will diligently serve us above our expectations.
I strongly believe that God has been watching the insincerity and wickedness of some selfish politicians who have impoverished this country and has hearken to the cry and suffering of Ghanaians and has decided to bring a change for good and perfect Ghana which will pave way for us to swim soundly in the pool of success and prosperity that is why he has given us Nana Akufo Addo a humble servant, selfless, honest, trustworthy, compassionate, affable, tolerant, patient, respectful, accommodative, courageous, upright to redeem Ghana's image from the mud. It's rather unfortunate that this current NDC leadership have no sympathy at all for Mother Ghana and its citizens.

The same unpatriotic people who have led this blessed country in abyss have taken several shots at power and are still planning to retain power to plunge Ghana into more gargantuan problems. They have repeatedly being in power without any positive impact on the life of the common man. They have apparently refused to hear the cry and suffering of Ghanaians whom they have deceived several times into voting for them into power.

Where this does not happen, they rig themselves into power and remain insensitive to the plight of the common man. This is the opportune time to vote for a reliable and competent leader who has never being found wanting when it comes to issues of corruption. We have had enough of NDC's leadership paralysis, deceit and propaganda.

When former ministers of state and party leaders in the NDC are crying foul if Nana Akufo Addo wins they will go to jail then discerning Ghanaians don't need a soothsayer to tell us they have unlawfully blown our cash just like that. Whenever you see a child running away from his father coming from afar, then it means he /she has done something unpardonable and deserves a punishment. He (Nana Addo) has never started what he cannot finish. He is contented with what he has in life and is against people who are looting the tax payers' money and he knows one day, nemesis will catch up with them.

He went into politics with all sincerity and has gotten a name to preserve. So in his own case any promise he will make now, please let's count on him, he will definitely do it to our satisfaction. He is one politician Ghanaians can not mention his name when it comes to issues of corruption and looting the nation's money and wealth to enrich himself and his family. It's rather unfortunate his political saboteurs the NDC members have tagged him as an arrogant and I wonder how an arrogant man they have insulted and accused him for no apparent reason has not uttered a word. He has proven beyond all reasonable doubt that he is a perfect gentleman and a leader who is ready to accommodate all the filthy things that will come his way.

He is not vindictive as claimed by his saboteurs. We have had people who said all manner of things against him when they contested him in NPP's presidential primaries and has embraced them and they are part of his campaign tours. He is not divisive but believes in the rule of law. He does not hate / envy any member of NPP. He is ever ready to work with people who are ready to champion the cause of NPP's victory mission.
He believes in human resource development that is why he still sticks to his free SHS education policy to all Ghanaians and not the progressively free for only days students which has turned to be disastrous.

He believes God did not put us in this rich land to be poor but it is bad leadership that has put us where we are today as beggars who have no choice. We are blessed with all the natural resources to be rich and prosperous but here we are being kept in an unpleasant situation by our bad managers (NDC) who have deformed and destroyed the lives of Ghanaians beyond repairs.

He has promised to set up a Zongo Development Fund to our Moslem brothers and sisters, one million dollars for every constituency, one district one factory, one village one irrigation dam, Restoring the teacher and nursing trainee allowances, Putting Arabic teachers back on the payroll.

Ensuring teachers will have their reward here on earth before they die because he values the teaching profession. Unnecessary taxes on importation and utility tariffs will be reduced and many other packages. The man Ghana needs most now is Nana Addo Dankwa Akufo Addo who will never ever eat fat with his family while Ghanaians who gave him their mandate continues to grow lean.

MICHAEL KESSEY