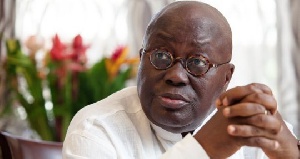 And the fact that the evil in John Mahama's era is the bitter pill of injustice, particularly difficult to swallow, makes the NDC blight a more impossible plague to stomach.
Members of that awful party have always sought to smear others with traits that are patently theirs. It cannot be said that NDC has had any good for this country. For the better part of 27 years that it governed Ghana, its members, from the top right down to the most insignificant of their chooboi cheerers, have looted the wealth of this country.

When Rawlings founded the NDC, his hands were already tainted with the blood of hundreds of innocent Ghanaians, unjustly and summarily executed, some for petty crimes, and others for just trying to earn a decent living. Yes, even living decently, in those days was a crime.

The idea of misapplied socialism cum communism made it difficult to tolerate decency. In fact, who dared live the glorious life of today's J.J.Rawlings, John Mahama et al?

It is a metaphoric paradox to know that the very person who killed hundreds of people for trying to make ends meet is the same living a lavish life of splendour, having acquired millions of dollars from shady circumstances including bribery, reasons for murdering his victims.

The NDC could never extricate itself from a history that has gone down in the tabulations of human aggression and crime as by far the bloodiest curse to have saddled Ghana post-independence.
Now that we have a leader in the person of Nana Addo Dankwah Akufo-Addo, who has brought a comfortable measure of peace to this theft-riddled country, it is an act of Holy endeavour to yearn for and bring about change that will propel him to Power.

Yes, if GOD sends in the midst of men a leader who can streamline their affairs, they must cease the opportunity otherwise the blessing turns into a curse; one of misappropriation, plagues and untold suffering. The NDC would not be tamed, but they are toothless urchins. They will be crushed by divine intervention.

This is a spoiled party that has amongst its members oedipus heads, learned illiterates and camouflaged miscreants who would not be told because they are ruthlessly self-destructive. I cannot fathom any other disastrous situation where the NDC would rig the 2016 elections and be allowed to run off with the crown. That will not happen! Ghanaians are all too aware of the Machiavellianism of this group of bandits.

Jerry John Rawlings, in another example, beat his Ministers to pulp. Although, this kind of muscular governance tickles me somewhat, it is unheard of. He gave Vice President Ackah slaps that resonated in Ghana's neo-chronicles. He beat up his finance minister, Mr Botchwey, and threatened to shoot others in his office, as his defector subordinates said.

Even Atta Mills was not spared the vituperations and vitriolic attacks. It was once told that Prof Mills, also tasted, the sweet slaps of this serendipity coup leader. J.J.Rawlings became what he is today by way of luck, propelling himself on the backs of others, just like the self-confessed John Mahama, who acknowledged being the luckiest President ever.
However, Nana Addo Dankwah Akufo-Addo is never known to have hurt anyone. In reflecting on his past, all his friends, affiliates, and acquaintances would vouch that he has never had any physical brawl with anybody, let alone bring hurt to his people.

In all my years of closeness to this gentle wise man, I have never once heard him raise the pitch of his voice spitefully. Let it be on record that in giving directives or instructions, his statements always begin and end in courtesy as in, "Kindly call ... and inform them ..... please!" etc etc.

Those who offended him in serious matters were forgiven with just a mere apology, something I would have found infinitely difficult to do. In spite of the fact that when the time of reckoning was placed in his hand, a situation that made the least word from Nana Akufo-Addo the decisive pivot of Ghana's future, he stood tall.

He did not disappoint his ancestors! He did not disappoint his supporters! He did not disappoint Ghanaians! He did not disappoint Africa! The whole world was a witness to the peaceful nature of this man in the singular most important moments.

When other countries lost their peace to similar situations because they had greedy megalomaniacs who would stop at nothing to attain Power, Nana Akufo-Addo strengthened ours. Yet, just like the biblical and Qur'anic betrayers of the Messengers of GOD, the NDC hooligans would call my testimony praise singing!
No it is not!

I am forever thankful to GOD for the life of this man! I am forever grateful to Nana Akufo-Addo for the peace that has kept Ghanaian families together, preventing a situation like the Sierra Leonian where the warring victims were asked the type of sleeves preferred, long or short, the answer for which determined whether the amputation of the limb would be whole or part!

If you fail to understand the situation then you need exorcism because it is only evil that cannot see evil. Is it any wonder that even international groups, leaders, and well meaning people the whole world over sing the praises of Nana Akufo-Addo? To the extent that all visiting dignitaries make calls upon this man is testimony enough for their appreciation for the immense role he has played in ensuring that the air we breathe in Ghana today remains free of gunpowder toxins and horrific stenches of rotten dead bodies!

Nana Addo Dankwah Akufo-Addo, Ayekooo!!! My name is Fadi Dabbousi and #IAmForNana