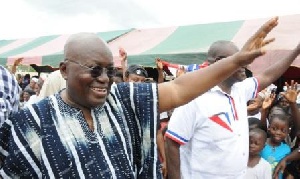 Last week Thursday, the 16th of June 22, 2016, we gathered at the Nima residence of Nana Addo Dankwa Akufo-Addo, to embark on a trip to the Central Region for a 5-day campaign tour.
I had arrived at the Nima residence and was sitting in our vehicle waiting for the convoy to set-off, when I was told Nana Addo wanted to see me in his private study. I got out of the car and walked to the door, knocked and I was ushered in. Nana was alone in the office, and characteristic of him, called me by the name with the usual broad smile.

One-on-one with Nana Addo

I greeted him which he responded and calmly asked "Newton, I am aware you are travelling with me and I just want to first of all find out how you are doing, because it has been awhile since I last saw you". He continued by saying, "please, do well to let me see you often in order to be abreast with how you are getting by, ok?"

I left the office to the car with the conviction that the man really treasures human-beings, and that, his love for people is very much genuine. Indeed, that was not the first time Nana Addo had exhibited this amazing level of love and care for me; that is the man's true nature and anybody who has ever had the opportunity to meet him one-on-one will testify to this.

He had this one-on-one interaction with each member of the entourage before we set off; and during the entire 5days we spent in the central region, he kept asking how I was doing, each he came into contact with me, even on the campaign grounds.

Even after the day's work when we the supposedly young ones are completely worned out, he will sit down with us for a chat before going to bed. Being around Nana Addo, is just like being with a caring father. The man is genuinely humble, affectionately caring, respects people around him, treasures anyone who believes in him and even has a place in his heart to accommodate his avid detractors.
When you are around Nana Addo, he never sees you as a subordinate but rather a fellow human-being and therefore accords you the due respect, shows real love and exhibits heart-felt care. Selfishness is never in the man's genes with arrogance completely alien to his nature.

Now, this is the real side of Nana Addo which the people of Ghana, who have not had the opportunity to be close to him are not aware of; and this is why I have always maintained that, indeed, the man is an excellent president the good people of Ghana unfortunately have not had the opportunity to have, but God's willing, will happen come November 7, this year.

The triumphant entry

The real work on the trip began at Gomoa-Dewurampong where on our arrival very early in the morning, there was massive crowd of enthusiastic Ghanaians waiting at the outskirts of the town to usher us in. We went to the chief's palace where proverbially, he told Nana Addo that, "a third attempt in every human endeavor signifies a test of one's patience, after which success is often assured".

Indeed, a detailed report of what actually transpired at various meetings Nana Addo had with chiefs, opinion leaders and interest groups, have already been well-chronicled and fittingly published in the media, so I do not intend rehashing them. What I therefore intend to lay bare in this write-up is what I personally witnessed, and personal encounters I had with ordinary Ghanaians who turned out at our various points of call.

In Central Region, for example, NPP used to have 17 out of 19 constituencies. I am an indigene of the region who critically follow politics of the area, and I can confidently say that the apparent dwindled fortunes of NPP in the region was just skin-deep. First of all, I describe the NPP's low performance in the region as "apparent" and "skin-deep", because, it is neither grounded in truism nor based on any empirical fact.
From the Moree junction, between Yamoransa-Cape-Coast section of Mallam-Takoradi highway, to the main town is a distance of not more than 1.5km but it took Nana Addo nearly 3hours to cover this short distance due the sheer thickness of enthusiastic crowd. Apparently, the place is where the sitting-vice president Amissah-Arthur was born. And throughout that massive carnival procession of ordinary Ghanaians desirous of change, Nana Addo was on his feet, while those of us claiming to be relatively youthful were helplessly worn-out and cocooned in our vehicles.

Head-pan and sympathy

In 2008, for example, the people were deceived by wicked NDC propagandists that, the free SHS policy propounded by Nana Addo, was seen as inferior to ordinary silver head-pans. This is no joke since I personally witnessed many brass-band street processions by my people where they chanted "we prefer silver head-pans to free education". Some of us did our possible best to explain the lies being peddled by NDC but we were not understood.

In 2012, the mysterious death of Atta-Mills was what did the trick for NDC in Central Region. Firstly, there was a lot of pain in Fante-land which, in reality, should have been directed at those who were present when Atta-Mills met his untimely demise. But as characteristic of Ghanaians, those who called for investigation into mysteries surrounding the man's demise, were rather branded insensitive.

In the end, the matter was kept under wraps while people's emotions were turned into keyboards on which tunes of wicked deception were persistently played just to win sympathy votes. That wicked agenda was fully-cemented with Amissah-Arthur being made the running-mate.

In effect, NDC never turned the electoral tables in the Central Region by way of tangible deliverables in government, but rather, through a well-tailored plan of wicked deception and highly uncultured capitalization on misfortune of a sitting-president.
8years of deception

And after 8years in government, the good people of Central Region have clearly seen through this deception and have appropriately decided to go back to the basics; and the reason is very simple: they now have records of both NPP and NDC to guide them in their decisions on 7th November, 2016. In areas around 'Brofoyedur' in the Cape Coast municipality where it used to be a complete no-go area for NPP in Ghana's previous two elections, I actually witnessed an amazing spectacularly spectacular spectacle of residents brandishing receipts of their prohibitive electricity tariffs and literally wailing and gnashing their teeth, right before Nana Addo and calling on him to come and save them.

As we go into election-2016, none of these factors that NDC capitalized on to smuggle their way into political office, do exist. The only factor on which they can bank their electoral hopes on is their performance.

Unfortunately, for the 8years they have been in power, all the noble achievements of the Kufuor-led NPP administration have been completely obliterated through incompetently incompetent incompetence, while naked looting of state coffers has been their most prominent hall-mark.

NDC's only hope

Evidently, the NDC's only hope of electoral survival is deploying every rigging skill that can be found on this planet. But strangely enough, the good people of this nation have now become so conversant with this character of NDC,that,wherever we went on our recent visit to the Central region, we were advised to be extremely vigilant on the day of elections,because,as for the votes, "WE SHALL GIVE IT TO YOU MASSIVELY".
Ensuring the sanctity of NPP votes

And for the assurance of Ghanaians who are desirous of change and have therefore vowed to massively vote for the NPP in the upcoming 7th November,2016 general elections,the party will put in place every needed mechanism to, effectively and vigilantly, ensure the sanctity of every single vote cast in our favour.

The figures will be religiously collated, clinically recorded and safely kept to await what the EC comes up with; and whether we shall declare these figures or not, depending on exigencies of the time,times,and timings, is an issue that is being closely kept to our chest.

Justice Abeeku Newton-Offei

Aide to Nana Addo Dankwa Akufo-Addo

E-mail: justnoff@yahoo.com