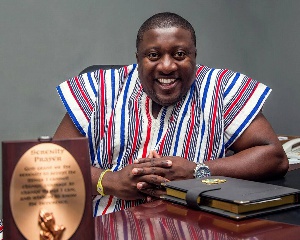 He occupied no official party position, yet his name, Henry Nana Boakye, a.k.a Nana B, became a household name, particularly in the run-up to election 2016 as a result of his pro-activeness.
Point is, if an "office-less" party man was able to project the interest of the party to the extent, that he was seen and being heard (when we needed a voice the most) much more than his competitors who were and are still party officials, then it tells you the kind of leadership the youth wing will have if he becomes the next National Youth Organizer; a proactively vibrant one! He's like the rock of Gibraltar, bold, firm, charismatic and not a pushover!

Without any shred of doubt, Nana B is committed to his resolve to make sure the toil of hardworking youth is not forgotten. He maintains that if there are political gains, there's every need to ensure, it trickles down to the ordinary voter, to the ordinary young men and women who devoted their time, energy and scarce resources to spearhead an agenda that brought a total liberation of the Ghanaian people from the economic mismanagement, crass incompetence and grotesque nepotism of the erstwhile NDC government.

Nana B has chosen to honor hard work, promote servitude to party and encourage loyalty by proposing to create a welfare fund when he becomes the next National Youth Organizer of the New Patriotic Party. This fund is aimed at supporting party men and women who in the course of their service to the party, encounter challenges of various forms. He acknowledges that, a nation that does not honor its heroes, has set for itself a path to auto-destruction.
In choosing who becomes our next youth leader, never at any point in time must we forget this; the NPP has a battle not Within the NPP, but outside the NPP. Defending the interest of the party through strategic communication is non-negotiable. Effective Organization and mobilization of the youth front for various party activities is Key.

Empowering the youth wing through various capacity building and personal development opportunities is an area we mustn't toy with. Building a reliable data base for the youth wing is a necessity in tracking the needs, challenges and progress of the youth! These are the many but few qualities and policies Nana B intends to bring on board when He gets the nod to lead the youth front of our party. Let's give him the chance, He will deliver! Boys go Chop, Girls for Chop!