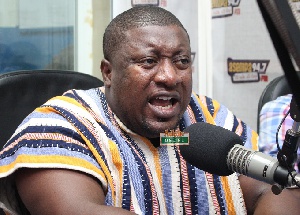 NANA B's VERSATILITY, A RECIPE FOR CONSOLIDATING THE GAINS OF ELECTION 2016 AND A NECESSARY TOOL FOR RE-CAPTURING POWER IN 2020.
Considering the caliber of persons who have had to lead the youth wing of our party over the past few years, I must say, as a party, we have been very fortunate. Therefore, political expediency requires, that we build on these legacies, taking into account the successes chalked, goals met, and unmet. We must not forget; smart goals need to be set again and again and again; for we have some crucial battles ahead.

We cannot crumble what we have built with our flesh and blood. No, we cannot do that! 2020 will soon be here! Hence, there is the need to seek a spirited and charismatic leader who will disarm the factually impotent, potentially dangerous and sadistically bigoted NDC! Henry Nana Boakye is that caliber of a leader who we cannot afford to substitute, not even for gold!

His dynamism and astuteness make him the perfect man for the job. We need to guard this, lest He escapes us and that will be suicidal for the future of the youth wing of the New Patriotic Party.

To our distinguished delegates, in the name of our mutual goodwill and with all humility, take the bold and brightest decision by endorsing Henry Nana Boakye as the next torchbearer of the NPP's youth-wing. We all are witnesses to his efforts in sustaining and strengthening the tides that binds all patriots; thus, commitment without inducement, jobs and opportunities for patriots.
Let us be weary of obscure words from the Tobias and "doubting Thomases", who are hell bent on reducing every motive of Nana B to nothing. Never should we cast away a friend bound with an oath, dishonored with only the charge of obscure words from naysayers. You have been called from the lot to mandate fellows who will be leading our dear party, hence you have a distinguished duty of making this one too right, as you have always done.

A wise man once said; a man should never be too sure of anything. It is in this light, that we continuously, in all humility, appeal to you to endorse Henry Nana Boakye as our next National Youth Organizer. This will enable us to rededicate ourselves to the course that brought the elephant to the Jubilee House, and this time, to solidify its gains there!

The name is Henry Nana Boakye, number One on the ballot. Let's keep it clean, for it is an internal contest.

#Nyame Nsa Womu!