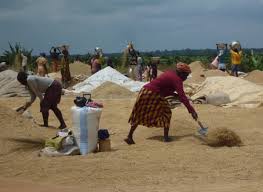 "Nana's Rice" must not be politicised since it is not a member of NPP, NDC, CPP, PPP or an Independent candidate. Nana's Rice is Purely Ghanaian and is Naturally Healthy, it is NOT Nana Addo. We are one people, born black, born indivisible, while let politics separates us? Politics in our time has become a cancerous disease, our enemy to progression. Politics in itself when practiced as it should fulfill its purpose, (for the good of society).
Oh, Ghanaians! When will we stop salivating for foreign goods, even for T-rolls? "Nana's rice" is here in our land, produced from the good land handed over by our ancestors. "Nana's Rice", a product from our own people who are making Ghana Great and Strong. Ayokooooooo! our dear farmers. You are the life of the land and should you cease to farm, all Ghanaians will cease to live. We thank you for the many sacrifices you have to make every day to be on the farm planting crops and the like to feed "we" your children. We are most grateful.

Let us not politicise "Nana's Rice". Some groups whose names will be reserved are planting "its NPP rice so NDC members will not patronize. First and foremost, I am ashamed of those and will be of any group or individuals who will sit after eating fortune rice to say such a thing. Ghana is for all of us. The problem with us is our inability to take away our political lenses to work as members belonging to the one star, (the black star of Africa).

We must note that for the whole earth to have light, sun or moon will have to come out as a whole and not broken apart. Imagine what will happen if the sun or the moon begins to break into parts. So we are like the sun, one and indivisible. We must put behind our tribal languages and work like people with one skin and stop this insanity of "I am NPP and I am NDC, or the like."
"Nana's rice" is Nana's Rice. Is it about the name that is confusing us? No, it must not, for the word "Nana" is Ghanaian, for whichever reason we must jubilate. The word "Nana" is not limited to the president. In fact, there are some mentally challenged people on our streets who bear the name "Nana". "Nana" can also be a title and as such not limited to Akans. In fact, we could have named the rice "Adwoa" just as we have "Nana" for its name. Must we fight as people over this? It will be a shame on that person who will go and sit on any TV station discussing their political issues and cite "Nana's Rice" as an example.

"Nana's Rice" is purely Ghanaian, it belongs to us all, lets us patronize it to boost the production. We will soon be feeding sister surrounding countries with "Nana's Rice". "Nana's Rice", Naturally Healthy. "Nana's Rice", you will go far!

From the pen of Emmanuel Graham Nyameke.