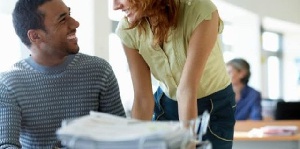 At the foundation of every successful family business is the strong bond and commitment of the business family. It is the unwavering support of the family that becomes the main competitive strength of the business.
Relationships within the family can have a profound impact on any family business. Some say that relationships between family members play the largest role in the success or failure of a family owned and operated business.

Families must be sure they are managing the relationships between family members that are working in the business and those not involved to make the business as successful as possible.

Relationships between siblings that result from growing up together as well as new relationships obtained through marriage have potential to cause conflict and threaten the success any family business tremendously.

To make sure a family business survives and thrives past one generation, family members must be able to recognize and respect their differences while communicating effectively with each other.

When family works together in a business environment, the relationships between the family members can make it extremely difficult.

To combat this, the business owner must set boundaries in the business that everyone involved in the business understands. Every employee must be treated equally as a major source of conflict can happen when there seems to be favoritism towards one family member over the others.

The business owner must clearly communicate to all family members the expectations of how the family is expected to conduct themselves according to Lofton. Everyone involved should be treated equally and if there is a difference in compensations, benefits, or responsibilities it should be based only on performance and not favoritism. This will help to minimize potential for conflict.

To build healthy relationships in the family business, family members need to recognize the importance of emotional intelligence. Emotional intelligence helps family members make decisions better because they know their feelings and can use them the right way when making decisions.
Emotional intelligence also helps family members manage differences between certain family members which helps create more positive family relationships for the benefit of the business. Emotionally intelligent families will be able to manage differences and handle conflict well which will ultimately cause less potential for conflict. Emotional intelligence is critical to managing family relationships in the family business and families high on emotional intelligence are more likely to have better working relationships with other family members.

Relationships between family members can also cause major problems when succession comes into the picture. The majority of family businesses do not make it to the second generation and far less make it to the third. This is due to two things, finances and family relationships as expressed by Mirel. Family relationships make it very difficult for a business to thrive through generations.

To assists in the difficulty of beating the odds and surviving through multiple generations, business owners need to carefully make a plan for successors. They need to analyze what their successor's strengths and personalities are and recognize the relationships between siblings that come into the picture. This will help to determine what each successors role will be in the future and help to minimize the potential for conflict between family members that could destroy the business.

Communication is of utmost importance as all families experience problems with relationships at some point or another. Poor communication often leads to more conflict in family relationships to borrow the words of Merwe. A lot of families will go out of their way to avoid talking about issues that have potential to cause conflict. Ignoring these issues does nothing but harm the relationships more. Good communication between family members helps build healthy family relationships and makes it easier to minimize conflict.

Families in business together that have poor communication should start off by discussing things about the family, then move on to discussing the business, advice byMerwe. Communication helps maintain mutual trust between family members which benefits the business.

In family businesses, there is more potential for conflict because of the overlap of family relationships in the business. Family members often disagree over issues for years and the conflict is never resolved or dealt with appropriately which causes larger issues in the long run. The difference between a family business that seems to have good relationships and ones that have bad relationships is not the lack of conflict; it is that the families manage conflict differently. Managing conflict in the family effectively is important to the success of all family owned and managed businesses.

Many families avoid discussing family and business issues because they feel it may cause conflict and harm family relations. Avoiding the issues makes the issues bigger and causes more problems with family relationships.

Family relationships are undoubtedly one of the most difficult aspects of any family business to manage. It is important for families that are in business together to make time to continually work on building healthy family relationships so their business will continue to thrive to the next generation instead of being destroyed by family conflict.
The two most dominant challenges in family business are succession planning and professionalizing management. Let us share some thoughts from Dr. Elfren S. Cruz who state that most of the time, the key question when considering succession planning is to decide whether to have or not have a family member as a successor. One interesting finding in family business literature is that there is no conclusive evidence that choosing a non-family member as successor is more appropriate or less appropriate in implementing succession. In other words, there is no consensus on whether a family member successor will be more appropriate or less appropriate.

However, in a study by Royer, Simons, Boyd and Rafferty of Family Business Review, several factors are likely to affect family business succession either positively or negatively.

These factors include the intentions or perspectives of the next generation; the quality of interpersonal relationships inside the family; the ability to acquire the predecessor's key knowledge and skills; and, the personal commitment to the family firm.

Several studies also suggest that the success of handing down family firms to other family members is more or less dependent in the type of industry the business is in. The highest rate of success would seem to be in sectors such as construction, real estate or different kinds of crafts. The lowest rate of success would appear to be in knowledge-based industries such as information technology or business services like accounting and advertising.

There are studies, quoted in the same article, that suggest that keeping a firm in the family is most appropriate in an uncertain environment or in sectors with relatively simple technologies.

Another possible outcome, especially in a small- or medium-sized family firm is that a family selects an outsider as the successor, this individual may appropriate a major share of the profitability which increases with his or her assessed capability. Choosing a family member as successor may protect the business from this danger and make the transfer of "success-relevant knowledge" easier on the part of the outgoing family business head.

Another factor favoring family successors are in larger and older companies who "have developed formal mechanisms for ensuring family health and maintaining family stability. Such mechanisms can include family assemblies or councils, as well as family constitutions or regular family meetings."

One critical factor in favor of family successors is the possession of "idiosyncratic" knowledge which is different from technical knowledge. This knowledge consists of important personal contacts and networks and the ability to motivate key employees to cooperate, as well as knowledge about local conditions and internal processes in the family firm.
In a family firm, "idiosyncratic" is often limited only to family members. The profitability of a family firm, in certain industries, often depends more on "idiosyncratic" knowledge that only managing family members possess, rather than technical knowledge.

There are, therefore, many situations where a family member would be a more desirable successor in a family firm rather than an outsider.

External or non-family successors may seem appropriate only when educational skills, work experience and success in the industry are demanded but are not present in any of the family members.

There are also studies that show that Japan's family businesses have a longer life span than family businesses in many other countries. One reason for that may not only be the long-term orientation of these businesses but also the clear preference for internal successors or at least quasi-family members such as sons-in-law who are transformed into family insiders.

This attitude to succession could be identified as a relevant aspect of success and the possibilities for transforming an outsider into an insider substitute should be seriously considered by family firms in Ghana who are not able to find the appropriate successor among its family members.

There is also a need to properly define the meaning of professional management in family business because there is a tendency, in much of business literature, to equate professional managers with external non-family, non-owner managers. Professional management is often wrongfully seen as mutually exclusive.

Corporate governance refers to the structures and processes for the direction and control of businesses and the relationships among the management, board of directors, controlling shareholders, minority shareholders and other stakeholders. Since good corporate governance contributes to sustainable economic development by enhancing the performance of companies, it is imperative that family companies adopts good corporate governance structures to enable them grow.

Family businesses are an often overlooked form of business ownership in today's world, yet they constitute a majority of the businesses. This means that families own a significant share of businesses and can influence important decisions in today's business world. However, according to Neubauer and Lank, until recently, the study of corporate governance in family business has been a largely neglected.
As family businesses are an important component of every economy and play a critical role in promoting growth of a country's economy, as they grow, they face same challenges and pressures as any major corporation. To succeed, they must remain ahead of the competition, adopt good corporate governance practices and skillfully navigate through market changes.

As the family business expands, the relationship among the owners, managers and employees becomes more complex.

To be able to handle such issues, a good corporate governance system put in place the right policies to manage such a complexity. Corporate governance creates a solid organizational structure that clarifies roles, reporting lines and delegation of responsibility. It also draws the line between ownership and management and separate policy direction from the day-to-day running of the company.

Also successful family businesses are the result of years of hard work and dedication and there is a need to ensure that the leadership transition does not disrupt the company's growth.

To pass on this success to the next generation, corporate governance needs to be made part of the family business culture so that there would be clear policies for the selection of the right family member to take over.

It would also provide clear guidelines for employing family or non-family members and an impartial performance-based promotion of employees which is essential to the sustainability of the business.

A solid governance system helps to resolve conflicts within the family setting, thereby allowing the family members to focus on other key issues of the business.

This would invariably lead to an open decision making and procedures that ensure fairness, an essential tool in avoiding tension and thereby raising the reputation of the company, until then the power is yours.