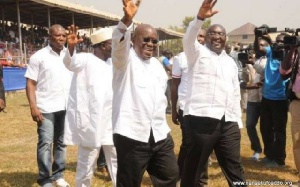 By Ibrahim Hardi
I have no kind words for Ghanaian opposition leaders who want to use violence, tribalism or people's challenges just to get into power. Ghana's image has already been dented and the last thing we should do is to watch power hungry people like Dr. Mahamuru Bawumia and Nana Akuffo Addo dent it more. And all those young people who are being used by them will regret it. It will be your own baby my friends.

We don't want clowns as leaders we want people who are willing to promote that peace we have been having. We want opposition leaders and a Think Thinks that is willing to help consolidate our ever growing democracy. We don't need losers. And I know some of you don't want to hear this; Your Nana Addo and his running mate Dr. Bawumia are losing just this December 7th election,insha Allah.

So please start preparing how you are going to spend the next four years in Opposition. By the way,if you are waiting for the Npp to win and give you jobs,we have seen it from the period of 2001-2008,It will not happen. Just wise up and do something useful.

I have said in most of my write ups that every part of our political body is important for our democracy. I know people in opposition are always bitter and long to see when that day will come. The day when they will be in power.

Therefore, as much as I would like to see fairness from the government departments,I would also like to see responsibility from opposition political sympathizers and leaders. We need a sane opposition, not those willing to be beating with passion and others.
We don't need people who just say things without thinking just because they are in opposition. We have people who don't even have a proper leadership vocabulary as opposition leaders.

As Ghanaians, we are peaceful people and we don't like trouble makers. We don't like people who provoke peace. Nana Akuffo Addo and his team are doing that. They are doing that because they know for sure they are losing the December 7th election. Characters like Kennedy Agyepong,Chairman Wuntume the Ashanti regional npp chairman and the latest "bribe taker" Abdul Fatawu Daniel Bugri Naabu ,northern regional chairman of the npp. Only a loser has those people. With this situation,I am 100% sure Nana Akuffo Addo will never be President of Ghana,Insha Allah.

I'm putting up this write up as a reminder to Ghanaians,especially the first time voters and the latter saints in the political spectrum,that never again shall Ghanaians ever vote for such a person as president of the republic. I'm seeing Nana Addo,the twice defeated presidential hopeful of the Busia- Danquah tradition as worse than former president kufour if Ghanians make a mistake,which I know they would not do in handing the destiny of this country into his hands.

They were a lot of corruption under him to the extend that,he stated that,corruption started from Adam!,the first man believe to be created by God. From the day former president kufour was inaugurated into office he dipped his hands into the nation's offers to renovate his private residence and had to be bailed out by the almighty Farmer Marfo, who later turned into a servant in his house.

Writer's e-mail: bigkolaaya@yahoo.com