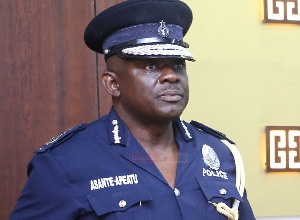 Just last week my sister-in-law died. She was finally put out of her misery after a long year of suffering and trying to restart life after her stroke, unfortunately her improved situation didn't last. A bad event for every family, in Europe what is left is calling the funeral home and they will take care of the extra "burden" of the bereaved family staying behind.
Not in Ghana, the bereaved has to come in action when a family member dies.

My youngest sister-in-law found my deceased sister-in-law who apparently died peacefully in her bed. She called my wife, who went over to the family house immediately, but since they both never had taken charge of the procedure of what to do when someone dies they went to the nearest police station.

The police insisted to be paid GH¢1,000 to come and inspect if there was no crime committed. My wife managed to "talk the price down" to GH¢200.

Then they were told that the deceased body should be brought for autopsy to the police hospital and an officer had to report her dead to the court and although that is part of their normal job my wife was charged for that "service". The helpful police officer also called an ambulance on which he probably took his commission as well.

When my wife, her sister and the body of the diseased sister arrived at the police hospital the people responsible for receiving the corpses demanded GH¢100 which my wife paid, only to find out that that was not the fee for the mortuary but a personal, but let's call it a "reward" for the people receiving and putting the corpses in the mortuary.
Naïve as we are, 2 days later my sister-in-law went to inquire if the autopsy had been done but she was informed that there was a waiting list. This list could be by-passed at a "fee" or otherwise it could take weeks or sometimes months.

Since we all wanted to proceed with the funeral arrangements my wife went back to the police station to inform if the death had been reported to the court. There we were informed that the officer, who "charged" money to go to court, was actually not the person who normally goes to court so we were asked to pay "transportation" for that person.

We informed a friend working at the police service if this was the normal procedure and he answered that an autopsy is only required in case of a suspicious death and a body didn't need to go to the police hospital morgue but could go to any morgue.

When my wife went back to the police morgue with that story she was told that because the body was now at the police hospital and they (my wife and sister-in-law) were pushing to release he body it would now be threaded as a suspicious death.

They were also told that they should be present at the autopsy when the body was opened, but they could also just identify and wait outside if they would give the (police) doctor "something".
That was when I decided to write this article about how shameless (police) corruption has become in Ghana.

Meanwhile the body is still in the morgue at the police hospital, the death still not reported at a court, and I am sure that this is not the end of the story yet.

But I can't shut up for all to finish before and report this most shameful corruption I have ever experienced in our already very corrupt country.