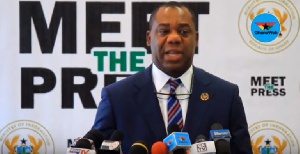 "The principal goal of education in the schools should be creating men and women who are capable of doing new things, not simply repeating what other generation have done" [Jean Piaget].
To the brainchild behind the theory of relativity, Albert Einstein, education implied what remains after one has forgotten what one has learned in school.

With the high graduate unemployment rate in Ghana, one would expect our leaders to come up with a last-ditch hard-nosed attempt to water down the increasing joblessness of the educated youth in the country. Yet, the education minister is on the cusp of implementing no PhD no university lecturing policy in Ghana.

From my novice commonsensical analysis, this policy is epistemologically a flaw, untenable relative to both andragogy and pedagogy, and a clear sense of a macabre prank in higher education. Dear education minister, Ph. D. referencing doctor of philosophy is not a terminal [highest] degree in all disciplines.

Although the goal of PhD is to create non-existing knowledge in the world, PhD specialities such as clinical/ counselling and industrial-organizational psychology focus on a scientist-practitioner model implying a combination of professional training and research. I am told PhD in medicine programs utilize the scientist-practitioner model simply implying a mixture of theory and application. Not all PhD programs focus on the scholar-practitioner model.

In the United Kingdom, Ph. D. programs take three years beyond the Master of Philosophy to complete. In the USA, PhD programs take between four and eight years to complete. There are other doctoral degrees that do not focus on creating new knowledge but the application of knowledge. The foregoing programs that focus on practical training include, Doctor of Psychology (PsyD), Doctor of Education (EdD), Doctor of Business Administration (DBA), Doctor of Technology (DTech), Doctor of Nursing Practice (DNP), Doctor of Social Work (DSW), Doctor of Arts (Art. D.), and D.D. referencing Doctor of Divinity.

In Russia and the UK, there is a degree above PhD known as higher doctorates.
In Germany, a similar higher degree beyond PhD known as habilitation is awarded. In the United State, the post-doctoral re-specialization certificate is awarded in certain disciplines. Other common professional doctorate degrees include Doctor of Medicine (M.D.), Juris Doctor (J.D.), Doctor of Pharmacy (Pharm. D.), and others. In some subjects, professional masters' degrees such as Master of Fine Art (MFA), Master Architect (MArch) are considered terminal.

Not all university students want to focus on research or theory. Some want to focus on a practical or career-oriented education. There is nothing wrong with a masters' degree holder in journalism or law with long years of professional experience to lecture at the university. Similarly, a chartered accountant with a Master of Business Administration (MBA) can teach and train would-be accountants. Dear education minister, you have to rescind no PhD no university teaching job policy.

No, PhD no university teaching job must be reconsidered. Some masters' holders are professors by virtue of their frequent publications in the scholarly peer-reviewed journals. In the developed world like USA masters holders teach at the universities. Factors such as how many percentages of the Ghanaian population have PhD must be considered. In the USA for example, only 2% of the entire population have doctoral degrees. The attrition rate of doctoral students is very high. About 56% of individuals who begin PhD does not complete. Per 2013 report published on July 26, by England Funding Council, 72.9 % of the 11,625 learners from the UK or the EU, who began full- time doctorate in 2010/11 could obtain their degree within seven years. Almost 80.5 could complete their doctorate within 25 years.

This prediction was based on the annual submission to the higher education statistics agency in England. We need a professional doctorate or masters holders to teach in the technical universities. Most professors in the Ghanaian universities are without PhD. We need the total statistics of PhD holders in Ghana to ascertain the extent of the practicability of no PhD no university teaching policy. Many individuals with doctoral titles in Ghana are honorary, to wit: conferring doctorate without an academic degree. Individuals with an honorary doctorate are not supposed to use the title "Dr." before their names.

The titles, doctor, bishop, and prophet are commonly abused in Ghana. Radio presenters are complicit in this. Some crooks have also procured fake degrees in their various institutions. It is very easy to detect if an individual has a doctorate degree or not online. I mean what is the benign essence of academic titles if they are commonly abused in the airwaves? Dear Education minister, please, work with the security agencies and the accreditation board to clamp down on individuals with fake degrees. This becomes dangerous when the perpetrators pretend to be medical doctors in some gullible communities!

There are speculations that PhD holders above 35 years are not accepted in some Ghanaian public universities. Dear education minister kindly investigates this Machiavellian and draconian policy, for it is very unconstitutional. Evidence-based research posits that the average earliest age of completing a PhD in the humanities hover between 37 and 39. What has the age of completing PhD got to do with the ability to teach? Ghana is a member of the Organisation (ILO) which frowns upon discrimination on the basis of gender, colour, age, or disability.
Chapter 5, section 12 (2) of the 1992 constitution prohibits discrimination. If this is a policy in some Ghanaian public universities, it also in contravention with llabourAct 651, of 2003. It is excessively nonsensical to deprive 36-55 years old Ph.D. holders university teaching jobs while 65 years and older, still want to teach on a contract basis. Let me congratulate the minister of education on his decision to terminate the contracts of the lecturers above 65 years. Nonetheless, certain critical areas like medicine and clinical psychology where more lecturers are needed must be reconsidered.

Another weird misconception in the academic fraternity is the perception that Master of Art (MA), Master of Science (MSc), Master of Education (MEd) are inferior to the master of philosophy (MPhil). This is somewhat risible. In the United States, for instance, there are no MPhil. Programs. The programs are either MA, MSc, MEd, MBA or MPA. Some of the afore-cited masters' level programs are more detailed than some MPhil. Programs. For example, MA/MSc in clinical mental health counseling/clinical psychology or master's in clinical social work degree ranges between 60-72 credits with thesis whereas some MPhil. programs in the UK ranges between 42-48 credits. So whence does individuals in the academia generate this relegation of MA and MSc below MPhil? programs. A friend teaching in the college of education in the Eastern Region of Ghana, told me he has MEd, in the English language, they are directing him to go for MPhil in order to secure his job. Depending on the country and the focus of education, not all MPhils programs are higher than MA, MSc, MEd, MBA or MPA.

In another development, rescind your decision to convert colleges of education into a degree awarding institution. Ghana cannot be a degree mill where every school beyond high school awards degree. There is no country in the world where every school beyond high school award degrees.

God Bless Our Homeland Ghana