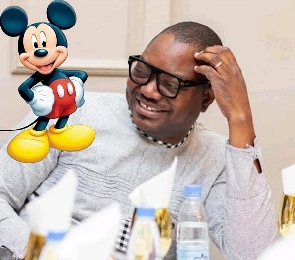 Nothing can be as painful as going for a visa to travel abroad and not getting the visa. I told you about how I applied for a visa in 2001 and got bounced by the UK embassy. The night before the interview, I had to join a long queue at Osu by 5pm. People were hopeful.
I sat by the lawns near the embassy and at some point, I slept off albeit briefly. In my short sleep, I dreamt that I was wearing thick pull overs walking the green streets of London in excitement. I knew at this point that my ancestral poverty that transcended to me was going to be a thing of the past.

I was going to kill poverty by the fact that I was already in London to hustle for money to feed my family and to build houses, buy cars and wives plenty. Life was going to be sweet.

Then I saw an underground train passing. They said they were en route Paris. Ei wow! So e bi me be this? "To God be the glory", I said to myself. My style of walking begun changing even in the dream. My hands were in my pockets. Ehern, here I don't expect you to wonder why I did not say both hands were in my pocket.

That expression is wrong, according to the Queen / King of England. How many hands do you have that you want me to say both hands were in my pockets? Well, though acceptable in the Queen's / King's language, it is a waste of time to add both because all things being equal, you have only two hands.

U no sabi book kraa. Hahahaha. I am sure you've spent all your money on the Easter, I dey lie? Na so ooo. Hahahaha! Volta is gradually being identified as another great destination for Easter holidays. Just through the Anlo line to Aflao and Denu beaches. Sleep over at 'Thanks Hotel' and the next morning, set off for Ho and you would love to pass by to see the 'unspoken about-Avey-Dakpa crocodile ponds'.
In fact, these are real crocodiles in their natural wild states; not the ones you can sit on and be taking pitcha with ease. Anyway, like I always say, 'once you can have a handshake with a crocodile, it ceases to be a crocodile' – know your boundaries. Halleluya!

Go and sleep in Ho and the following morning, set off for Hohoe through Dzolokpuita and Kpedze line. It is there, you may think you are in Cape Town and the weather from the scenic views? Alla! It is better experienced than described.

Yes, Cape Town! Some strategic investors should be taking advantage by now! You don't need to travel to Cape Town! It is right here in Ghana, in case you didn't know.

This is what happens when you are in a dream after a wild hang over o. You are here one minute, the next moment, you are there. In the next moment, you realise you are actually dreaming while still in the dream.

This is what this 'useless Column' does to me o. Hahahahaha! Pure abstract, nothing to learn here. You start from above and then you don't know whether to look up or look down and then you are all over the place, confused! Indeed, 'Useless Column; don't read'!
I suddenly woke up from my sleep and checked with the time. I had barely slept for less than 10 minutes and had all these plenty dreams.

I was full of regret because I was still in Ghana but the dream was going to come true. Abeg, I've seen some of you write: 'my dream come through'. The truth is that I don't even know which is correct; dream come 'true' or 'through'. Go and ask the King er!

At the UK Embassy in Accra, I knew I was going to get the visa in some hours. My dreams don't fail me. In the queue, this one would go and come and say: 'they said I should come in the afternoon for the visa'.

About 6 out of 7 got their visas. The other one was asked to bring some additional information and re-submit. The 'pass rate' was great. I was hopeful that me too I would get visa p3333 and sit inside aeroplane and go to London. I will later come back to Ghana and swim for swimming pool.

It was my turn and the white woman looked through my documents and asked: 'how long do you intend to stay in the UK? I said: 2 months, on holidays. Only me know my true intentions. You know my real intention is to go and 'cure poverty'.
This woman's question was rhetorical as far as I was concerned. How long s3 s3n? I am sure the woman saw poverty written all over my face and was certain that when I go, I won't come back.

By the grace of God, I passed that stage. The next question was: 'have you travelled abroad before? I answered YES. This was to increase my chances. Next question was 'to where?'. I responded: Togo. The speed with which that woman bounced me er. I saw London but never got there.

Twenty something years later, in a way, I am glad I was bounced on that occasion. The reason? I won't tell you but just be happy and thank whoever denies you access to what you think is your heart's desires. If the door does not open, it is not yours! Finish! Matter close. Go and sit down, Kwame!

But you may not realise it at that moment. I remember I came home down-spirited, almost weeping and felt my dreams were shattered. I saw my siblings and friends and wondered how I was going to survive in this 'mess' with them. The camboo I dreamt of buying for Korshi, my brother when coming down on holidays from London were all shattered.

Have a nice weekend and for those of you who dreamt that the air-condition in the divorce court chills very well, you would be surprised to learn that indeed 'nowhere cool'! Don't make promises before God that 'for better for worse' and still want to jump ship. Ei, Saadwa, you no dey fear God?
Reporting for the 'Useless Column', this is Mawuli saying bye byeeee….from Galilea, just after the Kasoa toll booth!