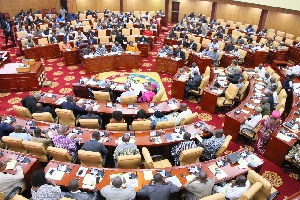 When on 22 September 2017, I read in the news that the young and admired MP for Kwabre East Constituency, Hon. Francisca Oteng Mensah was advocating the widespread distribution of contraceptives to girls in secondary schools as a way of preventing unwanted pregnancies, I knew we had a big problem on our hands. It seems her views and hence her call is in line with the "eligibility criteria" for being a "feminist". Frankly speaking, I do not even know who a feminist is.
Nevertheless, if feminism is about recognizing the great dignity and talents of women, then I surely count myself as one, and I believe all right-thinking members of society should be. Indeed, the Speaker of Parliament, Professor Mike Oquaye, compared a society that does not empower its women to an athlete running a race and insisting he will run on one leg when he indeed has two. He said this during the visit of a Sudanese delegation in January 2017. This is so true!

However, in the quest to empower women, certain positions are espoused, which are logically unsustainable. The view of the MP, that girls should be given condoms is probably borne out the thinking that, look, these girls are sexually active. They will have sex anyway! So why don't we make it "safe". This looks innocuous on the surface, yet its implications reveal the danger and the folly of this line of thinking. The argument has been pushed extensively by the mainstream media and it appears many have bought into it. So, what is the implication? The sex instinct is undoubtedly one of the strongest drives in human beings. Yet it is not superior to the human will, otherwise nobody will be liable for rape. While our forebears were brought up and trained to attain a mastery of their sexuality, our culture says this mastery is not achievable.

The culture, which the MP appears to subscribe to, says such self-mastery is utopian and should be abandoned in favour of condoms. When you are brought up with the thinking that the sex instinct is stronger than the human will and must be obeyed at all times (with the help of condoms), then it becomes understandable why there should necessarily be problems of marital infidelity and related chaos in society. If human beings of previous generations were able to rule this instinct and assert the superiority of the human will, this generation can too. Unless we are prepared to make the strange admission that our generation is inferior to earlier generations in terms of human endowment.

This is why I was pleased when I read that the Central Regional Minister, Hon. Kwamena Duncan was admonishing young students at Odoben Senior High School to refrain from engaging in sex. I hope he is not labelled a misogynist! His counsel is a wise one that comes from the heart of a parent who believes that it is possible to exercise control over our human instincts. I understand that this man used to teach biology in one of Ghana's most respected schools – Mfantsipim School –; he is therefore not an ignoramus when it comes to knowledge of human reproductive systems and related hormonal activity.

The great social anthropologist Most Reverend Peter Akwasi Sarpong (Archbishop Emeritus) compared human sexuality to food. While food is necessary for the survival of the individual, sex is necessary for the survival of society. Without it there will be no procreation and humans will go extinct. Yet, sexuality has to be expressed responsibly. That is why rape is an offense against the Law – it is a voluntary act. Again, mastery of the self is a goal to which all must aspire – however difficult.
It is clear, that, while the experienced Biology teacher believes that self-mastery is possible, the Honourable MP does not, and therefore recommends wide circulation of contraceptives to girls in secondary schools. I leave the reader to judge and decide which way the nation should go.

I shall be back with further discussion on the logic of contraception.

Yours truly, Ato Kwamena Nyamekye of Okyerekrom – Fumesua.

atoquansah@yahoo.co.uk