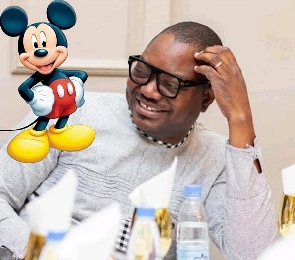 When your two wives are fighting, leave them to fight. The day they would stop fighting and are in good terms with each other, you are finished – they would gang up against you and the rest will be persistent headaches and unexplained stomach pains.
Is it not surprising that it is only in the church that first names become surnames? Pastor Dan, Pastor Chris, Pastor Ben, Pastor Kofi, Pastor Toffee, Pastor Mawuli. Ei, years back my landlord used to call me Pastor Mawuli oo. Alla! I have just been laughing in my head anytime he did.

When my eyi visited me, I would lock the door and the two of us would be in the room and I will be playing Beenie Man's 1999 hit Gospel 'Move to the right in the name of Jesus, move to the left in the name of the Lord' and this I set on 'Replay, Replay, Replay' mode saaaaa.

By this deception, my landlord thought I was extremely pious hence my love for Gospel music. He didn't know what I was moving from and into what. God forgive me oo because I didn't know what I was doing. No be so? Na sooooo! Thank God it is Friday and Monday is a holidayyyyy! Hurraaaayyyyyy! Aisha, I miss you. Wherever you are, remember me on Monday. I want meat to eat. I mean proper meat o, not what this reader is thinking. Just meat o.

The thing is creating problems for us but men would simply not stop just because we want all our orgasmic stock to be depleted here on earth. Some of us including me are like goats. The goat says "wherever there is a stick, it means there is food there". Wey kan food? I don't knowwww!
I met this nice lady last Saturday at the washing bay. Pretty young lady about 29 years who said her fiancé was going to buy pizza for her but sadly died in an accident and she has been single since then. And that she has been continuously mourning him since then. The guy was from Inkwanta and my new friend is from Jelukope. No further comments.

She is living in a rented apartment sponsored by the late fiancé and the rent is due for renewal in June. This is where I often lose interest instantly. Upon this information, I immediately blocked her on wassap and voice calls.

Two days ago, she managed to use a different line to call me. I responded nicely but she complained about my line not going through and I blamed it on bad network! Period!

She wanted to see me after work; I agreed! On my way to her Awudome residence where she lives, I called to find out what she would like as gift from me. Her answer dazed me – padlock. All she wanted was a padlock. Padlock??? Eweeei! I made a U-turn and awayyy! I am still finding it difficult to come to terms with what she wanted a padlock for. Don't ask me why I didn't find out from her.
It is safer that way or you don't know? If some ladies tell you 'Hmmm, I don't know how I am going to solve this problem oo', the biggest mistake any man can make at this point probably out of unnecessary care is to ask 'what problem'? Hahaaaa! My brother, make no comment; just pretend you didn't hear what she said, fake a phone call and run away. Chai!

That reminds me of some interesting character of a girl who chopped my money at Lashibi for 4 months without me 'eating anything'. The day we agreed to 'eat', she said 'Kotorkor is playing and so no show. Whaatt! Even if it's Liverpool playing today, we have to use the stadium.

What do you mean? For four months, I put you on my payroll and give you GHC30 every month totaling GHC120 for 4 months without withholding tax and you think it is small money? We would 'play' even if the grass is green. Ha! This same girl is the girl who ate my Chinese restaurant fried rice while I ate kenkey and pepper with cassava fish head. Anytime she asked why I wasn't eating fried rice, my excuse was that I wanted to avoid cholesterol. It's a lie. Poverty 'na in weak me'!

When we got 'there', she was doing some things bi and I applied reasonable use of love words just to confuse her. She agreed and asked me to go and lock the door first. The way I jubilated but this was short-lived. You wouldn't believe what she had inside the front part of her jeans trousers – 2 copies of note 1 exercise books as 'eye pads' to deceive me la ah!
This 'thing' is costing me money, stress, pain and unnecessary troubles but I don't know what to do la. I feel like crying only to remember I caused it myself! Flee, my brother, flee, sometimes, flee. Haaai! Me too, I wanted to 'come'…home! There is nothing as sweet as that thing with a thin expandable space inside it. I wonder if it will be in heaven to create and give us orgasm when we get there.

Dangerously, after eating she left the rice pack in my car before I drove home. My wife 'accidentally' saw it the following day! She asked me what a used pack with chicken bones was doing in my car seat under and I explained I was doing part time job at zumlion hence collecting used packs has become my hobby. She believed me. She is very understanding. Ajeeeeei!

I got drunk last year oo. I didn't tell anybody so please don't tell anybody oo. Top secret. It was on December 25 last year, my birthday. My friends and I went to the beach at Kokrobite.

My friends knew very well I don't drink alcohol and so made provision for fruit juice for me. It was poured in a glass and I just gulped it down. Less than a minute, the feeling became that of a super man. I could see the whole world under my feet. I got so excited I'd wanted to swim contrary to my resolve of no swimming in the sea.
For a moment, I realized I was walking on only one leg. I could see everybody 2, 2, 2, in my eyes! I then saw them laughing at me. I then realized that they had mixed my fruit juice with gin. Look, but for the hangover I had that night, I am sure by now, I would have been a drunkard from overindulgence. Whaaat! The feeling was good oo! I was so happy after that drink but in the night, headache be what! I vowed never to be telling people I don't take in alcohol.

Shhhh! Don't be telling your friends you don't like their bad habits. Pretend you like everything; they will eventually notice your dislike and may stop their own bad ways. If you make them feel they are the only morally corrupt ones and that you are the holy one, they would find a way of making you one of their own.

Ei, what is this I am hearing? Is there a certain global 'paradigm shift' or an attempt to make men get their 'power' back after Beijin '95? Which power sef? If you know your battery is weak yet you want your power back, go and confess! Men, all we need to do is to take it easy on ourselves and once in a while, confide in someone who we can lean on in times of 'headache'. As for me, I laugh a lot of things off because I believe the best way to live is to make certain things 'useless'…this column on my mind!

Have a great weekend and remember the fact that the dictates of the flesh can lead one into doom! Let us have control over our feelings and not our feelings over powering our will-power! Tataaaaa!