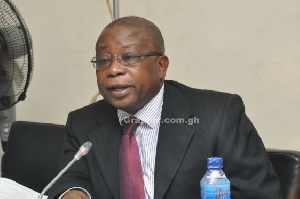 The most complete health facility within the Ministries in Accra has no water!
The CLOGSAG Polyclinic, dedicated to Civil and Local Government Staff Association of Ghana, is open to all and sundry; it has a dispensary, pharmacy, lab and consulting rooms.

"Good morning. Why is the water not flowing?" I asked a male records staff.

"And there's no water?" came the reply.

It was a shock. But it turned out that after interviewing five nurses at a table and two others in a lengthier conversation, the refrain was the same.

"Are you saying there is no water [in a bowl]?" was the usual response, the staff being more worried about journalists asking them questions without showing ID cards. Being freelance was no excuse.

Meanwhile there are multiple security cameras at the premises.

"But what if we are not journalists and we are asking simply as patients or mystery clients," we asked a more engaging nurse who said that a husband was a journalist and was hence more accustomed to the work of journalists.
"That is why we told you that there is a pan of water on the floor. Errh, it's a problem," she told us.

As we entered an office, she soon followed us, handing us a mobile phone with a male voice at the other end of the line (name withheld) who was said to be in charge, but it turned out nasty: "If you want to ask [for water] go to Ghana Water Company. Don't go to somebody's destination without an ID card".

But another lady nurse, MBA, who did not like how the telephone conversation went decided it was better to engage the media.

She told us she was based at the Family Planning and STI unit at the main CLOGSAG building which houses that unit for the CLOGSAG Polyclinic due to lack of space.

"There is no water problem there because they have a borehole in the main CLOGSAG building," she offered.

But that is the situation at CLOGSAG POLYCLINIC also known as Stadium Clinic.

On our visit, on 21 June, there were five big bowls of water, which the nurses referred to as Veronica buckets, sitting on a wet toilet floor. The same toilet is used by both males and females. Another toilet was closed for repairs.
There was no soap to wash hands. Right in our presence (two males), ladies with kids will fetch water with a pail several times to flush the dysfunctional water closets.

Out of respect for an agreement reached with the health workers, we shall publish no pictures. They were afraid of sanctions from the Ghana Health Service authorities.

Nurse MBA's clinic attends to more than 100 clients on Mondays which are peak days and about 50 on Fridays.

"I handle diarrhoea, fever, rashes. You know the symptoms of AIDS," she told us. "Some come for voluntary testing before marriage and sickling test. The numbers vary. Even those who travel to Saudi Arabia [domestic assistants] come for testing."

Her clinic also does breast examinations.

With still no ready answers from health workers on the toilets, we turned to several patients much to the displeasure of the nurses who said that it was their duty to protect the patients.

A middle aged lady who said that she had been visiting regularly for two years for hypertension treatment told us she had never entered the toilet.
Another lady, who brought a girl toddler for treatment told us in fours years of regular attendance she has entered the toilet only once.

We then turned to a male customs officer who has been working at the Ghana Revenue Authority (GRA) head office, Customs Division for two years, for his views on the matter.

"I can't readily speak to it because I don't go there. The doctor comes to our facility but today I am following her," he said adding that the clinic of the Customs Division of GRA has all the facilities they need. "As we speak I don't have the need to go there but if I go there and it's not clean I will definitely not go there again."

He explained that the Customs staff used to visit the CLOGSAG Polyclinic but the staff association decided "to open a clinic in the yard".

Meanwhile, as we were waiting to be arrested by the police as threatened by the manager over the phone who had referred us to Ghana Water Company, we had a robust debate about Veronica buckets with the nurse who arranged the phone call.

"The problem is only eight months old," she explained. "When the building was reconstructed, the pipes were left underneath. It goes beyond us. But there are days when the water flows."

The Ministry of Sanitation, and the Ministry of Water Resources, Works and Housing are located less than 30 meters from this mess. Oh, how did we forget the Ministry of Health; they are just 50 meters away, across the Starlets '91 Street!
And yes, at these sites are the gas guzzling SUVs fuelled with government coupons given to the chancers and party ideologues – the chronic underachievers.

These are the facts and when you talk/write…………

Feedback; ato@writersghana.com; www.writersghana.com; LinkedIn, Isaac Ato Mensah; Instagram, @atomenswriters; Twitter, @Atomens; Facebook, Isaac Ato Mensah; Telegram, Isaac Ato Mensah; Quora, Isaac Ato Mensah. WhatsApp (233) 020 022 0353.

Writers and Shakespeares Ghana Limited exist to be a moral and intellectual guide to the best practice of PR and integrated communications around the world, beginning with Ghana.