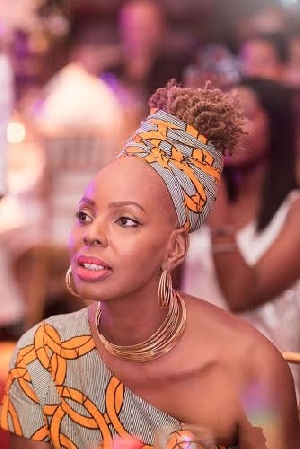 Football. The beautiful game in Ghana now marred, scarred and ugly.
Number 12 hit the screen; local and regional football hit the skids.

I watched the 3pm premiere. Two hours later I emerged. Stunned, Shocked. Appalled. Outraged. Words are inadequate to fully articulate Number 12's impact.

It was the result of a two year long undercover investigation by Tiger Eye PI led by Anas.

Betrayed, broken and shredded to pieces, Ghana's Football Authority lay on the Accra International Conference Centre floor. Match fixers, bribe takers, integrity fakers. From referees to officials, Anas's allegations painted a stark picture of an institution filled with holes. Bribes from GhC300 to GhC5,000 were accepted to fix matches. Some fixes did not result in the match going the way the bribe suggested it would – but a bitter, bitter taste was left in my mouth.

Its reputation gone; exposed, vulnerable and battered. How does Ghana Football Authority recover after this?

My thoughts were with the young men and women who sign up and fight to play in Ghana's local football league. Imagine. Many work, fight, try and try again – believing that on these fields lay opportunity and possibility. Instead, Anas's No. 12 showed us the underbelly of these fields. There, it was not a game, but a score – a cash score, lining pockets and stacking the game for the greedy.

The list of names now scorched into the minds of a people as corrupt came from Ghana Football Authority and National Sports Authority. More than 100 referees and match commissioners are shown on film to have taken bribes. And then up the organizational ladder No. 12 went. Just some of those names? From the GFA it was Mr. Amor – Member Referees Review Committee; Joseph Wellington – Vice Chairman Referees Appointment Committee; Thomas Nunoo – Member Referees Appointment Committee; Umar Teni – Members Appointment Committee and Kofu Manu – Blue Blue Chairman Player Status Committee. From there we went up the ladder further to the Match Commissioners. Leanier Addy – Match Commissioner; M.N. Mohammed – Match Commissioner. Up again to the regional chairmen; Eddie Donku – Regional Chairman Greater Accra; A. A. Lawal – FA Chairman Eastern Region; Abdulai Alhassan – FA Chairman Northern Region. From the National Sports Authority it was Fredericka Mensah-Davies Public Relationship Officer and Robert Safo-Mensah the Director General. These are just some of the names.

And then there was GFA President, Frances Nyantakyi.

Ghana's Football Authority president offered us the most disturbing insight into the ways in which our politics within this administration functions. Disgraced as a GFA president, his words – as a result of undercover filming – offered us a telling glimpse into how political business may be done under an administration whose mantra is 'change has come'.

The lens of Anas revealed a sordid picture of corrupt practices showing politics as a blood sport of pay offs, inflated contracts, greedy Ministers and even a Vice President and President seeking payback for huge monies spent on this election. Nyantakyi devastated this party's mantra of 'change has come' and instead this documentary rewrote it as 'corrupt political business as usual'.
Tactics

Scenes of Mr. Nyantakyi. Believing he was talking with a wealthy business man – he took a $65,000 bribe. Scenes of a GFA president stuffing thousands of dollars into a bag and putting it on the ground next to his chair and patting it on its side are indelibly printed on our minds. We watched, open mouthed as he stuffed the piles of money into a bag. Accra International Conference Centre erupted again and again with revelation after revelation by Mr Nyantakyi.

Wow!

Political Maths

He revealed in horrifying detail that essentially Ghana was for sale to the highest payer and that he "could take Ghana over" together with the wealthy businessman who was in fact a Tiger Eye undercover operator. His political maths? It would take $11 million to land Ghana into the hands of this businessman and himself. With Bauwmia as a political candidate, Nyantakyi boasted on the undercover filming, Ghana would be theirs.

Statements that he has access to the highest corridors of political power stung. His assertion that drop a few million into the hands and laps of Ghana's President, Vice President, Ministries and Deputies and a contract is yours – in fact the entire nation is yours.

Indeed, there was so much more than the world of football that was scrutinized, dissected and destroyed with referees, officials named as alleged bribe takers and integrity fakers.

Key members of this administration now require detailed scrutiny – including a highly questionable light shining over our President Akufo Addo and his VP.

This was about much more than bribery.

Nyantakyi offered us a glimpse into this administration's window of doing business that potentially indicts the President himself, the Vice President – Dr Bauwmia and the Ministers for Roads and Energy.
President Akufo-Addo dismissed the claims as "totally false". I was unconvinced by the President's assertion regarding Nyantakyi's claims. I was unconvinced by Dr Bauwmia's responses too. Anas revelations require more than verbal dismissal.

Politics vs Journalism

And then there was Mr. Kennedy Agyapong.

Hon. Kennedy Agyapong's is named by Nyantakyi as a political, monied headache for the NPP. He is a huge financier of the party; and is apparently reckless, dictatorial and uncontrollable. We now understand Mr. Agyapong's loudly articulated ire and his call for Anas to be hanged.

Kennedy Agyapong, an NPP party financier and the Member of Parliament of Assin Central is the owner of media houses. The Media Foundation for West Africa did a piece of major research revealing the owners of media houses. Politicians are sprinkled as owners across the media landscape.

Kennedy Agyapong owns KenCity Media – formerly Oman FM Limited. KenCity Media comprises Net 2 Television station, Oman FM, Ash FM and Spice FM.

That meant he always had a mic on which he could rage and rant, unchallenged and unopposed. Since Mr. Agyapong is now named by Nyantakyi as a problem about which the party is scratching its head – we better understand Mr Agyapong's own call for Anas's head.

Here is where there is a reckoning necessary between journalism and politics. Politicians and media houses are uneasy, deeply problematic bedfellows.

For me, Number 12's revelations show that journalism is at a crossroads with politician-owned media houses. They have unfettered access to a profession whose work is to investigate, call out where relevant and deal with those very politicians.

What do journalists do when it is your boss that needs to be investigated, reported on and whose activity then threatens your own profession – or perhaps your own integrity and professionalism? How does an industry in which investigative journalism enables the revelations of corrupt political practice flourish when the person who writes your journalistic check may be the very person your industry requires you to investigate?
This is much more than a conflict of interest.

Journalism is hurtling towards a reckoning with the world of politics. In a bid to avoid being mired in the kind of mud where journalistic integrity is not merely compromised by media ownership but destroyed, we as an industry must internally navigate this difficult moment. This is the stickiest of businesses for which we have no precedent, guide book or road map.

But it is a reckoning we must have; it is an issue we must confront and explore.

Consequences

Nyantakyi's head will inevitably roll. It should not roll alone.

This is not about just Nyantakyi's soured leadership and the bribe taking individuals.

It is about three institutions; football, politics and journalism.

Politics: the allegations made by Nyantakyi against the President, the VP and the Ministers of Roads and Energy require careful scrutiny, further investigation, a full inquiry and response.

Football: Football is beloved and has been betrayed. Number 12 turned long made allegation and speculation into revelation. How do we begin to rebuild? And with whom?

We in the media are gingerly inching towards our own reckoning with this world of politics that seeks access to audience, control of message and unchallenged expression via its ownership of media houses. This is not balance, it is mayhem.
This was a dark day. It will get darker.

Where to now?

A lid has been lifted and what lies beneath may temporarily choke the citizens of a nation.

We are in a moment where he who pays the piper calls the tune. Our football tune is one of betrayal. Our political tune serves the bribe takers and the access-havers.

Neither is as loud as the citizens' tune. We have taken a hit. We are reeling. We cannot stay that way.

Number 12 was a punch to our gut. We saw the eye of the tiger and its lens on corruption.

We are Number Citizen. That is the highest number. It holds the most power.

Let the reckoning begin.