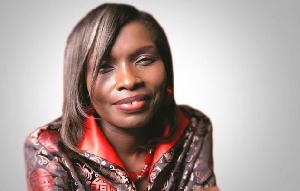 Rev Kusi Berko Yaw Sarpong and Asomafo Comfort Annor Hannah Marfo Emy Newman Tahoe Sister Danny Nertey Helena Rhabbles Mary Ghansah Elder Mireku Comfort Annor Prof Kofi Abraham Esther Nyamekye Mama Esther Daughters of Glorious Jesus Suzie and Mat Bertha Aboagye Elder Francis Adjei Bishop Mensah Bonsu Esther Amoako Juliana Acheampong Stella Dugan Rev YABS Rev Osei Bonsu Bishop Mensah Bonsu Young Missionaries Rev George Owusu Ansah Getty and Friends Abawa Connie Maame Justin Joyful Way Inc Naana & Dan Juliet Amoah Helena Rabbles Dina Akiwumi (Now Dina Hopson) Edward Akwasi Boateng Cindy Thompson Nana Yaw Asare Jane and Bernice Esther Smith Mark Anim Yerentwu Nana Yaw Asare
I wrote the above names smiling and reminiscing the songs they blessed us with.

In the 90s and early 2000, the above musicians blessed us with timeless Gospel Songs. You could feel God's presence even as a kid when their songs were played

Those were the days you could tell from afar that the writer was influenced by God and the desire to draw many to Him.

Today, most Gospel musicians care more about their brand than the message. Their priority is to get more shows, change cars and be in the news.

It is sad, it is sad, I mean it is sad because way back in 95 or so when my dad bought Juliana Achempong and Kusi Berko's Cassette, I knew they were special songs even as a kid. I can sing every single song of Juliana Acheampong on that Album even though the last time I heard most of them was in 1998. Wow, how far have we fallen, how did we move from Stella Dugan to Gifty Osei?
Money, the primary objective of most singers today is money. But Jesus said emphatically that you either go primarily with Him so that money becomes secondary or go primarily with money and forget Him altogether.

Some of them made timeless impact with just one album because they didn't sing for the cameras, their songs will never be forgotten nor their impact fade. This is because everything with God's hand in it is timeless. Juliet Amoah for instance remains relatively unknown to many but her song Gye wa yeyi and a couple more remain all time classic. Jude Lomoter says 'Kaashe Gbeye (Don't be afraid)

Look for any of the names mentioned above on YouTube, you can listen to one song over 20 times on repeat and not get tired. Kusi Berko's Ofata is an example.

Times have changed and changed for worse.

The good old days of Gosple Music was that good. Their soothing voice could comfort a grieving heart and the words relevant to all manner of people.
I miss the old Gospel Minister but guess what? The world misses in general the old Christian, the one you could trust never to tell a lie, the one unbelievers can say without fear: 'this man can never do this'

This is the problem and it is found right in the word of God. The Bible says a time will come when the love of many will wax cold, this is that time.

Look, you can put together some nice words, garnish it with your voice, add God's name and call it Gospel but you cannot conjure the anointing.

The Gospel Musicians of today perfectly represent Christians of today. Today, we prefer to talk about Tithe than living as examples of Christ to the world. Building the Church auditorium and decorating it matters more than building the membership into Christ-likeness. We have become lawbreakers in the name of Grace and Eternal salivation.

The Gospel singer just comes from us and have our me me mentality.
When prophets prophesy for the cameras instead of for the edification of the Church, the member will prioritize thir fame over making Christ known. We pray less because we believe more depend on us.

It is sad but thankfully, the Old Gospel Singers' songs are available to bring us to the place of making Christ our focus. Go to YouTube and listen to Yaw Sarpong and Asomafo, listen to Comfort Annor or Bernice Offei. Just pick any of the names at a random and you won't miss much. I may have omitted many as a result of oversight. The truth however is: we were blessed beyond measure in the 90s and early 20s by some wonderful ministers who knew money was not everything.

Today, we have many Gospel Musicians whose names are more popular than their songs. Bro Sammy is all over the place creating confusion and holding himself as a gospel singer. In my view, Sarkodie, in spite of being a secular musicians is probably a better example.

You'd ask yourself: how did the quality drop so low. The answer is money

Many Gospel songs today feel so inappropriate even when sang at Church. It is mostly about how God took her from poverty and made her rich, how she left the street job and started driving the G Wagon.
Recently, Joyce Blessing was reported to have had an accident, key industry players said it was a publicity stunt.

If you want to know the lack of positive examples and confidence in some of today's gospel acts, just think about this: who'd have accused Ama Boahema of publicity stunt before she bleached?