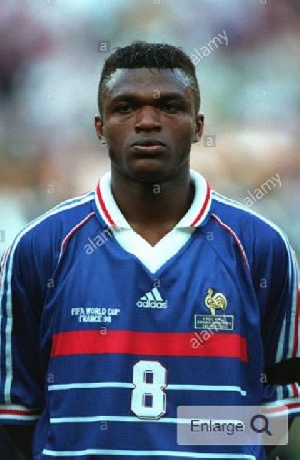 Last Friday was the 50th anniversary of the French-Ghanaian player born on 7 September 1968.
This is the career of a footballer born in Accra but became a legend in Paris, Marseille, Milan and London and to whom we say happy birthday even if it is belated by four days.

Marcel Desailly was born as Odenke Abbey in Accra as the son of Ghanaian parents. He had his name changed when his mother married the head of the French Consulate in Accra, who adopted all of her children (the former professional footballer Seth Adonkor, seven years his elder, was a half-brother of his).

Here is how it appeared in his autobiographical book "Captain" :

"In another life, I would have called myself ODENKEY In another life, I would not have been French, and here I am now in blue captain, an armband on the handle, a rooster on the heart, to freak "La Marseillaise", as if I was not born in Ghana, capital Accra, but in Nice or Quimper On the eve of one of my major sporting events, the 2002 World Cup, football once again sends me back to the beginning of history: Ghana, France, a black father, a white father." Desailly wrote.

"I wanted to explore this dual destiny, to tell my lives, all my life: the French, the African, the football one and the other, more intimate, beautiful and painful at the same time. I have never been so far in confidences; never have I delivered so many details on the backstage of football, from Nantes to OM, from Milan to the French team "
All this were said the book, "Captain" after ending his career as a professional footballer.

What is interesting in this book is to see how Marcel Desailly opens a section of his life, and try to understand or measure the path of a career so rich and exemplary. A route that borrows some players from the south, including those from the African continent. Any young person in Africa dreams of making a European career, better still playing in a big professional club.

Desailly recounts his youth, quite disturbing, with this African biological father, absent, with a new adoptive father – "Monsieur" Desailly – who is a Frenchman, a white man. To which he bears the name Marcel "Desailly".

As for his mother, she was an African woman that "life has taught her the unexpected, the unexpected, often for the best, sometimes for the worst. (…) Mother is the sensitively made woman: nothing she escapes, she sees everything, guesses the slightest embarrassment, the most intimate embarrassment, she is also my memory, the guardian of my secrets."

Arrived in France in 1972, the family of Marcel Desailly moved from Accra to Nantes. At the age of 15, he became friends with Didier Deschamps, whom he knew at the training center for young footballers. Both will make a whole stretch of sports path together. An exceptional sports career. Recruited in Marseille, within the prestigious team, "Olympique de Marseille" (OM). They also rub shoulders in the team of France that has just appealed to these two talented players.
A few years later Deschamps will become the captain of the French national team. It was the great time of the "Blues" (1998-2004) with players who have now become 'stars' of world football: Zinedine Zidane, Rio Antonio Mavouba, Nicolas Anelka, Lilian Thuram, Christian Karambeu, Thierry Henry, Patrick Vieira, Sylvain Govou, Peguy Luyindula, Claude Makelele, Bernard Lama, Djibril Cisse, Bernard Lama, etc.

Moreover, in 1998, France won the World Cup, to the delight of the whole country. It is from this match that France has discovered its talented players of color. Marcel Desailly being part of the squad, this great family of football hexagonal. The French-Ghanaian was one of the best defenders in the world, with his fellow colleagues from this wonderful and unforgettable French team. Even those who were not interested in football had started. The names mentioned above were on everyone's lips.

Since then, Marcel Desailly has been regular on the football field with this French team. He held a record of titles in several clubs both in France and elsewhere in Europe.

We can easily mention the teams where Desailly distinguished himself the biggest: Olympique de Marseille (1993 Champions League); AC Milan for the UEFA Super Cup (1994 Champions League), Chelsea FC (1998 UEFA Super Cup and 2000 FA Cup ).

In 2005, reintegrating an unknown team, the AL Gharrafa Doha, this club won the championship that year. Marcel Desailly decides to stop the professionalism after a very rich sporting career of the sportsman of the highest professional level.
Named in 2007 as "Goodwill Ambassador" of UNICEF, Marcel Desailly received the badge of Chevalier of the legion of honor. The year after, 2008, he was designated "Marcel Desailly, ambassador against racism", by the Secretary of State for Sports, Bernard Laporte.

After such a brilliant career, today Marcel Desailly takes care of the career of young African footballers (recruited by an Italian team AC Milan) and he is regularly asked for television and especially for any other multimedia.

Also, Desailly owns the recreational center Lizzy Sports Complex in Accra.