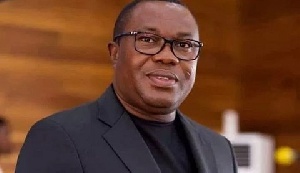 In the 1952 film, 'Ten Commandments', by Cecil de Mille, there is a scene where Moses wants the truth about his true identity. His real mother, Yoshebel, afraid for her life In the presence of the dreaded Egyptian queen who had raised Moses from infancy, has just told him, "I am not your mother".
Moses takes a step closer to her, holds her by the two shoulders and demands: "Can you look me in the eyes and swear by your God that I am not your son?" Confronted with a choice between God and a lie, she chooses God.

In the same Bible, Joseph the Dreamer, finds himself confronting wealth, power and sexual gratification. He has to choose between these and God.

If he goes ahead to "lie with" his master's wife in bed, he will not only never be caught in the act; he will also be prosperous. If he doesn't, he faces life in jail plus a demotion and a loss of all the luxury that stares him in the face. He chooses God.

Mr Samuel Ofosu Ampofo, the National Democratic Congress (NDC) chairman, knows these stories. He is not only a Christian; he is an Elder of the Church of Pentecost, which, like the Jehovah Witness denomination, is one of the few churches in Ghana today where God is still preferred above wealth and fame (I didn't say they are necessarily sinless)
This week, an audio recording has leaked on which Ofosu Ampofo, at a meeting with NDC communicators, is heard making utterances that have the potential to threaten the peace.

Can the NDC chairman look the recently sworn-in Chairman of the Church of Pentecost in the eye and swear by the Holy Spirit that the words on the tape are not his? Can he swear that they have been so doctored that they are not a representation of his intents and marching orders for his party communicators?

Or is it power at all costs – God or no God? Is it SUVs, mansions, fat bank accounts, fame and earthly glory at the expense of the salvation of a dying soul?

The police CID have invited him for questioning. In their investigation, they have an unwitting NDC witness, one Kwaku Boahen. On air, this man said he was present at the communicators' meeting with the Chairman and that "as for us in the NDC, we are proud of what our chairman said".
Having gone on and on with all of above, however, I ask myself: why bother? What can happen to Mr Ofosu Ampofo even if he owns up? We are talking about Ghana where we see pictures of party thugs in the act of committing heinous crimes against humanity and yet the police conveniently never obtain evidence.

No wonder Sam George, an MP, states without batting an eye that he has no confidence in the police.

(By the way, will it soon become part of the Ghana reality that a citizen of the land can be told by National Security operatives that "we will show you the meaning of stray bullets"; that policemen and women, afraid for their lives in an NDC-NPP world, would refuse to take statement from someone who has just witnessed a crime, all because the statement may not be favourable to government!)

Doctored tapes
Talking about doctoring of tapes, are we not developing a culture of doctored tapes? Is it not becoming too convenient a way of escape to claim that a an audio recording has been doctored?

And in case - just in case - we really are interested in finding out the truth, who shall determine if those words were doctored or not? Since all of us seem to have lost faith in the Ghana police - and if truth matters to us – my suggestion is that we fly those tapes to forensic experts overseas, to the Mossad of Israel, the M i6 or Scotland Yard of the UK etc – anywhere except Ghana, for verification and authentication.

And what if the truth is found? Can we dare to set an example of a Ghanaian who commits an offence in the name of politics? Can we 'dare' to jail them? I cannot dismiss the feeling that in the name of NDC-NPP politics, are we not about to witness another of those political charades.

Final thoughts. Is this all that 'democracy' is about? To kill, to lie, to destroy innocent people's hard won reputation, just to win power? Power to do what? To steal, to live in gated communities and to flaunt wealth and influence?
As Kwami Sefa Kayi would say, "we shot Acheampong for less". He is referring to Kutu Acheampong, the military General (later, 'Mr') who came offering Union Government in place of western democracy. On the lighter side of life, I ask: who leaked the tape to the NPP?

Reminds me of those days when the very words Rawlings said in his bedroom and every strategy discussed at secret meetings of NDC gurus were on the front pages of two Ghanaian newspapers the next day.

Time came when everybody attending an NDC meeting was thoroughly searched. Reminds me of the Deputy Information

Minister who asked the staff of Information Service to say black when they see white and to call goats sheep! See? It's all a charade. Conscience has fled this country.