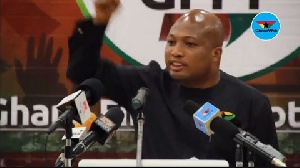 Second Lady Samira Bawumia's revised delegation size from 20 to 6 is simply victory to the vigilant masses. Another moment of hope for citizen power.
It is rather sad though that she couldn't eat humble pie and muster courage to do the honourable thing by accepting in all sincerity that her initial large sized delegation was upon reflection unacceptable and unconscionable so she has decided to listen to the loud voices of revulsion and prune down the delegation.

My advice though to Your Excellency is that next time your office is altering the contents of its letters, kindly pause and consider just how many people have copies of the original letter in the chain. Also try to recall just how many people you have communicated to ahead of time to make arrangements to receive your 20 man delegation.

Madam, you know this can get more embarrassing if people in official circles in Accra and Geneva who have your original letter and subsequent communication decide to put out the whole truth.

Hajia, please next time you change the date of a letter, please don't forget to change the Reference Number as well.

And oh, when you ever feel compelled to change the designations of your staff just to sustain the inaccurate impression you are trying so hard to create, please remember that in Ghanaian Protocol, First and Second Ladies are only permitted to have a Lady-in-Waiting NOT an Aide-de-Camp (ADC).
Now thanks to your hurried attempt to portray others as peddling falsehood, you have become the first Second Lady in history to have an ADC. Interestingly, even our First Lady H.E. Rebecca Akufo-Addo isn't lucky to have one at the moment.

You know very well that Joyreen Adubea Gyewu's designation as Lady-in-Waiting in the original letter containing 20 names is her appropriate title.

I guess you can begin to imagine how you have been caught out and what is being said about you in official circles. I honestly do not wish this for my country's Second Lady.

Indeed, as all of the world's great religions teach us; only the truth can set us free. May we all find freedom in the truth.