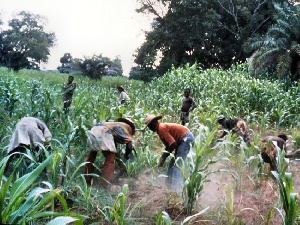 "The notion that a radical is one who hates his country is naïve and usually idiotic. He is, more likely, one who likes his country more than the rest of us, and is thus more disturbed than the rest of us when he sees it debauched. He is not a bad citizen turning to crime; he is a good citizen driven to despair (H. L. Mencken)."
I have always maintained that despite the widely held notion that Ghanaian politics is full of inveterate propagandists and manipulating geezers, we have many selfless, morally upright and forward-thinking politicians in our midst.

So, I was not least surprised at all when I heard the former NDC Member of Parliament for Ejura Sekyedumase Constituency in the Ashanti Region, Hon. Alhaji Panga Bu, honestly and passionately attesting to the NPP government's well-thought through Planting for Foods and Jobs programme on Asempa FM on Thursday 25th October 2018.

The former policy maker stresses: "let me plead with my party members that they should see some calls as a national one. We should desist from playing politics with every important national issue. The Planting for Food and Jobs programme is a national call and I want my party members to embrace it."

The honest and thoughtful former NDC policy maker declares that he is a living testimony to the successes of the innovative Planting for Foods and Jobs programme.

According to the hardworking former NDC Member of Parliament, he defied his party's needless opposition and embraced the seemingly advantageous Planting for Foods and Jobs programme.
He reveals: "since the NPP government implemented the Planting for Foods and Jobs programme, I have witnessed a vast number of NDC members in Ejura Sekyedumase constituency who have benefited from the programme. So I am wondering why my party continues to speak against it."

The former policy maker however admitted that he employed more than 500 workers, sowed and harvested over 1000 acres of maize through funding from the Planting for Foods and Jobs programme.

Sadly, though, despite raking millions of Cedis from the programme and owning a luxurious vehicle (Toyota Land Cruiser) as a result, some NDC loyalists have been castigating him for partaking in 'NPP government's initiative'.

There is no denying or hiding the fact that Ghanaian politics is characterised with vindictiveness, bitterness, dishonesty, hypocrisy, backbiting, amongst others.

If that was not the case, what would then drive party brassbound supporters to unfairly and crudely attack a patriotic Ghanaian, whose only crime was to support an advantageous programme being implemented by the ruling government?
That said, in so far as we are disgusted with the supporters revoltingly ugly behaviour, we can sympathise with them for falling prey to the manipulating politicians gimmicks.

Indeed, the unsuspecting supporters have been brainwashed by their leaders to believing that the innovative Planting for Foods and Jobs programme was only transposed into NPP's Manifesto as a means to attract votes.

Absolutely, the opposition is obliged to put the incumbent government on its toes. But Do the opposition NDC operatives have to grumble and oppose for opposing sake?

"Being in Opposition is not just about opposing the Government. "There are occasions when the Opposition agrees with the Government if the solution proposed by the Government has wide support, and is soundly based, then it's only natural for the Opposition to agree (Dr Brash)."

In as much as I do not want to accept the widely held assertion that politics is a dirty game, it would not be farfetched to suggest that the political terrain is full of manipulating geezers.
Of course, political manipulators are not limited to Africa. It is a global phenomenon, as a matter of fact.

However, in my view, it is our part of the world (Africa), where political gimmicks and insobrieties are so prevalent.

Perhaps, this is so because we have greater number of unlettered folks, many of whom cannot choose between tricksters and morally upstanding politicians.

Whatever the case, it is extremely worrying to witness an opposition party whose responsibility is to provide a credible opposition by propounding alternative solutions, and yet disappointingly turning away from its core duty and rather engaging in needless propaganda.

K. Badu, UK.
k.badu2011@gmail.com