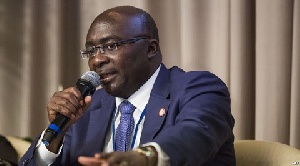 Apparently, there are ongoing debates on the meaning of social intervention following Vice President Bawumia's recent incisive question directed to the NDC loyalist who have been blithesomely hiding behind the ideals of democratic socialism over the years to tell Ghanaians a single social intervention they have deliberately initiated and implemented which has impacted positively on society.
For the purposes of this periodical, we shall define social interventionism as "an action which involves the intervention of a government or an organization in social affairs of society."

If we take the preceding extant acceptation into consideration, we can deduce that social interventionism is an umbrella term for social intervention, social protection, social welfare or poverty alleviation. Thus, the aforementioned terms can be used interchangeably.

In hindsight, the aforesaid social interventionism terms mean the same thing: the effective and appropriate means of alleviating social or economic difficulties being faced by people.

Social interventionism, therefore, differs from the provision of social infrastructure and amenities, such as toilets, electricity, schools, hospitals, water, roads, interchanges, amongst others.

In a grand scheme of things, social protection is concerned with safeguarding and supporting the poor and vulnerable, such as children, women, older people, people living with disabilities, the displaced, the unemployed, and the sick.
In effect, social protection is generally understood as public and private enterprises that give means of income to the poor and take care of the vulnerable against bread and butter issues with the main aim of reducing the economic and social hardships.

It is, however, worth noting that the reasons behind social protection differ very broadly, ranging from minimising poverty and vulnerability, building human capital, empowering women and girls, improving livelihoods, and responding to economic and other adversities.

Corollary, therefore, the form and function of social protection programmes can be quite diverse, according to the particular intervention (Hanlon et al., 2010).

Based on the preceding explicit acceptations of social interventionism, we can confidently delineate some social interventions as: the Nurse's Allowance, the Teacher's Allowance, SADA, GYEEDA, NHIS, the Maternal Care, the School Feeding programme, the Mass Transport System, the Free SHS, the Nation Builders Corp (NABCO), the Livelihood Empowerment Against Poverty (LEAP), the Disability Common Fund and the Capitation Grant.

Besides, other forms of social protection aim at long-term development and allowing people to move permanently out of poverty (Babajanian et al., 2014). Suffice it to emphasise that long-term goals include improving opportunities for inclusive growth, human capital development, equity and social stability. Some social protection programmes intend to be transformative, supporting equity, empowerment and human rights.
Apparently, critics have been arguing extensively that some social interventions can have negative impact on society.

"Some social interventionist policies have been labelled by critics as social authoritarianism due to views that the policies violate individual freedom or human rights.

"Such policies include conscription; state-forced abortions like in China's One child policy or bans on abortion and birth control; bans on associations and organizations; forced sterilization programs; mandatory institutionalization of people with mental or physical disabilities; prohibition of drugs or items; bans on homosexual relationships; segregation policies; state-sponsored discrimination or persecution of people based on age, cultural identity, ethnicity, gender, people with mental or physical disabilities, race, social position, political affiliation, religion, and sexual orientation (wiki.org)."

Some experts however contend that social protection is not only designed to alleviate poverty but also to transform lives, through implementation of policies and programmes that normalise the inequalities.

In light of the above, we can conclude that social protection is an investment in human capital which increases capacities and the accumulation of productive assets.
In essence, social protection contributes to human capital either by providing skills and services or by offering cash and access, which enable households to invest in their own development.

Apparently, a small number of countries (including India, South Africa and Uruguay) and organisations recognise social protection as a human right and an entitlement against low standards of living (Jones & Shahrokh, 2013).

K. Badu, UK.

k.badu2011@gmail.com