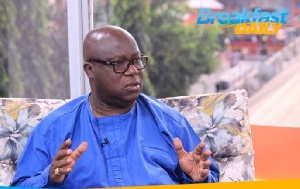 I came to admire the General-Secretary of the country's main opposition National Democratic Congress (NDC) sometime during the leadup to the 2008 General Election, when Mr. Johnson Asiedu-Nketia courageously stood up to the Rawlingses, in particular Mrs. Nana Konadu Agyeman-Rawlings, who insisted on handpicking then-Candidate John Evans Atta-Mills' choice of presidential running-mate. Back then, the former University of Ghana's Faculty of Law Professor had just settled on Mr. John Dramani Mahama, the former Rawlings' Communications Minister who had also served several times as the NDC's Member of Parliament for Gonja-West, in the Northern Region. The Rawlingses had intemperately and, it seemed, adamantly refused to back the candidacy of Mr. Mahama, whose late father, Emmanuel Adama Mahama, had served as the first Northern Regional Minister under the tenure of President Kwame Nkrumah.
According to Mrs. Agyeman-Rawlings, who did most of the public and media representation of the views of her husband vis-à-vis the Bole-Bamboi native, John Mahama could simply not be trusted. It would shortly transpire that, indeed, Chairman Jerry John Rawlings and his wife wanted the job of an Atta-Mills' presidential running-mate for Ghana's longest-reigning former First Lady, to wit, Mrs. Nana Konadu Agyeman-Rawlings. The latter would woefully and scandalously fail, nearly two years later, at the historic, if also circus-like, Sunyani, Brong-Ahafo, Delegates' Congress to unseat the presidential incumbent and her husband's former faithful arch-lieutenant, Prof. Atta-Mills, whom the bloody couple had grown to deeply resent because Prof. Mills would not take political dictation from the Rawlingses. I came to admire and even respect the man popularly called General Mosquito, because the wiry-framed former Deputy Defense Minister expressed his utter disdain, and displeasure as well, when he emphatically observed that the days during which the bloody couple literally held key party operatives throttle-fashion, or by their scruff, were well behind the new generation of men and women who had then progressively and auspiciously assumed reins of the party's leadership at the Kokomlemle Headquarters of the National Democratic Congress.

"This party used to belong to somebody and his wife," General Mosquito would wistfully note. "But presently, it is no more the private property of anybody. Now, the NDC has transitioned to become a modern political party like the [ruling] New Patriotic Party." In a gist, General Mosquito was diplomatically, albeit firmly, and seriously laying down the ground rules for the conduct of party business from then on. And it is for this reason that I vehemently beg to differ with Mr. Ade Coker, the Greater-Accra Regional Chairman of the National Democratic Congress, that Mr. Koku Anyidoho massively lost his contest to unseat his boss because the decisively defeated nephew of the late Prof. Kofi Awoonor had, somehow, unwisely dared to challenge his boss, a situation that Mr. Coker clearly found to be simply heretical. "You see, it is like father and son…. Somebody that you have worked with closely and you go and you want to contest that person. It's never he best…. Every aspect of life there is in that lesson."

I really couldn't care less about any sort of "lesson" that Mr. Coker presumes the massive loss of Mr. Anyidoho, in the latter's rather quixotic attempt to unseat Mr. Asiedu-Nketia, or the desperate attempt by any overambitious Ghanaian citizen or party apparatchik to unseat his boss, for that matter, has been learned. There is also an egregious irony in the fact that while, indeed, all-too-predictable, nevertheless, coming from the psychologically dictatorial Greater-Accra NDC Regional Chairman, such a jaundiced perspective or mindset pointedly contradicted the Mosquito's all-too-progressive mantra of a free-for-all political party in which all elections were, literally, up for grabs. This is what Mr. Coker has yet to learn, if he is to transcend the imminent possibility of rendering himself decidedly a nuisance and/or a pariah in the near future.

The fact of the matter is that Mr. Anyidoho massively lost his contest for the post of NDC's General-Secretary because the former Deputy-Secretary began his agenda to unseat Mr. Asiedu-Nketia by lying to party supporters that a jaded and an increasingly unpopular General Mosquito had decided not to contest for the retention of his post. The Seikwa-, Brong-Ahafo, born General Mosquito would come out into the media strobe lights some three days later to vehemently deny that he had ever had any conversation with his obnoxiously aggressive and nihilistic deputy in which he had let on any intention of backing out of the party's November 2018 Delegates Congress' elections. In short, Mr. Anyidoho catastrophically lost his imperious bid to unseating The Mosquito, because the infamous Trokosi Nationalist had a false sense of entitlement which had blinded him to the cold reality on the ground and made him recklessly refuse to critically read the divination cowrie shells on the ground and, by extension, his chances of clinching victory at the expense of The Pesky Mosquito.

As I also pointedly noted in a previous column, Mr. Anyidoho was too politically parochial and emotionally immature to be so facilely afforded the position so felicitously and dynamically and progressively and successfully held by Mr. Asiedu-Nketia for the past 13 years, because the Trokosi Mafia Capo simply lacked the cross-ethnic, cross-cultural and cross-regional appeal direly needed for any major operative of any formidable political party in the country that is poised to clinching power in the December 2020 election.
*Visit my blog at: kwameokoampaahoofe.wordpress.com Ghanaffairs

By Kwame Okoampa-Ahoofe, Jr., PhD

English Department, SUNY-Nassau

Garden City, New York