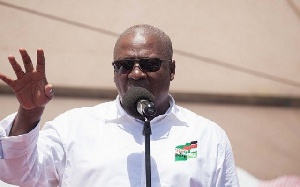 Unsurprisingly, to constantly squall, censure, speak and write about the abhorrent state of Ghana's economy during the erstwhile NDC administration which the party faithful gleefully perceive as an innocuous or an inconsequential issue, is to be regarded as a political fanatic, or even as a notorious conservative, mischievously seeking to discredit their beloved party.
But whatever the case, I, for one, won't abandon my duty as a bona fide Ghanaian, far from it. But I will rather stick to my guns, be true to the faith and keep upholding and defending the good name of our beloved Ghana.

It is, indeed, extremely disheartening to keep hearing such ridiculous misconceptions from the NDC apologists, many of whom only follow narrow party coloration, devoid of patriotism and solicitude.

But then again, one has to contain his/her emotional intelligence, show unconditional deference and composure, for after all, aren't sycophancy, partisanship and lack of patriotism been our greatest nemesis?

Well, given the circumstances, we can logically conclude that vague apprehension of patriotism exists in the minds of many Ghanaians, who prefer hero worshipping to defending the national interests.

Thus, some of our leaders, having first-hand knowledge of our hero worshipping gimmicks, tend to take us for granted and continue to provide us with mediocre leadership and services.

To be quite honest, the good people of Ghana witnessed so much scheming guiles, corruption, incompetence, nepotism, cronyism and frequent abuse of power in the erstwhile NDC government, and hence the vast majority of Ghanaians lost trust in Ex-President Mahama and his government.
A Brief Annotation of Ex-President Mahama's Performance

After failing to improve upon Ghana's economy, President Mahama and his vociferous apparatchiks cunningly took refuge in their much touted infrastructural projects.

Paradoxically, though, it was the same President Mahama who blissfully pontificated somewhere in 2008 that every government undertakes infrastructural projects and therefore it would be an exercise in mediocrity for any government to hide behind infrastructural projects in the face of economic collapse.

Unfortunately, the manipulating politicians have succeeded in brainwashing the unsuspecting voters to believing that all that an elected government has to do for its citizens is to provide social infrastructures and amenities.

Obviously, such a notion is specious. For good governance indeed goes beyond the provision of infrastructural projects.

To be quite honest, good governance also involves the implementation of expedient policies with a view to stabilising the socio-economic standards of living.
As a matter of fact, the provision of infrastructural projects is an important aspect in the nation building. However, any serious and a committed government would not only focus on putting up more meaningful and meaningless projects, but would rather focus on both infrastructural projects and the implementation of pragmatic policies that will propel the economy.

In fact, Ghana's massive economic downslide took unexpected flight after the sudden and unfortunate death of President Mills.

Unbelievably, during the 2012 electioneering campaign, the late Mills successor, Ex-President Mahama and his NDC apparatchiks went haywire in their desperation to cling on to power. Thus they broke all conventions. Many government departments spent over and above their allocated budgets.

The previously single digit inflation and budget deficit doubled astronomically. The GH9.5 billion debt which former President Kufuor and his NPP government left in 2009 ballooned to GH122.4 billion as of December 2016.

Ghana's economic growth regrettably slowed for the fourth consecutive year to an estimated 3.4% in 2015 from 4% in 2014 as energy rationing, high inflation, and ongoing fiscal consolidation weighed on economic activity (World Bank, 2016).

Moreover, President Mahama's maladaptive government squeamishly dragged the economic growth from around 14 per cent in 2011 to around 3.6 per cent as of December 2016.
In addition, the high inflation rate remain elevated at 18.5% in February 2016 compared to 17.7% in February 2015, even after the Central Bank's 500 bps policy rate hikes (the inflation stood at 15.8 per cent as of October 2016).

Unsurprisingly, therefore, during the epoch of Mahama's maladministration, some concerned patriots like the late Jake Obetsebi Lamptey of blessed memory, lamented: "Ghanaians are worried because the economy is being handled in a manner reminiscent of the NDC's mishandling of the economy in 2000. "We do not need to return to HIPC status."

Ex-President Mahama, so to speak, did not do enough to improve on the socio-economic standards of living. Take, for example, former President Kufuor quadrupled Ghana's GDP to a staggering $28 billion in 2008. While the late Mills inherited oil in commercial quantities and managed to increase the GDP to $40 billion in 2011.

Suffice it to stress that former President Mahama disappointingly reversed the GDP to an incredible $37 billion as of December 2016.

Besides, Ex-President Mahama's government failed terribly to initiate expedient policies to overturn the failed policies of agriculture, poverty reduction and resource allocation in the areas of healthcare, education, finance, supply chain management and security sector planning, amongst others.

If my memory serves me right, it was Ex-President Mahama who once bizarrely claimed that they, (NDC government) had licentiously consumed all the meat on the bone. That was weird and uncharacteristic of a supposedly serious, a committed and a forward-thinking government.
Apparently, former President Mahama was explaining Ghana's unprecedented economic collapse as a result of mismanagement and rampant sleazes and corruption under his watch.

It is, therefore, extremely baffling to keep hearing and reading from the same people who wilfully collapsed the once thriving economy up in arms and shouting from the roof top about the supposedly slow pace of development barely 21 months of the NPP government assuming power.

Given the unpardonable errors in decision-making which resulted in massive economic collapse, some of us must not and cannot stand accused of persistently upbraiding President Mahama and his NDC government.

K. Badu, UK.

k.badu2011@gmail.com