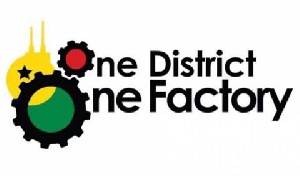 It came as a campaign promise. Many a critic and more so those on the side of the opposition wrote it off as a mere campaign song to lure undecided voters to the side of the then biggest opposition party.
Those who believed in the New Patriotic Party (NPP ) and the tenacity of its three-time presidential aspirant saw it practicable and doable.

They compared it to the days of the First Republic under Dr. Kwame Nkrumah where many factories /industries were established to employ Ghanaians and other Africans.

By dint of hard work and campaigning, the NPP was voted into power during the December 7th, 2016 polls.

The criticism of "it's not possible " changed gear to "do it for us to see "

Eight months into office after been sworn in as the fifth president of the fourth Republic, the president Nana Addo Dankwa Akuffo Addo maintained he will not let down those who believed in him and voted him into office, and that he will implement the campaign promise - ONE DISTRICT, ONE FACTORY.
And today 25th of August, 2017 at Ekumfi in the Central Region of Ghana, the first factory would open its doors for employees and consumers. This is a brave action, and commendable.

IS IT SUSTAINABLE?

But the question on the lips of many a forward looking Ghanaians and thinkers is that 'can we sustain the gains?' .

It's worth asking, since the factories that were built by Dr. Kwame Nkrumah cannot be accounted for today, years after his ousting. Successive governments had either collapsed or sold the factories to private hands.

The excuses they give for their actions are either "the Ghanaian cannot manage the business, or we lack the resources to maintain it " contrary to Dr. Nkrumah's mantra: 'the black man is capable of managing his own affairs ' .
And as we talk today, almost all of such factories are not in existence or operational.

Then the question comes in to Nana Addo, our president "why don't you learn from history, how Nkrumah's factories could not be sustained, and you worrying yourself to set what will be stillbirth factories? "

THE WAY FORWARD

Dr. Nkrumah, as well as successive governments should have thought of a well cut out plan that would seek to where to source for raw materials, the training schools for employees at the factories and the marketing in particular.

Now, at Ekumfi, the factory will produce pineapple juice.
The juice will compete that of Kalyppo, Don Simon and other beverages our Ghanaian children have known.

With our disdain for "made in Ghana goods " will the Ghanaian consume a pineapple juice from Ekumfi instead of the imported ones - globally known products?

Won't our own people call you "poor" for consuming such products at social gatherings?

Then also, have we thought of it to export our pineapple juice to our neighbouring countries like Sudan and Niger whose lands are not arable for pineapple growth?

These are but few questions we must ask ourselves for the sustainability of the project. It's good Ghana will produce what we consume. But it must not be done in hasty.
I propose all such factories should have schools attached to them, where we'll train those who will package well the products to be able to compete with the well known products on the market.

We must train marketers who can take our products to all markets worldwide. We must train agriculturalist who will feed the factories with raw materials.

By so doing, Mr President, your aim would be achieved, and your name would forever be etched in gold when Ghana's history is scribed.

Our teeming youth are not lazy, when gainfully employed, they'll shoulder high our country Ghana and make it Great Again.