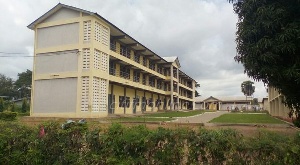 It has become very necessary for me to write to you today rather than doing so later because of the introduction of the Free Senior High School programme which has already taken off in earnest. At times like this, it is always necessary for all of us to keep our eyes wide open and put our shoulders to the wheels to make sure the programme which is one of the NPP flagship programmes succeeds.
Before I proceed further, permit me to travel with you down memory lane so that we could learn lessons from what happened when some of you were born too late to understand.  

Yes, some of you were born too late because I know a Headmaster today who was born in 1971 so such a person did not experience the Free Education introduced by the late President Dr. Kwame Nkrumah of blessed memory in the Northern and Upper Regions.  It is not for nothing that historians always look back.  

There are a lot of lessons to learn when you look back to see where you came from before you can understand the dangers involve in where you are going.

Immediately after independence, the Convention Peoples Party, led by the

Osagyefo realized that the then two regions in the northern part of Ghana, Upper Region, and Northern Region lacked education simply because the people there were poor and were living from hand to mouth.  

In fact, they had no interest in sending their wards to school and rather preferred to send them to work in the farms or herd cattle.  The great leader introduced free education in the two regions before he started to build more schools and bungalows for teachers who would be posted there from the southern part of the country. He then topped it up with free hot lunch for the children and even distributed free secondhand clothes to the children up there.  
In no time, children of those who migrated down south to do menial jobs enjoyed free education even though they attended school in the south.  That arrangement still remains as it was many years ago.

Not a single Ghanaian opposed the programme because Ghanaians knew that education could go a long way to push the development agenda of the country faster.  Headmasters, Headmistresses, and bursars, as well as their teachers, were so dedicated that we never heard anything untoward about them.  Corruption was unheard of and hard work was the guard post. 

 

Many, many years after the introduction of Free Education in the two regions, one of the pupils who enjoyed the programme became the president of Ghana in the person of Dr. Hilla Limann. When Limann ascended the throne, people from the Northern Region were so happy because at long last their kinsman became the executive president of Ghana.

As we trudge on, another man who also enjoyed the programme, Alhaji Aliu Mahama also became the Vice President of Ghana. In the case of Alhaji Aliu he was not only a northerner but a Muslim as well and as you might be aware Islam is a dominant religion in the three northern regions.  

Mr. John Dramani Mahama's father was a minister in the Osagyefo's government but he saw it fit to send his boy to the Northern Region to enjoy free education.  Like Limann and Aliu, the man John Mahama also rose to become the Vice President and finally the executive president of Ghana. As for ministers, military, police and other security officers from the northern regions who had free education and later rose to high positions in their respective careers, time and space will not allow me to recount them.
So my dear Headmaster, Headmistress, and Bursar you see where we came from?  After Dr. Kwame Nkrumah, no government had ever dreamt of introducing Free SHS until candidate Nana Akufo Addo mooted the idea during the 2012 electioneering campaign.  

I do not want to recount how the NDC apparatchiks and propagandists bastardized the fine idea because what they did was vexation to the spirit. Nana Addo lost that election but like Joseph, the dreamer, he knew one day his dream of a free SHS will come to pass and truly it has come to pass. The doomsday prophets are now kicking like mad bulldogs and throwing dust into the eyes of parents but happily, whatever they say does not sink in because parents are very happy.

I have decided to write to you, my very dear Headmaster, Headmistress and Bursar because the ball is now in your court.  All eyes are on you now because before the introduction of this programme it was a common and open secret that you benefited from the collection of illegal fees and enriched yourselves at the expense of poor parents.  

Those days should be a thing of the past because this government means business and anyone who thinks he or she can cut corners to pull a fast one on us will surely fail. Those of us in the inky fraternity will sharpen our fountain pens and name and shame any of you who will try anything funny.  It's a serious business, you know.No retreat, no surrender as far as the free SHS programme is concerned.

Thank God we are in an Information Technology era and some of the students are well versed in this technology of our time.  It is easy for them to send messages through their mobile phones and when we get them, the world will hear and you will regret ever being appointed a Headmaster, Headmistress or Bursar.  We will Google on our computers to find your pictures and splash them alongside the bad stories that we will write about you.  

Your wives, husbands, children and in fact your entire family will read them and like what Anas Aremeyaw did to the judges, some of you may commit suicide when you are put into such a shame.
My dear Headmaster, Headmistress, and Bursar, I can promise you that those of you who will be of good behavior and go by the rules and regulations governing the free SHS will receive a pat on your shoulders and your names will be written in gold long after you are dead and gone.  Sir/Madam, I know you are going to face challenges but what you must understand is that every new program like what we have in our hands will have some teething problems.  Together we can straighten things up and move forward.

 

 This programme is not about politics; as the president said the other day.  It is about the future of our children who will hold the fort when we are dead and gone.  It is about accelerating development and assuaging the suffering of parents who cannot afford to educate their children.  In fact, it is about bridging the gap between the rich and the poor.

As a Headmaster, Headmistress, a Bursar or a master at any SHS you should look back and see how your parents struggled to get you educated when schools were collecting school fees.  Maybe your father could not buy a car, build a house or expand his farm all because he was saddled with huge school fees for you and your siblings.  Your father might not be alive today but look at where you are today?  That is how the world is.  The parents who have brought their wards to your various schools may also not live to see the success stories of their wards but history will judge you if you make sure these young boys and girls go through the three walls of your SHS.

Did I hear private school heads say their schools will collapse because of free SHS? You see how some Ghanaians think about national issues?  Funny! If your schools will collapse because of the introduction of free SHS, so be it.  Anyway, who cares?  

Before the introduction of free SHS, these people collect killer school fees and as such only, the rich take their children to private schools.
Anyway, are these heads of private schools ready to admit the children without collecting school fees?  If that is the case then the education ministry should send some of the students there to enjoy free SHS.  Private school operators are in business and they make profit so if they are saying they need some students to be allocated to their schools, they should as well forget their businesses and play the role of a philanthropist. The name of the game is FREE.  Simple.

I am beginning to suspect that this statement is one of the ploys of the NDC who have been pushed to the wall to defend what they said in 2012 that it was not possible to introduce free SHS.  Barely one week after the introduction of the FREE SHS, heads have started to roll.  

So far two Headmasters have been sacked for collecting illegal fees and nine others have been interdicted over free SHS extortion.  This should serve as a deterrent to the rest who may harbor any plans to sabotage the programme.  The Free SHS train has left the train station on its way to our Eldorado and any crazy horse who will dare cross the railway line will be crushed into pieces

Parents and students have a role to play in our attempt to weed out saboteurs of the free SHS because they are the beneficiaries and major stakeholders.  

They should not hesitate to report any school official who will try to subtly skin them.  This free SHS issue is no child's play so school authorities should be up and doing to avoid the rolling of further heads.  

I rest my case for now but surely I will be back to spit fire.  Headmasters, Headmistresses, and Bursars should as a matter of urgency go for crush helmets because what will rain on them will be heavier than boulders. Wayward Headmasters, Headmistresses, and Bursars will be crushed.  Excuse me while I light up my Arturo Fuente Opus X BBMF, one of the most expensive cigars in the world which is patronized by rich men like me