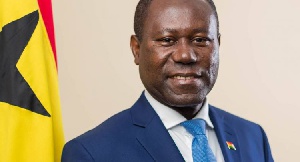 I am sure by now you have heard of the cliché by past and present Chief Executive Officers of COCOBOD that the company is aiming at achieving 1 million tons of cocoa in a cocoa crop season. Alright! It's a statement almost every person in the cocoa production and marketing chain is familiar with.
To achieve this, various interventions such as cutting down diseased cocoa trees to replant new as well as the introduction of the hand pollination method have been deployed to realize this 1 million dream. Many youths in rural cocoa growing areas in the country are also reported to have been employed to assist farmers carry out this 'saviour' of Ghana's cocoa sector.

Nearly two years into the NPP administration, there have been images which have been circulated on social media of cocoa trees with over 100 pods each on them trying to send a positive message of bumper harvest for this cocoa crop season.

In fact, my interactions with some farmers and buyers at the community level, shows that the 1 million target is really in sight. It could even be more than that!

But, one troubling component of this 1 million dream target that we weren't told is how the state or COCOBOD was going to buy the beans from the farmers to the various depots. Maybe you are saying the COCOBOD is going to buy the beans with the cocoa syndicated loan. Well sorry! The loan/money is really not the problem, but who gets the loan to buy the beans.

Now here is the deal. In the cocoa buying business in Ghana, there are some 26 licensed buying companies competing to buy the anticipated 1 million metric tons. To make profit as a buying company, it depends largely on the number of bags/tons of the commodity you can buy during the 'bumper' season; which travels between October and December, and how you can cut down cost to achieve same result.

For those who do not know, buying the dried beans from the farmers and hauling it to the depots in the districts and the port in Takoradi is a multi-billion dollar industry with 26 'large scale' companies in that space in Ghana.

Ghana's cocoa sector, second in the world, is a big business!
Now, out of the 26 companies, the Produce Buying Company [PBC], is the one representing Ghana in that competition. In fact, the PBC has remained the highest cocoa purchaser for COCOBOD with a market share of about 27.8%.

A broke PBC

Ghana is faced with a situation where we are close to achieving the target production tonnage, but will not be able to make the needed revenues from it.

This is because COCOBOD's PBC; the company representing Ghana in this competitive space of buying the much anticipated 1 million metric tons, is struggling! The company is cash trapped!

In fact, the annual report and consolidated financial statements for PBC for 2017 presented a company that is unable to break even. But you ask, how about the loan? Well, the loan has come, but PBC doesn't 'have it'. The result is that PBC is unable to buy the produce in this major crop season. The result is a distasteful one!

Debt-riddled clerks on the run!

Some of the company's marketing clerks, especially in the Western Region, have had to vacate their homes to escape angry cocoa farmers who sold their beans to them on credit in anticipation that the PBC will release monies to pay them 'soon'. For these Marketing Clerks [MCs], a temporal escape plan is to spend their days at the district offices of the PBC just so the eyes of the impatient farmers do not catch a glimpse of them.
During my visit to the Bogoso district of the PBC, all the 49 Marketing Clerks [MCs] of the company had assembled at the office. I asked why they were all present at the office, and this was the response from a clerk who has worked with the Produce Buying Company for 31 years "I have purchased many cocoa beans on credit from the farmers to the point that I am unable to stay in my community any longer. It's been exactly a week since I stepped a foot in my community. This is because the money I have on me cannot pay for one-quarter of the number of bags of beans I have purchased on credit. The farmers are really on me. Look at an elderly person like me and how the farmers have been harassing my wife in my absence! The number of calls that has been coming to my phone, I don't know what to do".

Another clerk, Nana Twum Barima, who has worked with the PBC for 40 years also laments that "this is day 4 since I left my house in the village to be here at the Bogoso Office. As a marketing clerk, some of the beans that I have purchased on credit from the farmers have been sent to Takoradi. Some too are with me in the village. But the harassment and the messages from the farmers are just disgraceful and very worrying. My wife and children have not seen me for the past 4 days. I have been working for this company for the past 40 years, but I have not seen these troubles. Is the current leadership collapsing the company?"

Bring our beans if you have no money

So I left Bogoso to Fante Abotar Yie krom in the Amenfi East Municipality. Here, the sundown rays shine over two large tarpaulins hosting several bags of cocoa beans. I met Agber Noah, also a Marketing Clerk. He had some farmers who had come to collect their beans or money. He explained to me that "you see those farmers standing there? They are accusing me of squandering their monies.

And in that provision store you see, there is an old sick man whose children need their monies to take him to the hospital so he seeks treatment for his swollen legs. These aren't the greatest of my worries, but those who are here demanding their beans on grounds that I say I have no money for them. I cannot get it for them because I have sent over thousand bags to the depot. PBC should simply bring the monies so I pay these people. Now, that old man's children are threatening that if their father dies from his sickness, I will be held responsible, and you know this is a village".

After he spoke, I went to one of the cocoa farmers he was referencing during my interview with him. He is a farmer asking that he gets his 15 bags money at that material moment or he gets his beans to sell to another Licensed Buying Companies [LBCs].

He told me "my name is Maxwell Arthur. My message is very simple. My beans have been weighed for over a month but the MC keeps lying to us. I suspect he has squandered the money. Today, it is either he gives me my 15 bags of cocoa or he pays me my money. I need my money or cocoa before I go home. If he gives me the 15 bags, I can sell it to other LBCs that have money to give me".
Other LBCs are cashing in

"You know, if the major buyer PBC is cash strapped to buy what it does, what it means is that there is a field day for the foreign LBCs. Olam, Amajaro and the rest of the foreign companies are all buying. They are cashing in. Look, we see their trucks carrying the beans every now and then. I for example asked for monies for 3 thousand bags, but what PBC brought is for 420 bags. Who do you think is buying the rest? Our customer farmers have also decided to sell to them because already we have no monies to give to them for those we have purchased on credit. Saturdays are market days and so when they know you will not be able to give them monies on Friday, why must they bring it to you again?" Emmanuel Kwamena Boakye, the Bogoso Depot Keeper explained.

Alleged secret increased of cocoa price by other LBCs

Other information I gathered from some buyers who did not want to speak on record, was the alleged clandestine increase of the price of a bag of cocoa from the official Gh470 to Gh490 and 491. According to some of them, it is a strategy some foreign LBCs have adopted to attractfarmers to sell their beans to them in order to increase their share they buy annually.

When I posed this question to the Bogoso District Depot Keeper, Kwamena Aboagye, he neither confirmed nor denied, but was quick to add that "it questions the regulatory role of the COCOBOD. If the farmers have been bold to tell you this, it rests solely on the regulator to investigate it and sanction the other LBCs doing this".

We'll sell what is in our custody to other LBCs

As these frustrations are spinning the heads of the buyers for the PBC, one of them I met in the village at Bawdie said "I must be honest with you that, per what is happening, I have been left with no option but to sell the bags of beans in my custody to other LBCs if they are to show up in my village anytime because I cannot continue this way".
Agber Noah, the MC at Fante Abotar Yie also added that, if any of the other LBCs should come and tell me that I should sell what I have to them, why should I decline when you have seen farmers on me demanding for their monies?"

PBC buyers defecting to other LBCs

The Depot Keeper at Bogoso also hinted that "some of our marketing clerks have served notice that they will leave the PBC and join other companies because they cannot get money from PBC to buy the cocoa. You see all these people here? They are basically running away from their communities. They say they will leave if the situation persists".

The happenings in the cocoa buying business raises serious concerns over how the syndicated loan has been expended to the LBCs.