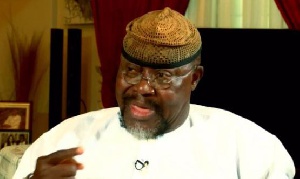 Even when he confidently regarded himself as a founding member of the ruling New Patriotic Party (NPP), in particular under the tenure of former President John Agyekum-Kufuor (between 2001 and 2009), he did not hold any significant appointment besides a minor diplomatic or Ambassadorial (spelt with an initial lower-case "a") position somewhere in the Balkans.
He had earlier on flirted with some sort of portfolio at the National Sports Council (NSC), perhaps under the tenure of the globally infamous Trokosi Nationalists' Pontiff, to wit, Chairman Jerry John Rawlings, if memory serves yours truly accurately.

Even as a soldier, he was never a senior officer; so it is just not clear to me precisely what he means when Dr. Nyaho Nyaho-Tamakloe asserts publicly that he does not recognize the Chairmanship of Mr. Freddie Blay, the recently elected National Chairman of the ruling New Patriotic Party and obdurately insists that the Editor-Publisher of Ghana's foremost privately owned newspaper, Daily Guide Africa, is an "imposter" and a partisan "outsider" (See "Freddie Blay Is 'An Imposter, I Won't Recognize Him' – Dr. Nyaho-Tamakloe" 3News.com / Ghanaweb.com 7/11/18).

To tell you the truth, My Dear Reader, Dr. Nyaho-Tamakloe is the one who is the quintessential imposter and outsider and not the man who worked as indefatigably as any of the key players of the New Patriotic Party to take the latter off the gray and bog-peat margins of opposition political culture into the mainstream and the very center of democratic governance.

He is an imposter because as a former NPP member who has been indefinitely suspended for nearly three years now, and counting, Dr. Nyaho-Tamakloe has absolutely no right or credibility to presume to speak for anybody or faction from within the rank-and-file membership of the party of whose roster he cannot presently lay any legitimate claim. At best, this Trokosi Nationalist Quisling may be in dire need of prompt psychiatric examination and treatment.

I hope he has an NHIA-issued health-insurance card. If he does not have one and he also has absolutely no sense of shame or dignity, which he very well may not, he may very well decide to appeal to the better angels of President Addo Dankwa Akufo-Addo or even Mr. Freddie Blay, the very man that this godforsaken political poseur has the chutzpah to call both an "imposter" and an "outsider."
It is also funny, but hardly amusing, to recall that in the leadup to the 2016 general election, the uncle-in-law of former President John Dramani Mahama launched a desperate political campaign claiming that the then-Candidate Akufo-Addo and the New Patriotic Party were grossly ill-prepared to assume Ghana's mantle of leadership. Instead, Dr. Nyaho-Tamakloe would call on eligible Ghanaian voters to massively vote for his pathologically payola-prone nephew-in-law. And so were he not off his rocker, as New Yorkers are wont to say, Dr. Nyaho-Tamakloe would not so cavalierly presume to have any counsel or meaningful and wisdom-filled piece of advice for the man whose guts he, literally, cannot abide.

I also don't know why this cokehead-looking inebriate thinks that he has an inalienable right to decide which political party Mr. Blay ought to belong to but, somehow, he, Dr. Nyaho-Tamakloe, is inalienably entitled to an inviolable or an impregnable membership of the party from which he has been indefinitely suspended going on three years now, and to which he has not been a bona fide dues-paying member for just as long.

I could not agree more with Nana Obiri Boahen, the Deputy General-Secretary of the NPP, who recently reminded Dr. Nyaho-Tamakloe that he has been doing the mucky work of traitorously using his generously huge mouth and oversized lips to railroad the very party that he claims to be a founding member of for the benefit of the operatives of the main opposition National Democratic Congress (See " 'Nyaho Tamakloe Is NDC'" DailyGuideAfrica 7/16/18).

*Visit my blog at: kwameokoampaahoofe.wordpress.com Ghanaffairs

By Kwame Okoampa-Ahoofe, Jr., Ph.D.
English Department, SUNY-Nassau

Garden City, New York

E-mail: okoampaahoofe@optimum.net