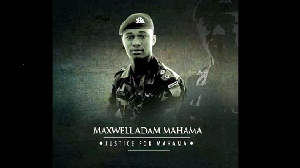 Mr. President,
TRUST FUND IN HONOUR OF THE LATE MAJOR MAXWELL ADAMS MAHAMA

Prior to the burial of Major Maxwell Adams Mahama, you visited the family and announced the establishment of a trust fund of which you personally donated GH¢50,000 to cater for the welfare of dependants of the late Major. This is a wonderful idea and we as Ghanaians are grateful.

There were similar events after the incidence of Major Mahama that has demanded equal opportunity for the dependants of the fallen hero.

The immediate event is the shooting of a police man at Abeka Lapaz by purported armed robbers. The family of the late Constable Daniel Owusu is calling on Government to cater for the six children the police man left behind. We cannot go on this way as a nation. Wider consideration and provision must be made towards future happenings.

I will suggest that we channel the money dedicated for the trust fund of Major Mahama into catering for the welfare of dependants of all fallen security officers that died in-line of duty.

The trust fund should be named after the late Major Mahama but the seed money of GH¢500,000 should be grown through investing in local currency bonds which currently has a good interest yield better than that of treasury bills.
As at this week, a one-year Local Currency Bond is yielding between 14 - 16 %. Investing GH¢500,000 at 14% a year will yield an additional GH¢70,000 a year less all expenses of managing the fund.

Budgetary allocation should be constituted so that an amount will be injected yearly into the growth of the fund. After some few years, with prudent, dedicated, independent and best managerial practices, this Fund will be well grounded to cater for the needs of a lot of our brave security men that who die unfortunately during their sworn moments of protecting and defending lives and property.

Mr. President, I know you probably have considered this idea, please let's make it a reality for the greater efficiency of Ghana.

God Bless Ghana and Your Presidency.

Signed

Honour Kwame Agbemor-Flint