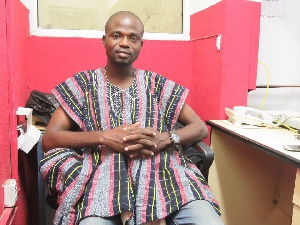 Hellooo Manasseh,
Greetings from Binduri.

Long time no hear. How body now? Hmmmm, naa waa for you ooooooo.

Time they say sweeps everything along and can bring good as well as evil; evil as well as good. At no point in time would this adage ever be appropriately used than now.

Manasseh, he who pebble the other asks for rocks in return. You had enough time to travel to Burkina Faso and interviewed Mr. Jibril Kanazoe; a private businessman who voluntarily donated a Ford Expedition worth $100,000 to Former President John Dramani Mahama. Remember???? You were proudly beating your chest and shouting on roof tops that HE John Dramani Mahama is very corrupt and should be impeached, something the current Majority in parliament which was Minority then tried to but failed.

Sadly however, you can't find time to investigate the numerous scandals going on in Ghana today? You even had time for the Goats Chairman; Uncle Billy Naabs, who is so much corrupt that he couldn't resist a guinea fowl bribe after he lied that he was bribed with a Ford by the NDC but can't do same now? Wonders they say shall never end. By the way does Uncle Billy Naabs' needless uneducated shenanigans look like someone who deserves a Ford as bribe?

Today in Ghana; expatriates are charged fees ranging from $25,000 to $100,000 to sit and dine with the President. Haven't you heard this? The last time I checked you were writing about Ebony. Manasseh the Presidency is deceiving the public that it knows nothing about the deal. Then interestingly, Carlos 'Macho' Ahenkorah, the Deputy Minister of Trade and Industry, who signed the demand letter revealed on Neat FM that the whole deal was discussed at the Presidency and that the bribes were transferred from the Ministry of Trade and Industry accounts to a Flagstaff House account. This is a serious contradiction that calls for serious investigation. The President's camouflage query to Alan Kyeremanteng is another cosmetic exercise by the government to project the obviously corrupt Nana Akuffo Addo as blameless.
You see where Ghanaians are being fooled? The President is claiming he has no knowledge but the monies were transferred to him. We are talking of close to 800,000 dollars, about eight times the cost of the Kanazoe Ford. So Mr. Manasseh please don't close your eyes, be the hero you once were. Expose Akuffo Addo's dishonesty to the whole world like you sought to do against John Mahama.

Your deliberate silence is suspicious. Doesn't the avarice, acquisitiveness, cupity and rapaciousness of the Nana Akufo-Addo-Dr. Mahamudu Bawumia's government give you nightmares? These two gentlemen are weak overlords who are just seeking the aggrandizement of themselves, their families, friends, associates and concubines who are quicker to despoil their subjects than govern well.

Or you don't want to see, hear or speak any evil of the current regime? Awurade Yakubu judgment day will be so interesting.

Mannasseh many evil things are happening, can't you see???? Apart from the Flagstaff House being an embodiment of corruption, it is also now a Brothel. Diamond Appiah, one of the patronizers was recently heckling one of her colleague patronizers on social media. Nagging be what? This one too you didn't hear?

Mannasseh, not only the above mentioned but many other examples exist of which you've for the sake of political expedience decided to turn a blind eye to. Boakye Agyarko aka BOAKYGATE of GHS 150, 000 parliamentary bribery scandal fame still remains fresh in our memories. An alarm Hon. Mahama Ayariga raised of which all the evil people and basket of deplorables turned against him, we needed someone like you; the self-acclaimed objective journalist to come to his rescue but you were as usual of you in this regime silent.

Alfred Obeng Boateng of the BUSTED BOSTING BOST BOSS fame is also fresh on our minds. He sold contaminated fuel to his own unregistered company which was unlicensed. This contaminated fuel had the potential of endangering our environment. I'm yet to see you speak to it.
Ken Ofori Atta, issued a scandalous family and friends bond. The bond's issue was shrouded in secrecy, issued without recourse to laid down procedures and industry best practices requirements, issued without cabinet approval, issued without Parliamentary approval, issued without a Securities and Exchange Commission board. Even the attorney general who is the principal state attorney was not aware of the legal implications of the deal. Till date we haven't heard anything from you with regards to that.

Mr. Mannasseh, you are currently too pusillanimous. Yes, am saying so because the King, Nana Akufo-Addo is grindingly cruel to those who stand in his way. He is very ruthless and glorying in bloodshed. He has reversed outrightly the Democratic gains of this country. He has and is still busy dismantling democratic institutions by closing down media stations that are critical of his regime, buying independent TV, Radio and newspaper outlets and clamping down on opposition activities. He has ever since he became President dismissed several public and civil service workers. He has even extended his encroachment to the independent Electoral Commission of Ghana. Ghana is currently in a "Gray zone". You can't you see I guess.

You are fast losing your credibility though I have never trusted your objectivity right from day one, however, others did. Do something before it is too late. Try to be consistent. Demonstrate consistently in your actions grandeur, courage, sobriety and strength. You see Anas? He is always consistent and credible, he demonstrate in his actions grandeur, courage, sobriety and strength. You are picky because the likes of the uneducated Bugri Naabu influence you.

Mr. Bongo boy, I said it in my last letter to you and I will repeat, do not be like the horse or the mule which have no understanding but must be controlled by the bit and bridle before they come to you. You were very wicked to your brother John Dramani Mahama. You treated him with extraordinary and inordinate malice and I will like to refer you to a scripture in the Bible; Psalm 32:10. Many are the woes of the wicked.

Aaahhhaaaa, where are your good friends? I mean the wise men; Prof. Martey, Palmer Buckler, Owusu Bempah, Otabil el tal.

The God of John Dramani Mahama is really a living God. The handsome Grandson of Jakpa have been vindicated rather too early than I expected. All these crazy guys have suddenly become passive spectators. They've all now succumbed to the whimps and caprice of the Senile at the Presidency. If cockroaches decide to dance in fire, death is inevitable. A friend told me that Prof. Martey, Rev. Otabil, Owusu Bempa and their group are currently in Arusha, Tanzania attending a 2 year conference on "Responsible commentary, Fair Judgment, and Unbiased Opinions" and that Professor Stephen Adei is also in Aleppo; Syria studying common sense and wisdom. It is believed that when they return to Ghana, hopefully by October 2020, we shall have the best democracy in the world; could it be true?
Mannasseh, will your anchor hold in the storms of your life?

Now that the storm is unfolding it's wings of strife?

Will your anchor drift or firm remain? Has it been fasted to a rock which cannot move? Well let's see how it goes.

Vultures descend where there is strong carcass, so what motivates you to write? Liquor? Beer? Bongo pito? Or "Soli "?

I want to help you out. You know I'm a benevolent guy. Instead of being a watch dog, you are now a guard dog. Convenience politics at its best.

Well let me pause here and join the gods of Binduri to consume the pot of pito they just brought from Apoaka's joint; it will inspire me to write to Nana Akufo-Addo on Saturday, good day.
Assibid Dauda

*The Binduri Youth Activist*