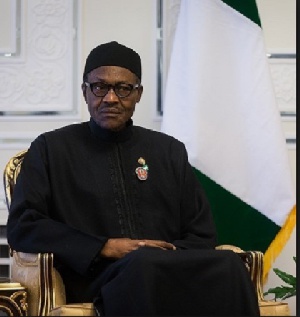 Open letter to Oga Muhammadu Buhari
Baba Buhari,

Wahala dey ooooo; I Ghanaians don suffer. Yaad333? Yaa Boko Haram? (How is Boko haram) I mean your 'delta and invincible forces' you used to win political power? I heard you taught Nana Addo that tactics. Amadioha has been kind to you I believe. That is why you returned safely from where Bawumia was taken recently. Thank you for coming to Ghana two days ago. At least when an earthworm visits a snake, they can all either be called earthworms or snakes because they both eat soil except in poisonous circumstances where the snake sneaks in to steal eggs.

As Guest of Honour during our 61st Independence Day celebrations you made some strange comment which has become comic relief for everyone besides some diplomatic blunders you committed. "I will help you fight corruption" you were quoted as saying. I cannot stop laughing. Baba Buhari, you sabi joke ooooooo. Abi you see say Nana be mumu Captain, so you want do amm 419; abi? Who told you Akufo-Addo is interested in fighting corruption? When you go to Rome you do what the Romans do! So Baba, when you came to Accra you should have said you will do what Akufo-Addo does; covering up corruption. Are you the only stranger in Jerusalem? Don't you know Nana Addo is the Chief Priest of corruption? And that he enjoys walking with his two deputy thieves of staff? And that he's very comfortable charging $20,000-$30,000 as gate fees? And that $100,000 for dinner with him as an expatriate businessman especially with a Lebanese meal is the reason why he fought so hard to be a President? Baba which kind wahala paaaa be dis sef?

You know the other reason why your comment is ludicrous? Nigeria to teach Ghana how to fight corruption? When the cat teaches the dog, what kind of results should be expected? In fact, we like joking too much in Africa. Nigeria is worse ranked on the Transparency International CPI at a shameful 27 under your watch. Ghana is chasing down to reach your ignominy. How can a country ranked 148th out of 180 countries in the world most corrupt nations rankings by Transparency International, teach a country ranked 81st, how to fight corruption? You know say witchcraft be real? Your country is already blind in corruption, how can you help Ghana who is forcing that blindness on itself? I am baffled. You are down already so how can you help someone who is joining you down there? To fall as well? Ah we are already falling so pull us!
Is it not your country that a snake swallowed over 300 million?

You've not been able to fight corruption in your country. You've not been able to fight Boko haram in your country; Infact, they're much deadly now than ever. Even common rats pursue you from Aso Rock and you wan help Ghana fight corruption abi? Carry your wahala go Baba. I beg una, biko I know wan trouble la.

Baba Buhari, you made a mistake. You cannot do what you claimed you will do. Akufo-Addo does not need your help if fighting corruption is what he really want. Here in Ghana now we cover up corruption so you don't fit in besides your incompetence. Here in Ghana now the President stops investigations into high profile corruption cases in his government. Others he sweeps them under the carpet. You didn't hear about the thieves of staff? They are Ghana's Aki and Popo in the Presidency. The Criminal Investigations boss is their protector. Naa waa for you ooooooo, can you go there?

You must have also heard of 5 million litres of wilfully contaminated oil sold in darkness. The President scuttled successful investigations into that rot. May be I should mention how the President's Ministers diverted 249 tankers of premix fuel meant for poor people. Nobody was punished for causing over GHC22 million financial loss to the state in that deal. I know you are not dealing with fuel smuggling in Nigeria. So how can you attempt this one so complex like a puzzle?
Egubedike, your friend has packed the whole government machinery with his family, friends and acquaintances who are covering up his buttocks. There is nowhere that his mafia tentacles have not reached in Ghana. He managed to monopolize the financial sector in Ghana with very dubious deals. Did you ask him whether UT Bank and Capital bank were really bankrupt? Did you ask him why he dismissed governors of the Bank of Ghana and replaced them with his cronies? Did he tell you his cousin sold $2.25billion bonds to his business acquaintances without due process in a record 4 hours?

Again let me remind you of the enigma you have as a friend. He went to America to attend Governors conference. When he was called to give a speech he sent his ignorant protocol officer who also appeared like a _mumu_ Captain on the stage as if he is the president. At that conference your cohort who said he will take Ghana beyond aid was begging not to be ignored. Then bizarrely he pledged to support America to fight terrorism when he could not stop his vigilante forces from robbing Ghanaians at gunpoint. He is the same man who promised to fight corruption but is rather engrossed in covering it up.

lip service.

Beware of your friend. He never mean what he says. He does the opposite. Just check his government's size. A whopping 110 ministers and over 2000 ghost names exist as presidential staffers. His ruling party's deputy general secretary has lifted the lid on how he siphoned 50 billion of our money to sponsor his party's useless congress in Cape Coast last year. You see how he fights corruption?
I bet you if you want to help him, then Obasanjo and Babangida will blow more hot air in your rectum. Let me end with what one of your citizens King Roviel said about you on facebook:

I will vote Buhari in 2019, as pay back to all those that voted him in 2015. We will die here together.

Oh just next year you will be voted out! Please hurry up and finish fighting in Nigeria and attempt fighting in Ghana before the 2019 polls. It is not looking well. The two of you are overhyped disappointing folks. The 2015 shei Baba, shei Baba chants have vanished into thin air. They now call you Baban Zuuku, Baba go slow.

Your people regretted voting you into office. Never again must you deceive nations like this. Go in peace!
Farewell,

From a Binduri Son

Assibid Dauda

(0540585599)