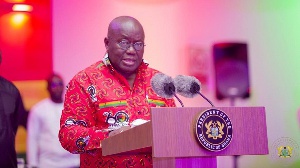 Mr. President, godly speaking, the first time I saw perfume being used on food stuffs aside its general purpose for humans, was my days at JafLover Shopping Center in Tamale as a sells boy where numerous kinds of rice including perfume ones such as Royal Aroma, Royal Feast, Sultana, among others were sold. I never thought politicians have the requisite magic wand to spray perfume on corruption.
Your Excellency as you are aware, majority of Ghanaians are only perfect at "mediocrity worship", glorification of idiocy, hero-worship and bootlicking sycophants, including a boat load of reckless praise-singers.

Many Ghanaians are more capable of changing the gender of a female to a male and the vice versa without any scientific apparatus!

Obviously, your administration may not be able to offer Ghanaians a different style of leadership when you vowed to change the fortunes of Ghanaians for which reason we gave you an overwhelming mandate.

Mark Twain once said that we are all stupid just on different subjects. We may all be corrupt but just in different ways and field; some may cheat on their girlfriends, others would knowingly place square perks in a round holes in their appointments to constitute their crime of corruption.

Mr. President, while the electorally wounded ex-president surrounded himself with incompetent "babies with sharp teeth", many believe you appointed "babies with long hands"!
If readers may recall, one of the campaign rhetoric of the NPP aside the plethora of their sugarcoated promises that had successfully catapulted them into political power of the republic, was the "anthem of corruption" sunk and recited in every nook and cranny of the country from Axim to Aflawo, Accra to Zuarungu.

Discerning political kingmakers of our dear country are beginning to realize they mistakenly replaced domestic cats in a fish markets with "wild wolves" this time around in a sheep market!

Corruption under your stewardship, your excellency, is simply wearing "Dolby Perfume" carefully veiled and shrouded with a strong armed bodyguard (CID's unwarranted, undemocratic, and needless invitations), many Ghanaians observed.

Within ten months old government under your watch, Mr. President, your appointees littered the whole country with Villas and mansions around?

Your team, many clean minded Ghanaians argue, may simply be an "elected competent crooks, and intellectual hardened worse thieves" Ghana would ever have, witnessing the seemingly unabated slideshow of corruption allegations rocking you as our "incorruptible" president left right and center.
Mr. President in my juvenile analysis as a student, you must be understanding what corruption really means and that, as a proclaimed anti-corruption crusading leader, your success relies on the conduct of those you surround yourself with and not your mere self. I think you must now come to terms with what really accounted for the "Onaapo" former president Mahama's presiding over the endless corruption scandals unwillingly.

Your embryonic government is quite tactical and strategic in defending the indefensible as it always tends to use State's coercive apparatus to silence observing Ghanaians from raising the red flag anytime a member of your legendary and historic unchangeable largest size government in the world is sighted perpetrating the "oldest canker" of corruption.

Mr. President, is that what you can offer Ghanaians who queued in scorching sun to bring you to power after you badmouthed the then government, beguiled and hoodwinked gullible Ghanaians with blatant lies of our economic affairs trumpeted by the then yes-man running mate, His Excellency Dr. Bawumia, that had brought a catastrophic political tsunami in a form of a distasteful electoral fiasco to the eloquent youthful president, ex-president Mahama? Stealing Ghanaians at a gun point with the CID?

The God of our homeland is watching you!

But one thing is obvious, we all do the same thing in different ways except your plagiarized speech which was a complete and clear academic fraud; while the Mahama's aggrandizing cabals looted the state through an over bloated "massive infrastructure" projects that successfully emptied the pockets of Ghanaians, you are stealing Ghanaians, they say, through filling their pockets, but Mr. President "all die" as you once said, is still "be die", not so?
Your downright yeomanly attempt, and Titanic effort to economically collapse the country by draining the national kitty to restore the nurses and teacher trainees allowances in order to put the NDC behind eternal political bus, won't yield any fruits.

Mr. president I have a question for you; assuming you as a Ghanaian president takes a salary of GHC20, 000 and happen to have ten concubines, and supposing each girlfriend takes GHC5000 to keep their "natural assets" intact for your patronage, please be as honest as Jesus the Christ, would you still have anything in your confers without borrowing to cater for their needs? How much does Ghana make in a month, and how much does she spend considering the allowances and consolidated salaries paid to ministers of your ballooned government?

I am not against even paying all denizens not only citizens of this country and I don't hate my colleagues in the training colleges, but do we have the financial muscle to pay them including your "unfortunate number of ministers", DCEs, doctors, security agencies, teachers etc. and still be able to save as a country in an economically competitive globe to maintain fiscal discipline?

Just ten months you have borrowed close to GHC40 billion if not beyond. What did you accuse the erstwhile government of when in opposition and used as a campaign tool to get them out of the corridors of power? Mr. President, clearly this is unpatriotic, untruthful, dishonourable, and "unExcellency" on your part unless you have any honourable accuse.

You are repeating the sins of the previous Mahama-led government for which Ghanaians electorally whipped them out of the Flagstaff House in a different way, but Ghanaians, though gullible, would spotlight and expose you.
By: Iddrisu Abdul Hakeem

MCF Scholar, KNUST.