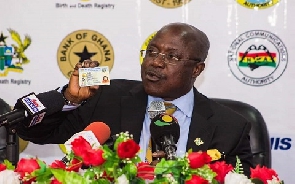 The Ghana Card is currently useless/effective
Dear sir,

I hope you are doing well and I pray you continue to do well to help move mother Ghana forward.

I will be very brief with my content for you since you are a very busy person.

Sir , some time ago, Ghana has rolled out the Registration of the GHANACARD through your outfit to allow every citizen and non-residence of Ghana have a unique identity.

For what I know, the card is supposed to be used by citizens to access all services in the country which includes:
Acquisition of drivers incense

Registration of bank account

SIM registration and any other transaction/services that require the use of an ID card.

It is also a traveling document for citizens of Ghana within the West African region

Sir , my observation with regards to the card is that, at the moment, the card is not useful and active for the purpose it is supposed to serve.
On countless times I tried to use the card for the purpose it's supposed to serve, I have been disappointed by service providers. They tell me the card is either not recognized by the system they are running or is invalid.

Sir , we pray this card is not a waste of the taxpayers' money and waste of time as people speculated before the introduction of the card.

Sir I and some of my family members and friends are holding the card for some months now and any attempt by us to use it proves futile.

Sir I will like to conclude my letter with some few questions which need answers;

When will this card be effective, when will you come out with official directives to all institutions to accept the card?
What steps are you taking to ensure that these concerns raised by the public is addressed?

However, this is just the beginning

Watch out for part two...