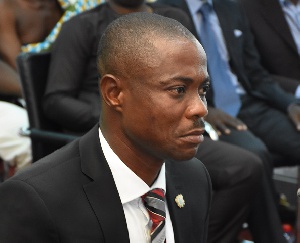 Sir/Nananom,
I write as a hyper-concerned citizen of Brong Ahafo. 9th of April, 2019 would be the 60th Anniversary of the creation of Brong Ahafo Region. This is few months away, but there is a loud silence.

The past is embedded in the present. What is happening today is the consequences of action and inaction of yesterday. History cannot be denied, neither can we seek refuge in history as an excuse for non-performance. It appears to me that we are living in self-denial. We don't have moral conviction and emotional energy to be what we ought to be.

Statues of the founders of this region built to honor them still remain unveiled! Why? The purpose of this letter is to humbly appeal to you to take steps to set motion for the celebration of the 60th anniversary and the unveiling of the statues built but unveiled.

We are living in momentous times. The region is to be divided further into two more regions thereby making it three (3). Growth and change are part of human life. Sometimes growth and change means progress. But we must be very careful of the dynamics of the times. Regions and creations of further regions cannot take away the historical bonds that have been created over the years. We are condemned to live together, despite edge of further regions to be created.

It is also important to recognize that you do not need to "discredit" somebody in other to have credit. The desire for new regions must be argued out dispassionately and scientifically. We must not create euphoria like bubbles during washing. When the bubbles explode and can no longer be seen, we get disillusioned. It is very difficult to convince people where hope becomes unrealized because of incorrect analysis of a given situation. We are not going to be rich overnight because of creation of new regions.
The dynamics of development of the region has radically changed. This region is the fastest region developing in terms of population increase. This is due to rich farmlands, discovery of minerals, etc. More people are migrating to the region. Dynamics of traditional systems in terms of new immigrants are beginning to emerge and need to be handled with care and tact. Still our people remain non-assertive as required and still people take us for granted.

The "Nkasei" music "Y? firi Tuobodom" is an example that beckon on us to rise up emotionally and assert ourselves in order to take our own destinies into our own hands. "S? obi ka kyer? wo se? n'akoa ne wo kwasiedaa na s? wo anka hwee, dwoada wo de wo b?k? afuom." Loosely translated meaning, if somebody says you are his slave on Sunday and you don't protest, he will take you to farm on Sunday.

I appeal to the youth that, each generation must accept the challenges of its times and live up to expectations. We must wake up and own our destiny and region.

Our ancestors created the region for us and we must celebrate it on 9th April to make a recourse to history to energize us to go forward.

Thank you.