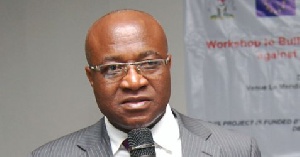 By: Yeboah, Raymond Agbonlahor
The NPP Government came out with a competent sports minister in the person of Hon.lsaac Asiamah whom every Ghanaian have faith that he would not emulate the bad deeds of the former sports minister Nii Lantey at the office.

Gradually he is perfectly executing his job but if care is not taken, the majority leader in parliament, Kyei Mensah-Bonsu would make administrative difficult for the Government.Too much talking always brings errors so l would advise the Hon.majority leader to concentrate on the parliamenta ry works and allow the sports ministry to do their work.

Hon.Kyei Mensah Bonsu talkative behaviour against the football Association nowadays seems to me he is receiving an advice from Nii Lantey since they are in the same parliamentary house.Honourable should not make that true because Nii Lantey and his Government failed in office and voted out for a competent Government which Hon.Kyei Mensa is a part.

Even those sports department in parliament are not talking as he is doing on radio.The appointment of a coach is the decision of the FA and some financial aspect of his contract must be confidential from public thus why l don't think Hon.Mensa-Bonsu would one day come out to disclose his parliamentary salaries and sitting allowances to public.The FA must be respected by the Hon.member of parliament because transparency doesn't mean one should disclose every confidential thing to the public.
The FA has auditors that come out with every financial detail of the Association in an extraordinary congress.

l challenge Hon.Kyei Mensah- Bonsu if he is indeed transparent to declared to us on this medium how much sitting allowance he get at parliament as majority leader, how much is his monthly salary, how much he spend on fuel, how many cars does he have and total properties he has.He should allow the FA to do their work because as a majority leader of parlia ment, Honourable too can do charity for the nation by waving his allowances and state apartments for the building of a stadium for the country.Honourable converted Avram Grant salary into cedis which are not fair, Grant is a foreigner and he was paid according to his CV,l don't think Honourable, has started calculating all the allowances, the fuel and the salary of the servant in his house, how much it cost the country,we should not be hypocrite.

l am done

Raymond Agbonlahor Yeboah