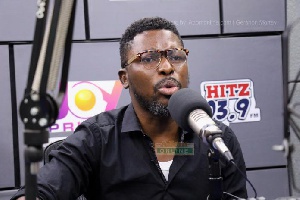 The ace Ghanaian musician, Kwame Asare Obeng a. k. a. Kwame A-Plus, doubling as a self-styled political kingpin who brought NPP and Nana Akufo-Addo to power by the unique power of his " Ab?n B? Bom" campaign song, has now turned against them. He is treating them as the worst government and president ever had in the annals of Ghana politics.
As I do not have patience to tolerate absurdity from fools hence not suffering fools kindly, I would like to convey certain pertinent information to the attention of the currently foolishly loquacious and hallucinating Kwame A-Plus. I am highly disgusted at his selfish and insatiably greedy quest for quick buck and his seeming political prostitution. He is not a person of integrity but an opportunist desirous to selfishly acquire money at the blink of an eye. That is not possible in any civilized world except probably in Ghana where politicians, civil service heads etc., barely on entering into the political arena or the civil service, become super rich overnight. What a bunch of despicable persons and thieves they are!

Kwame A-Plus could not have singlehandedly brought NPP and Nana Akufo-Addo to power as he delusively makes claim to. If it were by songs, then those of Lucky Mensah, Daddy Lumba, Ampong, Diana Asamoah, etc., were far superior and more motivating than his. However, they are not making unnecessary moaning and claims as Kwame A-Plus does. Again, we cannot side-line Kwame A-Plus or any other celebrity or electorate who contributed their widow's mite, whatever it was, to bring NPP and Nana Akufo-Addo to power.

Many a Ghanaian was fasting and praying, publishing persuasive and canvassing articles, hitting the campaign ground and doing whatever was legally possible to ensure that the NPP came to power. NPP and Nana Akufo-Addo coming to power was not the job done by one individual or a clique of NPP members or sympathisers but a collective effort by many including the ungrateful Kwame A-Plus.

I, Rockson Adofo, spent days, months, tens of hundreds of hours, writing articles to educate and encourage the Ghanaian public to vote for NPP and Nana Akufo-Addo. I spent my own money as I was able, to assist the NPP in diverse little ways as God directed me to. I proceeded to Ghana to assist with the campaign. Nevertheless, no one has said hey, thank you, and I don't even expect any thank you to me from anyone as I did what I was obliged as a faithful Ghanaian indigene to do. I do not record this as an act of ungratefulness against the NPP provided they govern the nation to the best of their ability for the collective interests of the public without resorting to acts of corruption, the bane of Ghana's socio-economic development.

However, Kwame A-Plus out of all the celebrities who went the extra mile working their ass off to bring NPP to power, was understood to have been offered a lucrative position at the Bulk Oil Storage & Transportation Company Limited (BOST), where he was allegedly making GHS300,000 a week for several months until he was booted out for reasons only best known to him and those who booted him out. Again, he devised his own criminal ways of clearing imported goods of his friends, family members and those he colluded with, from the nation's ports at a fraction of the actual import duties due. He did so by allegedly using the First Lady's name to secure reduction in import duty payments for his cronies. Could he not be taking a percentage of the unpaid import duty fees from those that he helped? As per Abronye DC, he was. This is the nefarious activity Kwame A-Plus had been involved in, thanks to the credible investigations conducted by Kwame Baffoe a. k.a Abronye DC.
What moral authority has such a crook, to point an accusing cum insulting finger at the president? He claims the president is not morally sound but has blood dripping off his hands so he should not have any moral justification to build a Cathedral to glorify the name of God. Between Kwame A-Plus, deducing from his character and activities as mentioned above, and the president, who is better in the sight of God in case they are both not the same as sinners?

When you point one accusing finger at your neighbour, the remaining four bend towards you, so the wise men say.

He came from NDC, a strong activist as he was, to join the NPP's 2016 electioneering campaign. Had he not sucked the NDC dry and was fast enough to foresee that the NDC would lose the election hence running to join the NPP fold into which he was warmly embraced? After having a chance to enjoy financially in NPP, he has run back to the NDC hoping they will come to power in 2020 to allow him continue to make money playing one political party against the other. He is alleged to have so far accepted US$800,000 from former President John Dramani Mahama to not only form a distractive party or social group (TPP) but to defame NPP and President Nana Akufo-Addo by levelling allegations upon allegations of corruption, incompetence, nepotism and whatnot, against them.

If the NPP are doing something wrong and he is highlighting them either destructively as a nutter, or constructively as a good citizen, I have no qualms about that. However, for him to fabricate stories to tarnish their reputation in pursuit of his insatiable greed is where I have an issue with him.

He is such a dangerous guy who is leaving no stone unturned to obtain his objective. Nonetheless, I shall not sit on my backside doing nothing while this semi-illiterate lacking wisdom throws dust into people's eyes to eventually deprive them of the free Senior High School education by which Ghanaians are hopefully to become literates to understand the repercussions of the evils in the society to better stay away from committing them.
I will not promise anything but I will sharpen my efforts to take on Kwame A-Plus to negate his evil intents in their tracks. My weapon to wield is TRUTH against his of LIES!

Does the following quote from Tanith Lee, White as Snow, 2000, not well describe the personality Kwame A-Plus, "He thought himself canny and alert, able to uncover plots, or flatter the great and trick them, bend events to his will"?

By the grace of God, Kwame A-Plus and his ilk will be defeated in their evilness.

While concluding, I shall advise the NPP leaders to be proactive, strategists enough to appreciate the services of those that helped to bring them to power, especially certain individuals including Adreba Damoah and the NPP foot soldiers. For their lack of farsightedness in this direction and the impregnable fence they often raise around them once they come to power, have made it difficult for them to stay longer in power whenever they have the chance to govern the country. Yes, they have to pursue policies of collective interests to the entire citizenry but to forget to recognise the efforts by those who helped to bring you into power is a grievous strategic error that comes at a great cost.

Recognition is a vital factor in the successful running of a business, especially at a multi-man workplace. I had written about this years ago so I shall not repeat myself here today.
Finally, it is said, "Do not bite the finger that feeds or fed you" This is an advice I leave for the leadership of NPP. Is it also not said by our elders, "Adi daa na eye na enye adi preko?" It is better to have a gradual but constant supply of something rather than to have a bulk supply of it but for once.

A word to the wise is enough.

With God we shall win!