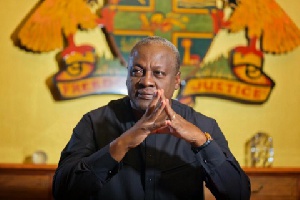 I have the pleasure of celebrating the immediate past President of Ghana, John Dramani Mahama, a man who has demonstrated beyond any doubt that not all African leaders are clueless, incompetent or visionless.
Yes, I can confidently assert the fact that this perfect gentleman is an epitome of visionary leadership on a continent where poor leadership has been gloom and doom.

I have had the privilege of knowing and following former President Mahama very closely and I'm endlessly proud of his passion for infrastructure development and modernisation of Ghana in particular and Africa in general.

Until I encountered this prodigiously brilliant leader, I never thought any African leader could be that committed to the onerous task of nation-building.

John Mahama was born on November 29th, 1958 in Damango, capital of West Gonja District, to an affluent teacher, rice farmer and politician. His father, Emmanuel Adama Mahama, was the first member of Parliament for West Gonja and the first Regional Minister of Northern Region, serving under Ghana's first President, Osagyefo Kwame Nkrumah. The older Mahama also served as a Special Presidential to President Hilla Liman in the Third Republic.

Mahama had his secondary school education at Achimota School, Accra and studied for his A' levels at Ghana Secondary School, Tamale .He had his first degree education at the University of Ghana, Legon where he obtained a bachelor's degree in History in 1981. After completing his university education, Mahama became a History teacher, teaching secondary school students.

During this time, he completed a postgraduate diploma course in communication studies from his alma mater, the University of Ghana, Legon in 1986.level. Thereafter JDM proceeded to Russia in the old Soviet Union, where he underwent further postgraduate studies at the Institute of Social Sciences, Moscow. He obtained a master's degree in social psychology in 1988.

After completing his studies in Moscow in 1988, Mahama returned to Ghana, he worked as the Information, Culture and Research Officer at the Embassy of Japan in Accra between 1991 and 1995. He joined the Ghana country office of Plan International, an anti-poverty non-governmental organisation in 1995 and was employed as the organisation's International Relations, Sponsorship Communications and Grants Manager. He left the organisation in 1996 to take up a career in politics.

JDM, followed his father's footsteps when he joined the National Democratic Congress (NDC) in 1996. Even then, he was a popular man in his constituency, and was at that early stage already being considered as an indefatigable champion of the underprivileged. He was easily elected as Member of Parliament to represent Bole/Bamboi Constituency for a 4-year term that year. He was re-elected in 2000 and 2004.
He was appointed Deputy Minister of Communications in 1997 and was elevated to the post of Minister of Communications in 1998. As Minister of Communications he was also Chairman of the National Communications Authority where he played a key role in stabilizing Ghana's telecommunications sector. After leaving office as Minister when his party, NDC, was defeated Mahama continued as a member of Parliament and was Minority Parliamentary Spokesman for Communications and later, Minority Spokesman for Foreign Affairs.

Mahama has always been interested in international affairs. In 2003 he became a member of the Pan-African Parliament where he served as the Chairperson of the West African Caucus until 2011. He was also a member of European and Pan African Parliaments' Ad-hoc Committee on Cooperation. He is a member of the UNDP Advisory Committee on Conflict Resolution in Ghana Foreign Affairs.

Following his Party's victory in the 2008 polls, John Mahama became Vice-President to Prof John Atta-Mills, a man he would subsequently describe as a father, friend, mentor and senior comrade during the glowing tribute he paid to Professor Mills when he died on 24th July 2012.

It is often said that fate plays a huge role in the affairs of men, and this statement is certainly true of how providence has dealt the cards for John Dramani Mahama, because nobody could ever have foretold the shocking death of President John Attah Mills on July 24th, 2012, and Mahama's immediate elevation to the position of President of the Republic of Ghana.

He thus made history as the first Ghanaian Head of State to have been born after the nation's independence (March 6, 1957). Like his father who had achieved a string of firsts in his political career, JDM upon becoming President of Ghana gained a string of superlative firsts which is unlikely to ever be matched in Ghana and possibly elsewhere in the world.

His achievement meant that he had served at all levels of political office in Ghana – Ghanaian and Pan-African Member of Parliament, Deputy Minister, Minister, Vice-President and President).

Mahama contested the 2012 Presidential polls for as a candidate in his own right and defeated Nana Akuffo-Addo who he had defeated in the 2008 polls as part of the Ata-Mills Mahama Presidential ticket. He was elected for a 4-year term which sadly for Ghana ended with his defeat to the same Nana Akuffo Addo in the 2016 Presidential polls.

Mahama is a Christian, born and raised a Presbyterian but now a member of the Assemblies of God. He grew up in a multi-faith family, consisting of Christian and Muslims, that experience has been responsible for his ability to connect with effortless ease.
Many have asked me the question why then did he lose the last Presidential elections? The reasons are very simple and straight-forward.

Stomach infrastructure has become a major factor in African politics. There is mass poverty and unmitigated hunger everywhere you turn. When people are hungry, they just want food. Majority of people hardly travel beyond their immediate environment. They do not care about good roads.

They have no business in a modern or beautiful airport. Even when there is electricity, it is epileptic, they don't worry much. Building modern hospitals is mere luxury to the poor. They have been brought up to drink concoctions and incise their bodies to rub in some esoteric herbs.

Students go to school hoping to get instant jobs as soon as they graduate and most want government employment. What is worse, there is no strategy more potent than labelling a leader corrupt even when there is no evidence.

President Mahama did not mind his detractors and traducers. He was too busy working with the agility of a horse. He was building new roads and rehabilitating old ones. I have been to all the ten regions of Ghana and I saw wonderful roads in many of them.

And they were done in record time. During his Presidential campaign, we drove day and night without any fear and this was made possible by a good network of roads made possible by successive governments in Ghana.

Similarly, he believes in the adage that health is wealth and devoted considerable energy not only to upgrading existing hospitals, but also building new state of the art hospitals and medical centres. As I keep saying, Ghana is an example of how a nation can achieve plenty with paltry resources, and Mahama is one of the African visionaries who shows by leadership and example how easy it is to achieve this.

Under Mahama, the sense of pride around the continent was restored. There was a time when positive stories about Africa were as dead as the dodo, but this remarkable man changed all that, reducing the stigma associated with African leaders with his ambitious agenda.
Mahama has always been recognised as an African Statesman and he has grown into this role since he left office in January 2017. Whilst in office as President of Ghana, he was elected President of ECOWAS in March 2014.

In June 2014, he was elected Chairperson of the African Union's (AU's) High-Level African Trade Committee (HATC). At the 2016 World Economic Forum (WEF) in Davos, Switzerland, Mahama became co-chair of the Sustainable Development Goals (SDGs) Advocates Group comprising of 17 eminent persons who assisted the UN Secretary-General in the campaign to achieve the Sustainable Development Goals.

In recognition of his amiable but tough nature and his skills as a respected negotiator and statesman, he was part of the ECOWAS Presidential mediation team appointed to resolve the post-election logjam in The Gambia following the victory of Adama Barrow over Yahya Jammeh in December 2016.

He was instrumental in the speedy resolution of the matter and the eventual swearing of President Barrow. I was privileged to witness first hand JDM at work together with President Sirleaf-Johnson of Liberia and could see the respect and awe that his colleagues had for him, including Jammeh.

Mahama is a very IT savvy person. He recognises the power and place of the internet and social media and believes it is a veritable tool for the development and unity of the African continent despite some of its drawbacks with fake news. Mahama consequently takes his social media awareness seriously and his esteem and popularity is demonstrated by the fact that he is one of Africa's most-followed leaders on Twitter and Facebook.

The personable gentleman made infrastructure development the cardinal principle of his government and stayed glued to it stubbornly. He told his people the bitter truth at every point. He felt that for the country to make any meaningful and sustainable progress, the Country first of all had to put in place infrastructure that would be lasting and real.

This he said was to be preferred to any immediate palliative that would only offer temporary solace to the people but would never solve their problems or that of generations coming after them. Thus, he spoke what no politician would have said and what the citizens would not like to hear.

Mahama was a man in a hurry to build a new Ghana. His dream was to surpass the commendable work of his predecessors, especially that of the father of modern Ghana, Osagyefo Dr Kwame Nkrumah and leave a legacy of lasting structures. Like all mortals, Mahama was not a perfect human being. He had his foibles but was nevertheless rigidly committed to his developmental projects.
Another pointer as to his sense of purpose was how he battled the electricity challenge (which came to be derisively referred to as 'dumso dumso'), to a standstill and pursued rural electrification with gusto.

The deployment of emergency plants and speeding up the completion of the plants that were under construction resulted in the addition of more than 800 MW of power over an 18-month period.

Another testament to his vision and daring is the recently completed International Terminal of the Kotoka Airport which has continued to be a source of marvel to visitors and residents of Ghana as it epitomises the vision of Mahama for a Ghana that would compete with any developed nation.

The Airport is simply a breath-taking sight to behold and Ghanaians continue to commend Mahama for embarking on this project which in his inimitable way did not cost the nation an arm and a leg.

Don't let his understated boyish charm deceive you, he has an inner steel that confounded even his greatest of critics. It was this resolve that enabled him to pursue tough reforms that were intended to boost the economy, reduce high unemployment and transform Ghana into a more dynamic, competitive and inclusive economy.

Mahama won many over with his message of hope and warmth, tolerance and inclusion, attributes that mirror his upbringing. As he celebrates his 60th birthday on November 29th, 2018, I join the myriad of his admirer, fans, family and friend to toast the ultimate and consummate Statesman and Leader, John Dramani Mahama. For Mahama, I believe the best is yet to come.