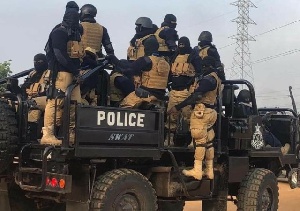 For almost two decades, Ghana has become the cynosure within the comity of nations as a result of her democratic credentials. Since the return to constitutional governance in 1992, the country has gone through seven successful presidential and parliamentary elections.
Despite desperate attempts by some politicians to capture power at all cost, there has been a healthy working relationship among the political parties, contrary to what pertains in other jurisdictions, where political opponents are seen as enemies who must be eliminated.

Nevertheless, there seems to be an upsurge in political violence in recent elections. The use of vigilante groups, thugs or militia to perpetrate violence especially during elections is gradually becoming a common feature in Ghana's body politics. Ahead of the 2020 Presidential and Parliamentary Elections, several indications have emerged that the odious task of providing a conducive atmosphere for the conduct of a free, fair and peaceful election would be a daunting one for the Electoral Commission of Ghana and the security agencies. The activities of the so-called political vigilante groups in recent times are pointers that current crop of politicians would stop at nothing to ensure that they emerge victorious at the polls if checks and balances are not put in place. Several civil society organizations have expressed grave concern about this albatross hanging on the neck of Ghana. Hence, the call for pragmatic measures in dealing with this canker.

In order to truly grasp what we are dealing with as a nation, it is important to properly bring these groups under the right nomenclature and question the propriety or otherwise of calling them, vigilante groups.

A vigilante is a member of a self-appointed group of citizens who undertake law enforcement in their community without legal authority, typically because the legal agencies are thought to be inadequate.

Through history, both in Ghana and abroad, we have seen that just as Harris, Bronwyn (May 2001) put it, in a number of cases; vigilantism has involved targets with mistaken identities. Vigilantes usually feel justified to give extra-judicial punishment to erring members of the community beginning from those who are perceived to act as though they are above the law and those who are seen as a reflection of what the community disapproves of. Many have opined that vigilante operations manifests the doctrine of jungle justice, which clearly in all ramification is tantamount to the violation of people's fundamental right of being innocent until proven guilty, not forgetting situations where innocent people have fallen victims of vigilante activities, merely because they were at the wrong place at the wrong time.

Then comes the begging question: From what we know and understand the concept of a vigilante to mean, is this phenomenon about political thuggery or a vigilante? The more disturbing part is that the two major political parties in this country have used lacunas in the law to describe these organs as either vigilante groups or NGOs, thereby unwittingly endowing them with legitimacy too dangerous for the society at large, including themselves.

Can we also say that they are Militia? A militia is a military force that is raised from the civil population to supplement a regular army in an emergency. In explaining its evolution, many writes have opined among other things that it is generally an army or some other fighting organization of non-professional soldiers, citizens of a nation, or subjects of a state, who can be called upon for military service during a time of need, as opposed to a professional force of regular, full-time military personnel, or historically, members of a warrior nobility class (e.g., knights or samurai).

Generally unable to hold ground against regular forces, it is common for militias to be used for aiding regular troops by skirmishing, holding fortifications, or irregular warfare, instead of being used in offensive campaigns by themselves. Militias are often limited by local civilian laws to serve only in their home region, and to serve only for a limited time; this further reduces their use in long military campaigns.
The purpose of this group is honourable and is geared towards national security and safety of the people, especially when the conventional military and defence apparatus fails to protect and preserve the territorial integrity of the nation.

In view of the above, shall we be right to call these groups a militia?

Political thugs and Political Thuggery

The Oxford Dictionary of Current English (1998), defines thuggery as a violent act or behaviour by ruffians. It is observed that thuggery has a relationship with violent activities. Thuggery is an act which is associated with stealing, killing, rudeness, hooliganism, touting, intimidation and harassment. Furthermore, the New Webster's Dictionary of the English Language (1995:1031) defines a thug as "any person who uses violence or brutality".

Thugs, as described by (Paul Y. Mbaya,2013) is a group of gangs made up of (thugs) disorganized drug addicts, aggressive, rough and dangerous youth who are either school dropouts, boys and girls from broken homes or societal outcasts who are willing and able to cause trouble and spill blood. They know no bounds-arid obey no law.

Simply put, political thuggery is the criminalization of the electoral process. When politics is criminalized, it is left in the hands of scoundrels and hooligans. In other words, political thuggery is characterized by physical assault, murder, intimidation, gangsterism and sometimes involves physical combat between two opposing groups which ultimately degenerates into a group or inter-personal or hostilities. It is a behaviour that contradicts peace, harmony and co-existence among groups. Political thuggery is an illegitimate and violent means of seeking political power with a view of subverting national opinion for parochial ends through self imposition (Howell, 2004).

In properly situating these groups in the right context, one can argue that the activities of these groups can best be described as "Political Thuggery".

Political thuggery in Ghana is gradually giving birth to what many have described as the militarisation of the political temperature with the consequent proliferation of illegal offensive weapons and ammunition. This, in turn, has resulted in many unresolved suspected politically motivated assassinations across the country, which tends to dent the country's evolving democratic culture. References can be made of the murder of the former Upper East Regional Chairman of the New Patriotic Party, Adams Mahama on May 20, 2015. The Member of Parliament for Abuakwa North, Joseph Boakye Danquah Adu, was stabbed to death at his residence at Shiashie in Accra on February 9, 2016. On February 18, 2019, one person was gun down at the Ashanti Regional Office of the opposition National Democratic Congress (NDC)ostensibly due to intraparty feud. Political violence has been recorded in the recently held by-election at the Ayawaso West Wuogon. There were reported cases of gunshots, resulting in some persons suffering various degrees of injuries. The violent clashes at the Chereponi by-election in 2009 and the reverberations from Atiwa, Asunafo South, Asutifi and Talensi by-elections are just few examples.
Thuggery poses a serious threat to Ghana's democratic consolidation. It has the propensity to scare credible candidates, especially women from active participation in the democratic process. Surprisingly, the activities of thugs seem to have been legitimized and powerfully backed by the elite in society and the political class. We have seen these thugs wielding offensive weapons ostensibly to protect their interest, especially during major elections. In other instances, they are seen in police escorts and act as though they are immune to electoral violence, intimidation, maiming and rigging.

By extrapolation, a cross-section of the energetic youth (Popularly known as foot soldiers) with different abilities that are expected to have been harnessed for nation-building are indoctrinated by politicians to create mayhem in order to either hold on to power or obtain power. Some of these notable groups are the Kandahar Boys, the Bolga Bulldogs, the Invincible Forces, Delta Forces (allegedly affiliated to the NPP) and Azorka Boys, the Hawks, Eastern Mambas (allegedly affiliated to the NDC).

According to a research conducted in 2016 by the Ghana Centre for Democratic Development (CDD), other identified groups include Aluta Boys, Nima Boys, Salifu Eleven, Zongo Caucus, Veranda Boys, Supreme, Badariba, Basuka Boys and Bindiriba. Reports indicate that these groups have been trained and armed with sophisticated weapons, and mostly driven by money.

A Communiqué by the Coalition of Domestic Election Observers (CODEO)on April 6, 2017, expressed concern about the proliferation of the activities of so-called vigilante groups and faulted the two major political parties, the NPP and NDC as being culpable for creating such dangerous party militia in Ghana.

Factors that facilitate Political Thuggery

Unemployment among the youth has been identified as a contributing factor to the increasing number of thuggery in Ghana. This makes the youth susceptible to acts of lawlessness in the hands of desperate politicians. The political elite capitalizes on this weakness and recruits the youths, who not only constitute the pillar of society but also the most vulnerable to self-inflicted poverty, as their thugs to perpetrate violence.

The number of young people who cannot find jobs in Ghana is staggering. The unemployment rate in Ghana increased to 5.77 per cent in 2016 from 5.54 per cent in 2015. According to the Ghana Statistical Service, the unemployment rate in Ghana rose to approximately 2.36 per cent in 2017.

The National Commission for Civic Education (NCCE) and the Coalition of Domestic Election Observers (CODEO) have all identified the high level of mistrust among politicians and key election stakeholders as one of the factors to political thuggery. The perceived mistrust in our security apparatus has a lot to do with the way the appointment process is done which in itself is a manifestation of the "Winner-Takes-All" Politics. Winner-takes-all is an electoral system in which a single political party appoints or elects every public office holder within a given jurisdiction such as ministries, departments and agencies. The constitutional provision which gives the President to appoint and/disappoint is so enormous. It has been observed that the appointment power most often than not is exercised in a manner that only favours the cronies of the elected executive president, sometimes without recourse to meritocracy.
Thuggery is seen as a lucrative venture or business. Many see politics as an investment with higher dividend, which gives birth to what has become known as the "do or Die Syndrome". Having invested huge sums of money in political activities, some politicians would want to either hold on to power or win power at all cost in order to recoup and reap profits, hence, the use of thugs to intimidate, manipulate and if possible rig elections. Part of the blame can be traced to how political parties are financed. Lack of enforcement by the Electoral Commission of Ghana in this regard unfairly stacks the deck in favour of few Ghanaians who are able to give exceptional financial contributions to political parties. The ripple effect is what some scholars describe as Prebendal politics. Prebendalism refers to political systems where elected officials and government workers feel they have a right to a share of government revenues, and use them to benefit their supporters, co-religionists and members of their ethnic group.

One of the cardinal reasons for the increase in political thuggery is the fact that since the return to constitutional rule in 1992, successive governments in Ghana have prioritized Regime or Party Security over National Security. Most incumbent governments tend to focus more on party interest than national interest. In the name of regime security, governments have taken actions where intended and unintended outcomes have become dire. This gives legitimacy to hoodlums and scoundrels who operate behind political parties. It has been used to entice, whip up patronage and justify the use of thugs on different levels of politicking. It is indicting to see some of these thugs operating under the watch of the National Security Ministry, Ministry of the Interior, National Security Council, Bureau of National Investigations (BNI), the Economic and Organized Crime Office (EOCO), Criminal Investigation Department (CID), the National Security Advisor, and the National Security Coordinator.

Recommendations

Research has proven that the more unpopular an incumbent government or fragile the state security apparatus, the more it is dependent on thugs. This makes it difficult to regulate or prevent abuse of incumbency. The dynamics are that the more successful the activities of thugs in a nation, the harder it is to disband and demobilize them. As a result of ethnic rivalries and allegiances, political thugs can sometimes morph into enemies of the state. Asking political parties to disband these groups will be an act in futility taking into cognizance the fact that these parties fund these groups in order to use them for their selfish interests. Acknowledging the presence of these groups as a serious threat to our infant democracy is part of the solution process. There must be a clear roadmap that will deeply involve all stakeholders to demobilize them. The absence of an effective demobilization program fuels a strong sense of disillusionment among these groups. Investing insufficiently effective disbandment and reintegration program is key to offering political thugs viable alternative sources of livelihood.

There is the need for Ghana as a country to take a second look at the relevance of by-elections vis-a-vis the cost implications to the public purse, political parties, and the risk of violence. I belong to the school of thought that calls for constitutional amendment such that, whenever there is a vacant parliamentary seat, which does not have the tendency to overturn the permutations in Parliament, the party holding the seat should be granted the opportunity to hold an internal primary to fill the vacant seat instead of mobilizing huge national resources for this needless venture.

It is instructive to note that national security is elemental in good governance. Samuel Makinda defines security as the preservation of the norms, rules, institutions and values of society (1998). He further argues that all the institutions, principles and structures associated with society, including its people are to be protected from "military and non-military threats". In practical terms, it is the protection of the lives, rights, dignity and property of all citizens. This includes territorial sovereignty, resources, and the lawfully mandated institutions of every nation. National security must be a priority to any government and not party security. The collective interest of the nation must override all interests. The security agencies and the judiciary must ensure that enough punishment is meted out to individuals or groups found culpable, especially their sponsors regardless of their political inclination. This will serve as a deterrent and will enhance sustainable democracy.

The proliferation of firearms in Ghana continue to pose a serious threat to peace and security. The importation and use of firearms must be properly regulated. Established by an Act of Parliament; Act 736 of 2007, the National Commission on Small Arms and Light Weapons is the agency mandated to among other things, prevent, combat and eradicate the illicit trade in small arms and light weapons in Ghana. The commission must be well resourced to set in place programmes of action to educate and sensitize the general public on the dangers of small arms and light weapons in order to discourage their acquisition and production. Placing a moratorium on the importation of weapons into Ghana in the face of emerging threats especially in the run-up to general elections is a suggestion government should consider.

Job creation is critical to the success and happiness of the people. The Youth who form the core of these thugs is an amazing source of energy and passion for future development. Since youth unemployment has been identified as a contributing factor to political thuggery, government must create the enabling environment spearheaded by the private sector which will stimulate employment opportunities for the teeming youth. It is crucial to ensure they have the opportunity to work, gain experience and make a difference in our economy. Government must be interested in rolling out policies and programs which will not only benefit business development but also stimulate entrepreneurial spirit among the youth.
Arguably the role of the National Commission on Civic Education (NCCE), which is a body mandated by the constitution of Ghana to enlighten people on their civic rights and responsibilities which invariably influences the conduct of Ghanaians during and after elections has not been fully explored. A vibrant democracy is largely a function of a democratic civic culture; culture being the behaviours, practices and norms that define the ability of a people to govern themselves.

In sustaining the conversation on ridding the country's political landscape of violence, Policy Think Tanks and Non-Governmental Organizations must be seen to be leading intellectual discourse in developing policies that will ensure everyone has equal opportunity to have their voices heard. They must be seen crafting and fighting for solutions that create balance in campaign funding and break down barriers that keep the ordinary Ghanaian from actively participating in politics. A burgeoning number of studies have shown that there is a lack of trust between political actors. The Electoral Commission of Ghana must work closely with stakeholders to put in measures to improve transparency and disclosure laws so that the sources of political funding(for instance) is known in order to create a level playing field.

There is the need for constitutional amendment aimed at insulating security agencies like the Ghana Police Service from unnecessary government interference in the appointments of its heads, recruitment process and promotions to enable them to discharge their mandate in a free, fair and transparent manner. The Police hierarchy must be interested in shaping the perceptions of the general public on fair policing by embarking on educational programmes. This will foster trust, police legitimacy and supportive behaviour among members of the general public.

Political parties and politicians must strictly adhere to the dictates of the 1992 Republican Constitution which states: "The internal organization of any political party shall conform to the democratic principles and its actions and purpose shall not contravene or be inconsistent with the constitution or any other law". This constitutional provision must be enforced without fear or favour.

Conclusion

The constitution of the Republic of Ghana clearly states that the fundamental human rights and freedoms enshrined shall be respected and upheld by the Executive, Legislature and Judiciary and all other organs of government and its agencies and, where applicable to them, by all-natural and legal persons in Ghana, and shall be enforceable by the Courts as provided for (1992). It is when these rights are guaranteed for secure, just and equitable living conditions for the citizens of Ghana that they may feel they own their legitimacy.

In as much as Ghana has enjoyed relative peace since the return to constitutional democracy, allowing the activities of Political thugs to fester has the potential of undermining the central government and also tilts the power balance in favour of non-state armed actors.

God bless Our Homeland Ghana!